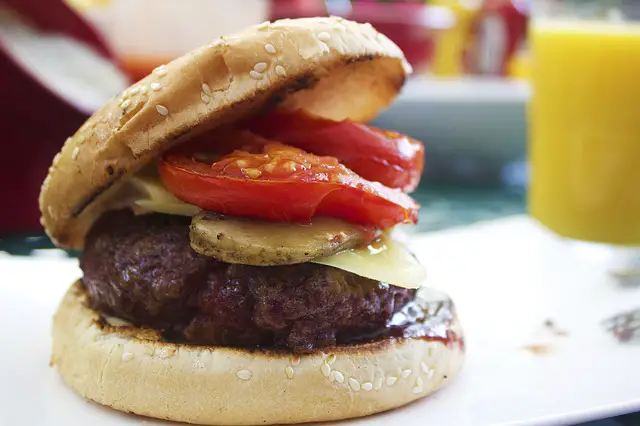 A report by Friends of the Earth, Natural Resources Defense Council (NRDC), Keep Antibiotics Working, Center for Food Safety, Consumers Union; and Food Animal Concerns Trust (FACT) came out this September about reducing the rate of antibiotic use in meat supply used by popular restaurant chains. The six organizations sent a survey to 25 U.S. fast-food and fast-casual restaurants and based on the answers or lack thereof, they created a grading scale.
Most restaurants failed miserably. The report came together with a letter to these restaurants.
The letter read: "On behalf of millions of concerned citizens, we urge you to commit to serving meat and poultry in your restaurants that is raised without the routine use of antibiotics. Medical experts tell us that we need to significantly reduce our use of antibiotics, including in animal agriculture, in order to address the growing health threat from antibiotic-resistant bacterial infections."
Antibiotic Resistance
The Center for Disease Control and Prevention (CDC) defines antibiotic resistance as the ability of microbes to adapt and resists the effects of drugs/antibiotics. Annually, about 2 million people become sick with antibiotic resistant bacteria and at least 23,000 die as the result. When livestock receives antibiotics, it often develops antibiotic-resistant bacteria in the animals' guts. When cooked or handled incorrectly the bacteria can cause an illness in the consumer.
According to the CDC, a lot of antibiotic use in animals is unnecessary. There is a link between antibiotic use in animals and antibiotic-resistance infections in humans, therefore it is important to only use antibiotics in food-producing animals if absolutely necessary to treat a disease and not to "promote growth," states CDC.
Antibiotic use in livestock for growth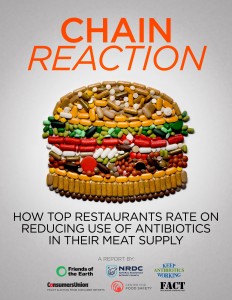 Antibiotics have been used to promote growth in farm animals since the 1940s, and it is taking a while to eradicate this controversial practice, according to Michigan State University. In 2013 the U.S. Food and Drug Administration set a plan to eliminate certain antibiotics in food production and promote antibiotic use only when it's medically necessary. Unfortunately, the plan was implemented on voluntary basis, and it does not look like many meat producers followed it.
Restaurants' Meat: Antibiotic-free or not?
The questionnaire, mentioned in the beginning of the article, asked restaurants if they have a policy about antibiotic use in meat supply, if they prohibit all antibiotic use for growth promotion, or if they prohibit only antibiotics that are also used in human medicine. The restaurants were asked if the policy applies to all meat, only poultry, or only pork or beef. Other questions inquired whether the restaurants offered any 100% grass-fed beef or organic items. All questions can be fully read in the report.
The responses were analyzed and graded on a scale. Only two restaurants got an "A", three other restaurants passed with a "B" or a "C", and 20 restaurants received an "F". (None rated "D"). See the chart below for more information.
Rated A: Chipotle Mexican Grill and Panera Bread
Chipotle's policy prohibits all antibiotic use – for disease prevention and for growth. Right now it applies to more than 90% of all meat. The company also bans the use of hormones and non-antibiotic growth promoters. Their beef is 25-50% grass-fed, depending on the supply.
Panera Bread also reported that more than 80% of its steak, the only beef offering, is grass-fed. The company's policy on chicken, turkey and pork is almost 100% antibiotic-free (93% is implemented right now), with the exception of the deli meat (1/3 of it is antibiotic-free).
Rated B: Chick-fil-A
Chick-fil-A has a policy in place that prohibits "routine use of all antibiotics." Right now they report that about 20% of their chicken passes the policy, but it will increase to 100% in the next 5 years.
Rated C: Dunkin' Donuts and McDonald's
Dunkin' Donuts has a working policy that allows antibiotic use only for treating disease, and bans use of "medically-important antibiotics… in healthy animals." The company did not make it official when the policy will be implemented as they are talking to their suppliers.
McDonalds has an antibiotic policy that will be implemented by 2017. The policy will only extend to chicken and only eliminate the antibiotics used in human medicine. The restaurant still plans to serve chicken meat that has been treated with thionophores, a type of antibiotic not used in human medicine.
Rated F: Subway, Wendy's, Burger King, Denny's, Domino's Pizza, Starbucks Coffee, Olive Garden, Papa John's (Better Ingredients, Better Pizza?), Pizza Hut, KFC, Applebee's, Chili's, Jack in the Box, Arby's, Dairy Queen, IHOP, Outback Steakhouse, Little Caesars, and Sonic Drive-In.
The full statement on each company is available in the report, as well as additional info on localized options like Elevation Burger, BurgerFi and others that scored much better than these chains in certain areas.
Comments
comments