When the state of Vermont passed what would have been the first-of-its-kind, text-based GMO labeling law in May 2014, it was a cause for celebration; a vital first step in the fight to empower consumers the way over 60 countries around the world already have.
But recently the hard work of residents and lawmakers in the Green Mountain State has been undone by senators Debbie Stabenow (MI) and Pat Roberts (KS), who worked behind closed doors to pass a deeply flawed, mostly toothless "national GMO labeling bill" that relies on extraneous QR codes and puts the power in the hands of Big Agribusiness and Big Food corporations.
The bill, dubbed the DARK Act (Deny Americans the Right to Know), has passed both the Senate and the House and only a veto from President Barack Obama can stop it.
The Simple Labels That Terrify Monsanto and Big Food
For the past several years since the start of the pro-organic and non-GMO movement, Monsanto, Big Food and agribusiness interests have spent a staggering amount of money just to prevent four simple words (produced with genetic engineering) from appearing on food packages in the United States.
In 2015 alone, over $101 million was spent in order to lobby against GMO labeling in the U.S. and several tens of millions of additional dollars have been spent since a 2012 California ballot initiative, including on influencing members of Congress.
All the while, Monsanto and Big Food have maintained that "rising food prices" are the biggest reason why GMOs should not be labeled.
Despite the dark cloud looming overhead, the mood has been celebratory in Vermont.
On July 1, 2016, a defiant and steadfast Vermont Governor Peter Shumlin tweeted out the following: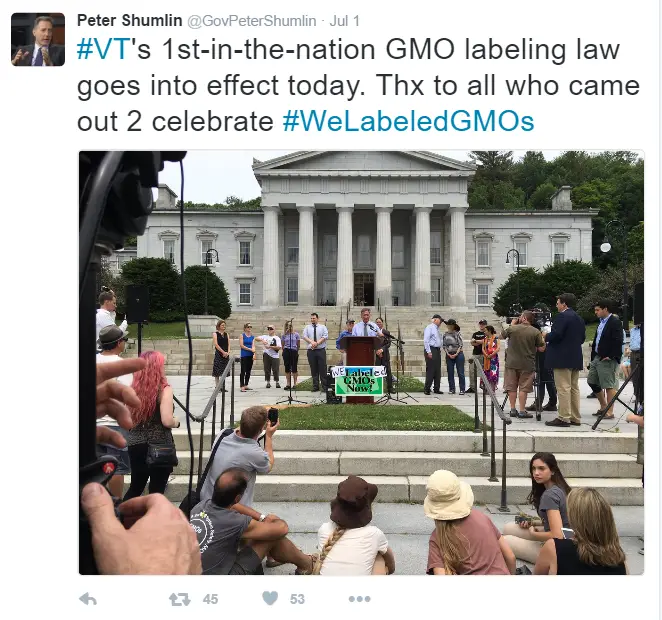 He also urged people to tweet out pictures of Vermont packages with the hashtag #WeLabeledGMOs. A sampling of the simple, common-sense, text-based labels is shown below:
"It's a Shame:" Vermont Governor Fires Back at Congress Over GMOs 
As you may have guessed, Shumlin is not exactly pleased about the recent happenings with the DARK Act.
"There is no question that Vermont was overpowered by the financial resources and lobbying influence of the food industry, which desperately wants to avoid common sense labeling," he wrote in a statement released via Twitter.
"I am proud that our state did the right thing by stepping up and being the first state to guarantee the right of our citizens to know what's in their food."
Unfortunately for Shumlin and Vermont, the recently passed national "labeling bill" could shut down Vermont's democratically passed law for good.
"It's a shame that Congress chose to replace our standard with a weaker one that provides multiple ways for the food industry to avoid transparent labeling."
To read the full statement you can check out his Twitter account by clicking here.
Thanks for reading! For more articles like these in your inbox you can click on this link.
A Message From the Founder
Have you figured out what not to eat, but still have no idea what you actually should eat in order to truly THRIVE in this lifetime?
Millions of people are seeing results on diets like Keto, Paleo, and Raw Vegan, but give up when the going gets tough because these diets are clearly not the easiest to follow long-term.
Enter 'The THRIVERS DIET,' a simple, practical and most importantly sustainable diet and lifestyle guide from my good friend Derek Henry of the website Healing the Body.
Derek overcame 13 different chronic disease conditions using the simple, concise plan found in this guide, and now he's offering it exclusively to AltHealthWorks readers.
Order the guide today and you'll get access to all of Derek's secrets distilled into one easy-to-follow eBook, plus 70 free recipes, printable PDFs and much more.
Grab Your Copy Now at a our special discounted rate before the price goes back up!
Comments
comments