By Dr. Edward Group
Every day, people around the world appreciate the nutritional benefits of aloe vera. And, while most of us are familiar with its healing effects on skin, its uses go well beyond that. Believe it or not, aloe vera is actually a superfood! Superfood is a word that gets thrown around a lot, so let's cover what it actually means.
What Is a Superfood?
Put simply, a superfood is any natural food that's dense with beneficial nutrients, antioxidants, and other compounds beneficial to your health. For example, you have probably heard that blueberries are a superfood. This is because they're low in calories and rich in antioxidants. That's only one of many superfood examples.
Another you might not think of immediately is aloe vera. Aloe vera is frequently used in topical skincare and cosmetic products like creams, lotions, soaps, and shampoos, but it's also incredibly beneficial when ingested.
Nutrients Found in Aloe Vera
Aloe vera possesses many vitamins, minerals, and other nutrients that support proper body function. [1] Vitamins like vitamin A (beta-carotene), which is a key player for a healthy immune system, organ function, and reproduction. [2]
Aloe vera is also a tremendous source of vitamin C. Vitamin E is another nutrient it offers that's great for protecting against free radical damage. It could even offer benefits for heart health. [3] And, it's not just these three antioxidants, aloe vera also contains B12, folic acid, and choline; all of which help with nervous system health. [1]
It's a great source of minerals like calcium, chromium, copper, selenium, magnesium, manganese, potassium, sodium, and zinc, which are essential for proper function of various enzyme systems in different metabolic pathways. [1]
Aloe vera contains at least eight different enzymes — alliinase, alkaline phosphatase, amylase, bradykinase, carboxypeptidase, catalase, cellulase, lipase, and peroxidase. [1] Bradykinase can help reduce skin irritation when applied topically. [4] Some of the other enzymes can help the body break down fat, sugar, and other nutrients. For this reason, digestive enzymes are great for leaky gut. Additionally, catalase, which is found in most organisms, is pretty important when it comes to protecting cells from oxidative damage–something implicated in many diseases, as well as the body's aging process. [5] [6] [7] As if that weren't enough, aloe vera also provides fatty acids like good cholesterol, campesterol, ?-sitosterol, and lupeol, which soothe redness and swelling and offer other important benefits. [8] [9] A recent study looked at the prebiotic potential of aloe vera mucilage, suggesting that it could be used to support gut health and probiotic colonies. [10]
And, its high acemannan content could also have immunomodulatory properties. [11] [12] [13]
Additional Health Benefits of Aloe Vera
Now that you have a better understanding of some of the nutrients and biological compounds within aloe vera, let's take a look at some of the plant's other notable health benefits:
-Topical Use Wound healing [14]
-Moisturizes the skin
-Antiseptic [15]
-Antibacterial [16]
-Nutritional / Dietary Supplementation Promotes normal cholesterol levels
=Supports cardiovascular health
-Contains prebiotics
-Supports digestion
-Boosts the immune system
Adding Aloe Vera to Your Diet
Aloe vera juice is an easy way to enjoy it. The benefits of adding aloe vera to your diet are easy to see. With so many vital nutrients, this superfood should become a staple in your effort to leading a healthy life. One popular way to have quick, easy access to this natural wonder is by growing your own aloe vera at home. Aloe vera grows quickly and reproduces at a high rate. For those looking to take an easier route, there are many products like juices and supplements available that can make adding aloe vera to your diet even easier.
When consuming aloe vera, in any form, nutrient content and bioavailability of key ingredients – like acemannan – is important.
I've actually created an excellent aloe vera supplement called Aloe Fuzion™, which is made from 100% organic inner leaf aloe vera. If you're looking for a convenient, natural way to add an incredibly bioavailable form of aloe vera to your diet, you cannot go wrong with Aloe Fuzion (click here to learn more or purchase).
My Own Personal Experience
Recently, I was given a chance to sample Aloe Fuzion from the Global Healing Center, and it currently ranks as one of my favorite aloe supplements on the market.
I had been looking for a quality aloe supplement for years, but most brands in the store I've found contain cheap fillers and preservatives, and only come in liquids. As Dr. Group mentions in the article above, Aloe Fuzion is a more convenient way to get aloe vera benefits into your diet, and it is also used in a clinical setting where its efficacy has been proven.
Before taking supplements I often test myself on a biofeedback machine with my naturopath in Rockford, MI, and the machine helps determine the capability of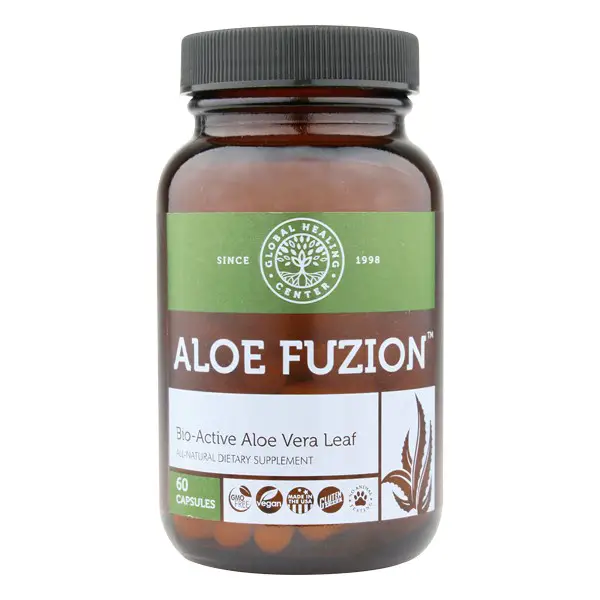 each supplement I'm taking with my body. Aloe Fuzion tested quite well for my body, which is why I've been taking a couple capsules of it 3-4 times a week or so.
If you've been looking for an aloe product and can't grow your own aloe plant at home (or find the leaves at the store; I used to "filet" aloe leaves and add them to my smoothies before I found this product), Aloe Fuzion is an excellent way to get the many benefits of aloe vera into your daily routine.
Click here to learn more or purchase Aloe Fuzion.
The last second part of this article was written by AltHealthWorks founder Nick Meyer and was based on a free review sample of this product. I may receive a small percentage of compensation for each aloe product sold in order to support my blogging activities.
Dr. Edward Group is the founder of The Global Healing Center, which is dedicated to healing patients naturally without drugs and surgery. For more information, check out their website by clicking here. This article republished with permission. 
References:
Surjushe, A. et al. Aloe Vera: A Short Review. Indian Journal of Dermatology. 53 (4).
J. Rodrigo Mora1, Makoto Iwata, Ulrich H. von Andrian. Vitamin effects on the immune system: vitamins A and D take centre stage. Nat Rev Immunol. 2008 Sep; 8(9): 685–698.
National Institutes of Health: Office of Dietary Supplements. Vitamin E: Fact Sheet for Health Professionals.
Renata Dawid-Pac. Medicinal plants used in treatment of inflammatory skin diseases. Postepy Dermatol Alergol. 2013 Jun; 30(3): 170–177.
University of California.
Imlay, J. A. Pathways of Oxidative Damage. Annual Review of Microbiology. 57.
Hybertson, B. M. et al. Oxidative stress in health and disease: The therapeutic potential of Nrf2 activation. Molecular Aspects of Medicine. 32.
Calder PC. Fatty acids and inflammation: the cutting edge between food and pharma. Eur J Pharmacol. 2011 Sep;668 Suppl 1:S50-8.
Uddin G1, Rauf A, Siddiqui B, Muhammad N, Khan A, Shah SU. Anti-nociceptive, anti-inflammatory and sedative activities of the extracts and chemical constituents of Diospyros lotus L. Phytomedicine. 2014 Jun 15;21(7):954-9.
Gullón, B. et al. In vitro assessment of the prebiotic potential of Aloe vera mucilage and its impact on the human microbiota. Food & Function. 6 (2).
Im, S. A. et al. In vivo evidence of the immunomodulatory activity of orally administered Aloe vera gel. Archives of Pharmacal Research. 33 (3).
Peng, S. Y. et al. Decreased mortality of Norman murine sarcoma in mice treated with the immunomodulator, Acemannan. Molecular Biotherapy. 3 (2).
Xing, W. et al. Acemannan accelerates cell proliferation and skin wound healing through AKT/mTOR signaling pathway. Journal of Dermatological Science. 79 (2). Cochrane Database of Systematic Reviews: Plain Language Summaries [Internet]. Aloe vera for treating acute and chronic wounds.
Gupta RK1, Gupta D, Bhaskar DJ, Yadav A, Obaid K, Mishra S. Preliminary antiplaque efficacy of aloe vera mouthwash on 4 day plaque re-growth model: randomized control trial. Ethiop J Health Sci. 2014 Apr;24(2):139-44.
Nejatzadeh-Barandozi F. Antibacterial activities and antioxidant capacity of Aloe vera. Org Med Chem Lett. 2013 Jul 19;3(1):5.                                                        †Results may vary. Information and statements made are for education purposes and are not intended to replace the advice of your doctor. Global Healing Center does not dispense medical advice, prescribe, or diagnose illness. The views and nutritional advice expressed by Global Healing Center are not intended to be a substitute for conventional medical service. If you have a severe medical condition or health concern, see your physician. View Comments (3) Related Posts How to Support Your Skin: Does Aloe Really Help Acne? How to Support Your Skin: Does Aloe Really Help Acne? Benefits of Aloe Vera Benefits of Aloe Vera 10 Aloe Vera Uses You Probably Didn't Know About 10 Aloe Vera Uses You Probably Didn't Know About Traditional Uses of Aloe Vera from All Around the World Traditional Uses of Aloe Vera from All Around the World This entry was posted in Food Articles, Herb Articles, Lifestyle Articles, Natural Remedy Articles Top Selling Supplements Colon Cleanser Oxy-Powder® is the top quality colon cleanser. Promotes optimal colon health and regular bowel activity. Learn More Liver Cleanse Kit This complete liver cleansing kit is a comprehensive approach to cleansing your liver. Learn More Global Healing Center on Facebook 150.6K Likes Global Healing Center on YouTube 80.6K Subscribers Global Healing Center on Twitter 28.1K Followers Global Healing Center on Instagram 10K Followers Get to know Dr. Group Take Control of Your Health Receive daily or monthly health news. Monthly Newsletter Daily Digest Your Email SUBSCRIBE POPULAR The Benefits of Apple Cider Vinegar (816) 14 Foods That Cleanse the Liver (474) 17 Health Benefits of Cayenne Pepper (443) 10 Natural Remedies for Kidney Stones (364) 12 Health Benefits of Acai Berries (327)
A Message From the Founder
Have you figured out what not to eat, but still have no idea what you actually should eat in order to truly THRIVE in this lifetime?
Millions of people are seeing results on diets like Keto, Paleo, and Raw Vegan, but give up when the going gets tough because these diets are clearly not the easiest to follow long-term.
Enter 'The THRIVERS DIET,' a simple, practical and most importantly sustainable diet and lifestyle guide from my good friend Derek Henry of the website Healing the Body.
Derek overcame 13 different chronic disease conditions using the simple, concise plan found in this guide, and now he's offering it exclusively to AltHealthWorks readers.
Order the guide today and you'll get access to all of Derek's secrets distilled into one easy-to-follow eBook, plus 70 free recipes, printable PDFs and much more.
Grab Your Copy Now at a our special discounted rate before the price goes back up!
Comments
comments