As far as the larger organic companies go, Stonyfield Organic yogurt has been one of the more exemplary ones, pledging ongoing support for GMO labeling while keeping its products GMO-free and organic even as their business has scaled up over the years.
The company, which was featured in the blockbuster documentary 'Food, Inc.', has generally maintained a quality reputation among conscious organic consumers for its transparency and product quality, but recently, the Organic Consumers Association took issue with their membership in a particular organization that is not exactly on the side of the organic consumer, or food transparency for that matter.
Stonyfield, along with Organic Valley, Horizon Organic/White Wave and Aurora Organic, are all members of the International Dairy Foods Association, a group that recently jointly filed a lawsuit against the state of Vermont seeking to overturn its landmark GMO labeling law.
In response, the OCA has called on Stonyfield and the others to leave the organization, or at the very least to condemn the lawsuit.
On July 24, Stonyfield saw AltHealthWORKS' Tweet of the story (see bottom of this article for more) and Tweeted  back this open letter from their website about the company's stance on GMOs and GMO labeling.
"GMOs Aren't Allowed in Our Products"
In response to the original article, many people took to social media saying they wouldn't buy Stonyfield's products anymore, surmising that they may be supporting GMOs.
Stonyfield however noted that "GMOs aren't allowed in our products," in the letter above, and that they have long supported labeling.
"We believe that everyone deserves the right to know what's in their food, and we – led by our co-founder Gary Hirshberg – helped to found Just Label It, the national movement to require mandatory federal labeling of all products produced with GMO ingredients. Gary continues to lead that organization today," they added in the letter.
Stonyfield also addressed the Vermont controversy in the letter:
"We fought hard for that bill's passage, lobbying legislators, senators and the Governor.  And we were one of the first companies to step forward and invest in defending the new labeling law when it came under attack," they said. "Just as importantly, we – along with a number of other companies recently and carelessly attacked by the Organic Consumers Association (OCA) – directly oppose and challenged the International Dairy Foods Association's (IDFA) decision to join the lawsuit against VT's GMO labeling law."
Despite being asked to leave the IDFA by the Organic Consumers Association, Stonyfield has chosen to remain with them, and says they're working to change things within the system.
"Unfortunately, we've been hit with friendly fire. We are just as passionate about labeling GMOs as the OCA, so it's disappointing that they've attempted to undermine us with their latest report claiming we're passively supporting opponents of GMO labeling.
"They'd like us to end our membership with the IDFA.  Instead, we're working alongside like-minded IDFA member companies to try to use our influence to get the organization to change its mind and no longer support the lawsuit against Vermont's labeling law."
The IDFA is not a favorable organization among the grassroots natural health and organic movement, however: they recently petitioned the FDA to allow the use of non-nutritive sweeteners (ie aspartame, sucralose and others that have been linked to serious health problems) in school children's milk without needing to use a special labeling term.
What do you think of Stonyfield's position, and is the Organic Consumers Association right to call for them to leave the association?
Please let us know in the comments section below.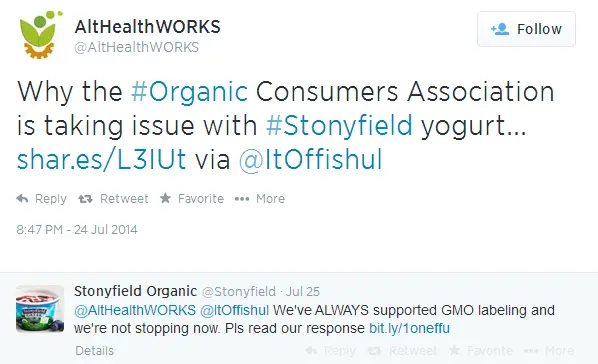 Thanks for reading! P.S. You can follow us on Facebook for more updates by clicking here.
Comments
comments