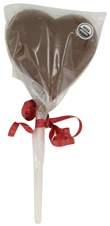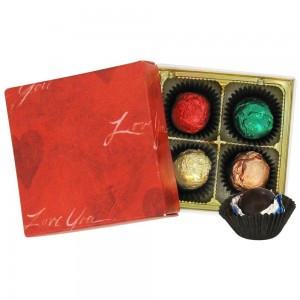 The Day of Love is almost upon us and that means one thing above all else: Chocolate, of course.
Everybody wants some this Valentine's Day, and the store shelves are piled high with all manner of chocolate hearts, chocolate bars, and chocolate who-knows-what-else.
One thing you won't find a whole lot of at your local stores, however, are organic and non-genetically modified chocolates, unfortunately. The base ingredient in most chocolates, cacao, is a veritable superfood loaded with magnesium and other important minerals, vitamins and antioxidants, but the rest of them comprise an A-list of things you never, ever would want to eat.
Among the unsavory ingredients in most chocolates are: GMO (genetically modified organism-containing) soy lecithin (an emulsifier added to just about every chocolate on the market; it's even likely in the fancy, "upscale" brands although there are conflicting reports) GMO sugar, listed as "sugar" on the label, GMO high fructose corn syrup, one of the worst ingredients you could ever consume, and of course partially hydrogenated oils which are essentially the trans fats government agencies don't feel like warning you about.
The market still isn't big enough for people who want honest chocolates for the Feb. 14 holiday, but luckily, there are plenty of candies and chocolates available on the Internet for delivery in time for the big day.
Here are AltHealthWORKS' picks for some of the best organic and non-GMO chocolates on the market this year:
Sjaak's Organic Chocolates (Click here to view)- A company known for vegan delights including chocolate bars, holiday items and gift boxes, Sjaak is a trustworthy source of organic and non-GMO chocolates. The California-based company does not use eggs or gelatin as the founders are both vegetarians. These dark chocolate hearts come in a beautiful pink bow-accented red bag.
NaturalCandyStore.com- This independent company offers a both and dark chocolate organic, GMO-free chocolate hearts, and include free samples with each order. The dark chocolate hearts add another vegan option for the more selective shopper. Heart-shaped gift boxes and dark chocolate cherry hearts also punctuate the company store. This is another company you can feel confident in buy from this Valentine's Day.
The Team Room Chocolates (Click here to view individually-wrapped organic chocolate lollipops and tea-infused organic truffles in an "I Love You" box pictured in this article)-
The Tea Room offers a wide selection of chocolates with quality organic ingredients. Exotic flavors are also a staple of the company, which specializes in artisan organic truffles. The company even offers tea-infused chocolates such as jasmine and black masala chai.
Why pay extra for the fake high-end chocolate brands that include GMOs and other unsavory ingredients when you can buy the real day from a smaller, ethical company?
Some of the products shown above don't mention it in the description, but everything is GMO-free and fair trade according to the website. This is a company you can feel good buying from for Valentine's Day because no one deserves chocolates that may harm their health when better alternatives are available.
Be careful with: Lake Champlain organic chocolates-
This is another organic company that offers high quality ingredients, but according to their website, they are still working on making all of their products non-GMO. Their stance on the issue seems to be one of transparency, however, it is best to wait until the project is completed in 2014 before buying their products, which are found on Amazon.com and on their website.
Other potential options-
Unreal candy- You can find this pioneering brand at CVS, with chocolate bars and candies that are GMO, corn and partially hydrogenated oil-free. These may be good in a pinch if paired with the right gift wrapping.  They do contain soy lecithin, however.
Organic/Health food cafes- Many offer handmade treats on site, including candy based on raw organic cacao and infused with superfoods, herbs and fruits. Give your local store a call and see if they have any Valentine's products on hand. They may also be able to throw some of the ingredients into a heart mold and help you to create a custom gift basket.
Make your own!- Using ingredients like raw cacao powder, carob powder, coconut oil, stevia, dates and many others, creating your own raw organic chocolates is an excellent option. It may even make for a fun Valentine's activity with your significant other- introduce them to a healthier way to enjoy chocolate and you just might score a few bonus points.
Comments
comments