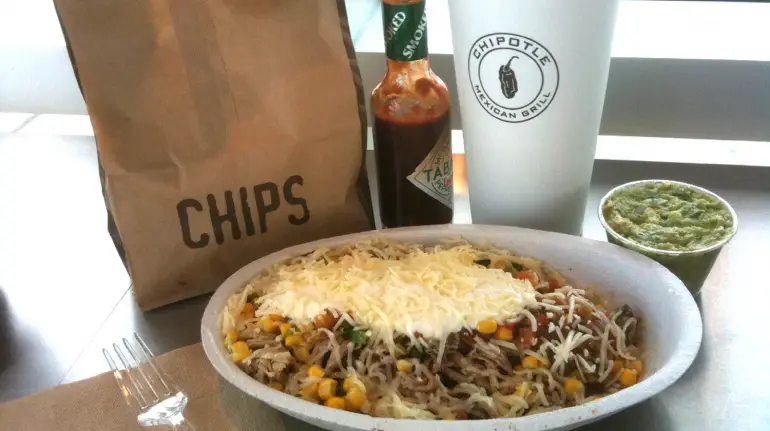 The Chipotle Mexican Grill restaurant chain's switch to entirely GMO-free ingredients has been a long time in the making, with the company overcoming several logistical challenges to make it happen for a patient and understanding customer base.
Genetically modified ingredients are so pervasive in the American food supply that replacing all of the ingredients in Chipotle's trademark burritos and bowls, including the cooking oils and tortillas, took a bit longer than most customers would have liked.
But now, after months and months of waiting, Chipotle's ingredients are finally 100% GMO free (on paper, at least).
And while that is a monumental feat in the chain restaurant/fast casual food business that should be applauded and celebrated, there's still at least one important catch that everyone should know about before they make that next order.
GMO Free Ingredients, Yes — But What About the Meat?
Since GMOs were allowed to spread with virtually no oversight and transparency over 20 years ago, it's become extremely hard to avoid them in America.
A lot of people don't realize that huge portions of the GMO corn that is mass produced in America's heartland goes into animal feed, and that the industry is completely awash with GMOs to the point where organic feed is hard to come by.
While Chipotle works hard to source meat and dairy from grass fed cows and organically fed chickens and pigs whenever possible, even reaching into Australia (and angering Texas farmers) for its beef, the truth is that there is a very real chance you may be getting GMO material in your meat and dairy at Chipotle. From its website:
The meat and dairy products we buy come from animals that are not genetically modified. But it is important to note that most animal feed in the U.S. is genetically modified, which means that the meat and dairy served at Chipotle are likely to come from animals given at least some GMO feed. We are working hard on this challenge, and have made substantial progress: for example, the 100% grass-fed beef served in many Chipotle restaurants was not fed GMO grain—or any grain, for that matter.
Consumers should be aware that meat and dairy from animals fed GMO corn and soy is likely to be more inflammatory in nature, contain more toxins, and less to be nutritious. It' s also hard to avoid because it's so hard to trace, which is why drafts of most GMO labeling laws have not included meats and cheeses from animals fed GMOs in their requirements.
In the meantime for customers wishing to avoid GMO material entirely, it's wholly possible to order a beans-and-rice only burrito (beans and rice together is a staple meal of many healthy cultures) or a "Sofrito" which uses tofu instead (the soy is organic, albeit not especially healthy if eaten too often).
Chipotle Changing the Industry, Transitioning to More Organic Foods 
While the meat and cheese situation at Chipotle is not necessarily ideal, it is well worth noting that the company is working hard to improve the quality of its food each day, and its commitment to non-GMO and organic food is something that puts virtually all food chains in the United States to shame.
Recently, packages of Chipotle food such as bags and boxes have included messages detailing the company's continuing transition to using more organic ingredients in foods such as rice, beans, and more.
On the company's website, sustainability practices and initiatives are highlighted in the areas of water conservation and farming among others.
It is also noted on its website that pasture-raised dairy is being used as well from operations ranging from 20 cows to over 1,000. It's a bit of a wild card as to what type of dairy you may get from Chipotle, but it is by and large better than anything you'll get at regular chain restaurants, that's for sure, and there are plenty of vegan and vegetarian combinations that can be made when placing your order whether you want to avoid meat and dairy or simply want to lessen your exposure to potential GMO material.
As a side note, Chipotle's new Queso dip, while long-awaited and quite delicious, has a whopping 1,270 calories per large bowl, so you may want to be careful about how much you indulge in, especially if you order a burrito or bowl to go with it.
You can see the Chipotle's full GMO policy on its web page entitled 'A Farewell to GMOs' by clicking here.
One Final Thing About GMOs at Chipotle
After ordering your burrito or bowl, you may want to add a drink to your meal.
But there's another catch: several of the drinks served at Chipotle restaurants still contain GMO corn syrup as a sweetener and/or other artificial sweeteners in the case of diet drinks, which the chain also admits on its website.
These typically come from the big name national soda companies you will find as fountain drinks.
Luckily, most Chipotle restaurants also offer non-GMO drinks from smaller companies or water as an option, so you can easily avoid GMOs even if you're thirsty.
Unfortunately for the time being, you may have to get a little more creative if you want to avoid them in your burrito, if it includes meat and cheese, of course.
This article was first written in April 2015 and updated in July 2017. For more articles like these in your inbox (and a free eBook), you can click here to subscribe. Social media thumbnail picture via BussinessInsider.com.
Comments
comments