For the last few years numerous stories have popped up about people finding black widow spiders (and an occasional huntsman spider) in grapes bought in stores such as Kroger, Walmart, Aldi, Whole Foods, and Sam's Club. The incidents happened all across the nation: Vermont, Michigan, Pennsylvania, Missouri, and Oklahoma; as well as in England and Canada.
A representative from Asda, a British supermarket from where at least one spider arrived to the kitchen table, said: "All our grapes are fumigated and cold stored, but very occasionally a spider hangs around. We sincerely apologize for any distress caused."
Of course organic grapes are highly unlikely to include these fumigants, so it's worth knowing what to look for in the off chance these spiders could be in your grapes.
Why the spiders choose grapes
Black widow spiders love making their homes in vineyards, and they are present all over the world where grapes grow. Unfortunately, that means the chance of you finding a black widow is the same, no matter which country the grapes were imported from. (The spiders' second favorite fruit to hide in are bananas).
"The reason they're in the vineyards is to eat insects and other arthropods. It's not that they want to hang out on your grapes or in your home," told Arachnologist Catherine Scott to CBS News.
There also have been some information, that a few farmers have been using black widow spiders in order to reduce invasions of other insects instead of using chemicals.
What can you do about it
Even though the black widow's venom is 15 times stronger than rattlesnake's venom, the spider is not aggressive towards humans and will not bite unless it absolutely has to protect itself.
Wash your fruit well before consuming it. If there is a spider or any other insect hiding in the bag, this will help remove it with water before it comes in contact with your skin.
Studies have shown that the spider needs to be pinched across its whole body to feel the need to bite. Even poking it with a finger repeatedly does not usually make it attack. Instead when poked, the spiders either play dead or run away.
If the spider does bite, its venom is not meant to kill a human (the only prey the spider cares about are insects such as mosquitos, flies, caterpillars and grasshoppers). Out of 1,839 cases reported to American Association of Poison Control Centers in 2013, there have been zero deaths.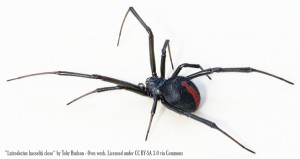 "Venom is expensive to produce. So they'd rather save it for their next meal rather than wasting it on a human," Scott told CBS.
If you were bitten
If you do think you were bitten, wait 15 minutes to see if you were injected with venom. According to the Scientific American, only female spiders are toxic to humans. If the bite starts to really hurt, it is advised to seek medical attention. Call the National Poison Control Center (1-800-222-1222) if need be; available 24/7 for free to answer any questions.
If you are unable to get to a doctor, or are choosing a home remedy, there are a few steps to follow that have worked for some people.
Comments
comments