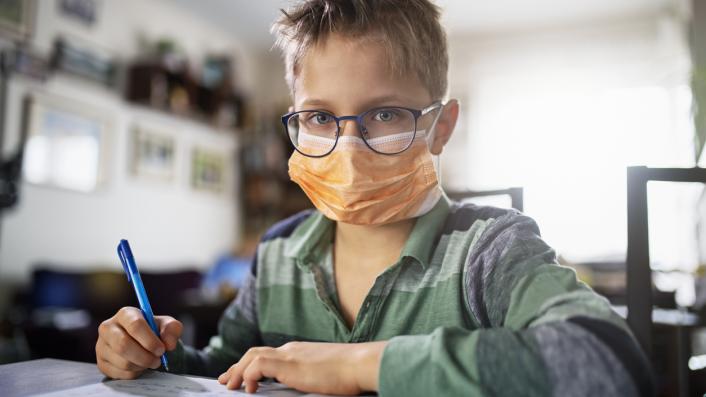 As the coronavirus situation has continued to unfold and schools have cancelled classes through the spring and summer, many have wondered what life will be like when they reopen, which is most likely to happen in the fall.
In anticipation, the Centers for Disease Control and Prevention (CDC) has released a list of recommended guidelines for schools to follow, with a focus on social distancing, COVID-19 posters, and the minimizing of student activities, field trips, and other social events.
The "new normal" in schools this fall could include a great deal of mask-wearing and social distancing, along with a distinct lack of traditional social activities to minimize the spread of the coronavirus.
Among the CDC's recommended guidelines for children returning in the fall is the wearing of face coverings for children over age 2 during classes and other school activities.
"Individuals should be frequently reminded not to touch the face covering and to wash their hands frequently," the guidelines read, encouraging educators to "reach and reinforce" the usage of masks throughout the day.
"Face coverings may be challenging for students (especially younger students) to wear in all-day settings such as school," the guidelines continue.
"Face coverings should be worn by staff and students (particularly older students) as feasible, and are most essential in times when physical distancing is difficult."
The full CDC guidelines can be read here.
COVID-19 Signs, Daily PA Announcements Recommended by CDC 
In addition to the wearing of masks, posting COVID-19 related signs is recommended, including signage for the national COVID-19 distress hotline on school grounds.
Messages relating to COVID-19 are recommended to be continuously broadcast over school PA systems throughout the day as well.
Signs will also be posted in entrances telling children to maintain a distance of six feet whenever possible, and to promote wearing masks among other activities.
Use of shared objects such as art supplies, toys and games should be limited as much as possible, according to the CDC's guidelines.
Virtual meetings and gatherings are also being suggested instead of in-person events, and keeping a distance of six feet for social distancing purposes is recommended as often as possible.
In addition, daily temperature checks have also been recommended, along with the implementation of one-way hallway walking practices.
According to its website, the CDC is one of the major operating components of the Department of Health and Human Services. Its director is Dr. Robert R. Redfield, and its Principal Director is Dr. Anne Schuchat.
The federal organization receives charitable contributions and philanthropic grants from many different individuals, foundations, corporations, universities, NGOs and other organizations.
Among its donors are the Bill & Melinda Gates Foundation, pharmaceutical giant Pfizer, Inc., the Rockefeller Foundation, the PepsiCo Foundation, the Chlorine Chemistry Foundation, and the National Philanthropic Trust, whose main donor is the Bill & Melinda Gates Foundation, among many others.
This is for informational purposes only and is not intended to treat, diagnose or prevent any disease. We may receive compensation from affiliate products purchased via links. Consult a doctor before making changes to your dietary or medical routine. See our full disclaimer here.
Comments
comments