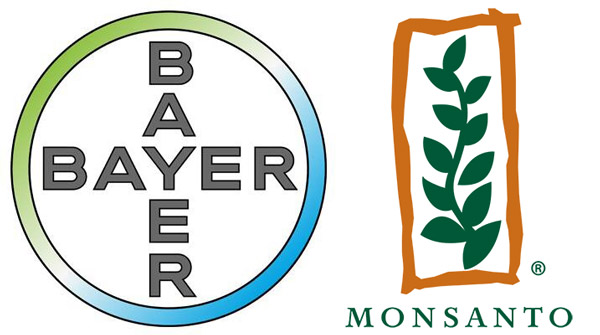 The merger between Monsanto and Bayer, two giants in the chemcial and genetically engineered seed industries, has been in the works for several months now, with everyone from farmers to business analysts weighing in on the possible impacts of such a deal.
But now, the voices of the people are being added to the mix, and in this case on a historic scale: over 1 million petition signatures have just been delivered by farming, consumer and environmental groups to the United States Department of Justice calling on the body to block what could be one of the biggest consolidations of corporate power in the nation's history.
"A Tight Oligopoly on Steroids"
As noted by a release from the grassroots organization Friends of the Earth, the delivering of the signatures coincided with Tuesday's hearing on technology in agriculture and data-driven farming in the U.S. Senate Committee on Commerce, Science & Transportation.
It also included the release of an analysis by FOE, SumOfUs and Open Markets Institute on the merger titled 'Bayer-Monsanto Merger: Big Data, Big Agriculture, Big Problems' exploring the devastating potential impacts of the deal, which they said could lead to "irreversible impacts on consumers and farmers."
In addition, the Consumer Federation of America also released a report titled 'Mega-Mergers in the 'U.S. Seed and Agrochemical Sector the Political Economy of Tight Oligopolies on Steroids and the Squeeze on Farmers and Consumers.'
"The opportunity for every farmer, every business and every entrepreneur to have a fair shot at an open and just market is the core principal that built America and its people's prosperity," said Joe Maxwell, executive director of Organization for Competitive Markets. "Our Government's unwillingness to enforce our anti-monopoly laws and allow these mega-mergers to go forward is threatening our very Democracy."
Erich Pica, president of FOE, had a strong warning about the potential consequences of the merger, which has been roundly protested on social media by supporters of organic and sustainable agriculture.
"The Justice Department must put on the brakes and stop this merger," he said. "Bayer and Monsanto's merger is a direct threat to the future of people and our environment."
The merger would have the effect of creating a new company that would constitute the world's largest vegetable seed company, cottonseed company, manufacturer and seller of herbicides, and largest owner of intellectual property/patents for herbicide tolerant (GMO) traits, part of why critics say it would violate antitrust protections and undermine choices for farmers, consumers, and other companies.
If the merger goes through, a staggering 77 percent of all corn seed in America would be owned by two companies: Bayer-Monsanto and Dow-DuPont.
And as detailed in the 'Bayer-Monsanto merger' report, it could also be a boon for Monsanto and Bayer in large part because of their ability to combine cutting edge, high-tech data systems with their current chemical and seed related resources.
This would allow them to leverage their services for additional profits at the expense of farmers, the report warns.
"For Bayer-Monsanto, this platform will be a way to leverage the sale of one product into another, even if that product is lower quality or more expensive than a similar product produced by a rival," it said. "It is also a way to integrate all of its business and thereby raise barriers to innovation or disruption by its competitors."
The report also raises the concern that this massive consolidation of power, resources and data could further hurt family farms by "likely leading to the increasing size and consolidation" across the board.
In addition, others worry that the Bayer-Monsanto merger could lead to an even more pronounced over-reliance on chemicals in the food supply, as highlighted by a recent presentation detailing their five-step plan to drench our food in toxic pesticides.
For more information on the potentially devastating impacts of the merger, you can check out the full report by clicking on this link.
The petitions were collected by the following organizations: Action Aid, Avaaz, Center for Food Safety, Clif Bar Family Foundation/Seed Matters, CREDO, Food and Water Watch, Friends of the Earth, Organic Consumers Association, Organic Seed Alliance, Pesticide Action Network North America, Rural Advancement Foundation International, Sierra Club and SumOfUS. You can view and sign the SumofUS petition (with over 500k signatures already) by clicking here. 
Comments
comments