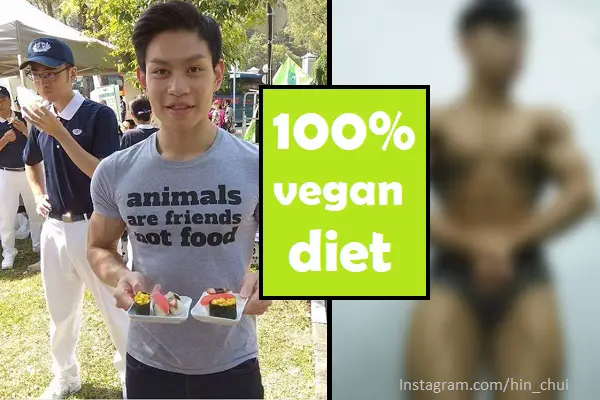 Chui Hin Chun is a rarity in Hong Kong. While in other place in the world being a vegan athlete is no longer uncommon – there is American weightlifter Kendrick Farris, German strongman Patrik Baboumian, and British boxer David Haye, among many others – in Asia, he is one of the few. In Hong Kong, he has yet to meet another person like him.
At only 21 years old, he competes against athletes who have a traditional meat-packed diet. But for him personally, the choice to go vegan was an obvious one.
His reasons for this lifestyle change were out of compassion for the animals.
He started body building when he was just 17 years old, and nor knowing what he knows now, he ate meat the first year of his training. After learning the truth about the inhumane practices of animal farming, he made an immediate switch to a vegetarian diet, then became a full vegan shorty after.
Today, he hopes to inspire others to switch to a plant based, even though it is a real challenge in a city full of people who do the opposite.
He gets his share of hate and non-believers, people who accuse him of using steroids or lying. But like many like him around the world, this is a mission he has no plans of giving up.
"People say I'm fighting in bodybuilding games but I say I'm also fighting the system," Chui Hin Chun told South China Morning Post (SCMP).
To help move his mission along, he has launched Revol Vegan Fitness Center in Cheung Sha Wan, where he teaches others about veganism and fitness.
Vegan Bodybuilder's Diet Plan
Chui Hin Chun does not just care about the animals, he cares about his health too – and he makes sure he eats a healthy plant-based diet.
One of the biggest issues many people have in switching to a plant-based, vegetarian or vegan diet, especially those who are active, is how to maximize nutrition and to make sure they're getting the right kind of fuel to sustain their busy lifestyles.
While vegan diet can be extremely healthy, many people knowingly or unknowingly pack it with a lot of soy, especially GMO soy, which can lead to health issues. Because soy is full of phytoestrogens, which mimic estrogen in the body, and it can cause hormonal imbalances, it is linked to cancers and illnesses related to hormonal imbalance. The genetic modification and large-scale pesticide spraying of soy in some countries like the U.S. has even caused it to be shown as containing high levels of formaldehyde by one well known researcher.
Chui Hin Chun says soy and quinoa are the easiest sources of protein, but because of soy's health risks (and it being mostly GMO), he now chooses quinoa.
"A lot of soy is derived through the Genetically Modified Organism process… In my early days of going meat-free, I tried it and ate a lot of soy and tofu every day, but for some reason I lost some muscle [mass]…Since I cut soy out," Chui Hin Chun said.
Besides quinoa, his diet contains a lot of rice, nuts, pumpkin seeds, and legumes (especially split peas). [Organic, vegan, split protein is one of the healthiest protein choices].
He gets a lot of his healthy fats from pumpkin seeds, carbohydrates from nuts, and iron from seeds (like sesame seeds).
While some people criticize him, saying that what he is doing is impossible, he retorts that his diet is healthier than his traditional-diet competitors. He says bodybuilders who follow a traditional diet have 20% body fat in the off-season and tend to lose their six-pack. His diet allows him to keep his body fat at only about 8% and look the same the whole year.
"I feel good. I can develop muscle mass through my vegan diet. It is proof [the misconceptions about veganism] are not true," Chui Hin Chun said.
Besides achieving a healthy and ripped body, he says becoming vegan has cleared his mind and helped him focus. Now he feels calmer on most days, and does not get angry as often as he used to.
Protein-Powered Vegan Foods
Chui Hin Chun answers to those who doubt him by being transparent about what he eats. Besides posting many of his meals on his Instagram, he also gave a complete breakdown of his meals to SCMP.
Breakfast
Quinoa (150 grams) protein shake with a banana: 9.3 grams of protein
Cooked split peas (150 g): 12 g protein
Cooked brown rice (100 g): 7.5 g protein
Lunch
Quinoa (150 grams) protein shake: 8 grams of protein
Mixed nuts (100 g): 16 g protein
Pumpkin seeds (100 g): 19 g protein
Dinner
Chia seeds (50 g): 8.5 g protein
Mixed rice – red, brown, and white (100 g): 3 g protein
Boiled quinoa (50 g): 3 g protein
Snacks
5-10 slices wheat bread: 18-36 g protein
Oats (50-100 g): 8.5-17 g protein
Tahini, sesame paste (one to five spoonfuls): 2.6-13 g protein
Fruits and vegetables (300 g) – corn, yellow peppers, potatoes and bananas, or yams, purple cabbage and blueberries
He differentiates his meals too, of course. On his social media, we see that he also eats pasta with seaweed vegetables, vegan sushi; vegan burgers from rice, millet, and potato; vegetable kebabs, vegan dumplings, as well as dishes in vegan restaurants, like pizza, Buddha bowls, and ice cream.
Watch his interview by SCMP TV:
Recommended Reading:
Vegan health
Sasak People of Indonesia Possess Natural Strength and Muscle Mass Thanks to This Popular Food. Here's Why It Works…
Defiant 102-Year-Old Retired Surgeon is "Heart Attack Proof!;" He Shares His Secrets For A Long and Healthy Life
Vegan news
First Ever Vegan Supermarket Coming to The U.S. (Selling Groceries, Clothing & More)
The Future Is Here: Vegans Can Now Eat a Plant Burger That "Bleeds."
Vegan recipes
Soy-Free, and Gluten-Free, Vegan Style Battered "Fish" is Possible with This Popular Asian Flower and Superfood. How to Make It… (video)
Actress Re-Creates Famous Movie Treats with Vegan Ingredients that Anyone Will Love (with recipes)
Comments
comments