National Honey Bee Day was August 16, and protesters across the country united to send the message that it's time to start taking the ongoing bee die-off seriously
Events were held on street corners, farmers markets and even wildlife conservatories to shed light on the highly important issue
While the problem of colony collapse disorder is a complex one, researchers have discovered that neonicotinoids, a type of insecticide chemical widely used in the United States, are one of the biggest causes of bee deaths
Europe responded with a recent ban that still has not been adopted in the United States. Unfortunately, the plants are still sold at Lowe's and Home Depot even in supposed "bee-friendly plants," leading many people to believe that further action needs to be taken sooner rather than later
(A petition supporting the 'Save America's Pollinators Act' in the U.S. is just 13,000+ away from its goal, you can sign it here)
Bee Costume-Clad Protesters Send a Message at One Direction Concert 
One of the many National Honey Bee Day Rallies took place in Detroit where protesters gathered on one of the busiest days in the city's recent history to spread the word about the urgent need to save America's pollinators
At the adjacent Ford Field and Comerica Park downtown, a One Direction concert and a Detroit Tigers game both took place at 7 p.m. ET leading to 1-to-2 hour traffic backups heading into the city
Despite that, about 15 protesters managed to find their way to the area and educate the countless thousands of passers-by about the dangers of bee-killing chemicals and the need to vote with our wallets.
While other National Honey Bee Protests may have been larger, this one definitely had an impact because of the sheer size of the passing crowds, once again showing that even a small group of committed citizens can make a difference.
Check out the photos below and scroll to the bottom to see a video of the action.
Protesters Gather in Downtown Detroit to Stop the "Zom-Bee Apocalypse."
Save the Bees…Stop Neonicotinoids and other Pesticides! Save America's Pollinators!
"Monsanto is a Buzz Kill!" Protesters Pose for a Picture Near Ford Field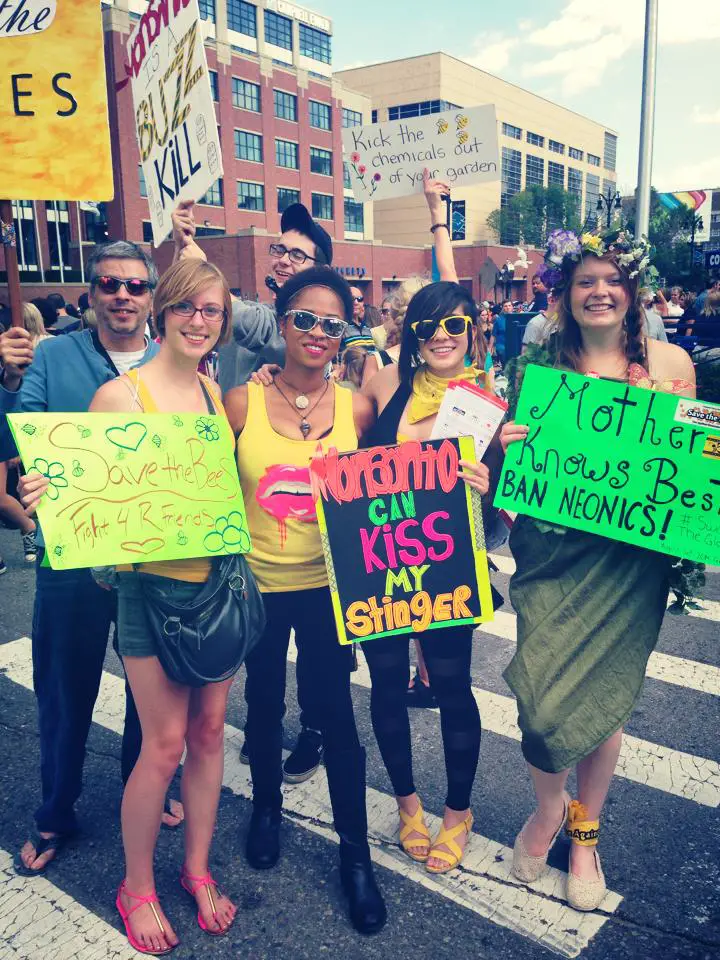 Waiting for the One Direction Set to Arrive…Their Reactions Must Have Been Interesting!

…And of Course, as the Video Shows Below, These Protesters Know How to Get Down:
Thanks for reading! You can also see pictures of a "bee die-in" here, and check out the 'Bee Against Monsanto' Facebook page here. Follow our Facebook page by clicking on this link.
Thanks for installing the Bottom of every post plugin by Corey Salzano. Contact me if you need custom WordPress plugins or website design.
Comments
comments