While the Monsanto Company and the mainstream media continue to insist that GMOs have been "proven safe," an ongoing series of independent studies and analyses have shown otherwise.
That fact is quite troubling to the millions of people who've been ditching GMOs in record numbers, buying organic more than ever before in a bid to avoid genetically engineered ingredients. One of those studies came courtesy of Dr. Shiva Ayyadurai, and it produced some rather interesting results. Ayyadurai's peer reviewed analysis of over 6,000 lab experiments actually showed that GMO soy accumulates high levels of the Class 1 carcinogen formaldehyde.
Now, Ayyadurai, a systems biologist from MIT (who also happens to own the first copyright for the word email according to Time Magazine) is making a bold offer to Monsanto that no one saw coming.
Shiva Ayyadurai Calls Out Monsanto
On the heels of his study on GMO soy, Ayyadurai has refused to back down from his results despite pressure from Biotech groups who have attempted to discredit him. Instead, he's anteing up with a new offer to the Missouri-based agrochemical giant.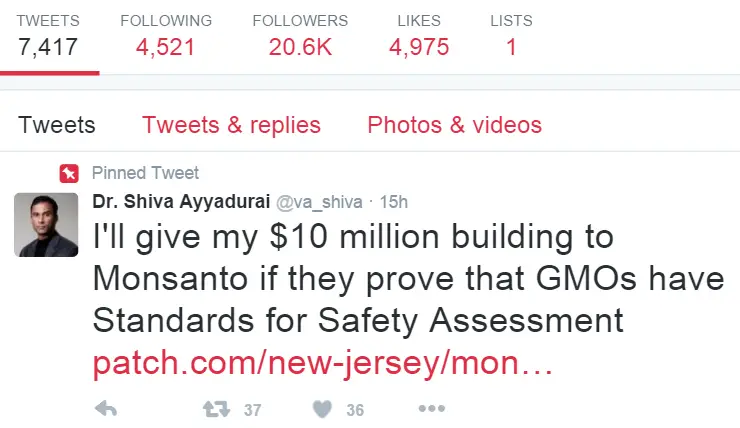 Ayyadurai's full challenge is as follows: "If Monsanto can disprove the fact that there are no safety assessment standards for GMOs, the conclusion of our fourth paper, then I will give them my $10 million building (in Cambridge, Massachusetts)."
The challenge was issued as part of an exclusive interview by the Livingston (NJ) Patch, the online news publication in Ayyadurai's hometown, where he graduated from Livingston High School. In his original peer-reviewed paper the MIT grad had this to say:
"This is not a pro- or anti-GMO question," Ayyadurai wrote in his abstract in the peer-reviewed journal Agricultural Sciences. "But (rather), are we following the scientific method to ensure the safety of our food supply? Right now, the answer is no. But we need to, and we can if we engage in open, transparent and collaborative scientific discourse, based on a systems approach."
Monsanto has yet to respond to Dr. Ayyadurai's challenge, but he told Patch that he has made repeated attempts to meet with Monsanto officials in order to discuss what he found in the study showing formaldehyde in GMO soy. Monsanto did not reply to an email from Patch according to the article.
Will Monsanto Step Up to the Plate?
Despite the oft-repeated claim that GMOs are among the most tested types of food in history, millions of skeptics worldwide remain. Russia just banned the cultivation of GMOs as did 19 member countries of the European Union, and health and environmental concerns are among the chief reasons. 
In America, a long line of corruption and questionable deals allowed GMOs to flourish. For example in 1987 then-Vice President George H.W. Bush visited Monsanto headquarters and pledged on camera to help the company to remove pesky "bureaucratic and safety hurdles" facing their controversial GMO crops. The concerns of Ayyadurai have been echoed by Ray Seidler, a former EPA Senior Scientist, and Michael Hansen of the Consumers Union.
As Seidler puts it in this interview with Ayyadurai and Hansen:
Remember, the FDA also has not taken any official position on GM foods, but rather provides guidelines, such as substantial equivalence, from which they perform "safety consultations" and allow manufacturers to be self-regulating.
Hansen also questioned the line of thinking that GMOs have been proven safe, adding the following to Seidler's response:
This is something that is often forgotten and not explicitly shared in the media. There is a big myth that the USFDA regulates and does safety assessment of GM foods. This is simply not true. The fact is that the FDA does not take a position on the safety of GM foods. A GM manufacturer simply self-reports the safety analysis of their product versus the non-GM counterpart, and the FDA simply sends them a standard letter, based on a "safety consultation", to acknowledge the self-reported safety results. On the FDA website, you can see these standard "safety consultation" letters, representing over 101 consultations, which have been completed to date.
So, will Monsanto step up to the plate and respond to Ayyadurai? That of course remains to be seen. But judging by the company's history (and what is said above about GMO safety assessments) the odds are most certainly against it.
Comments
comments