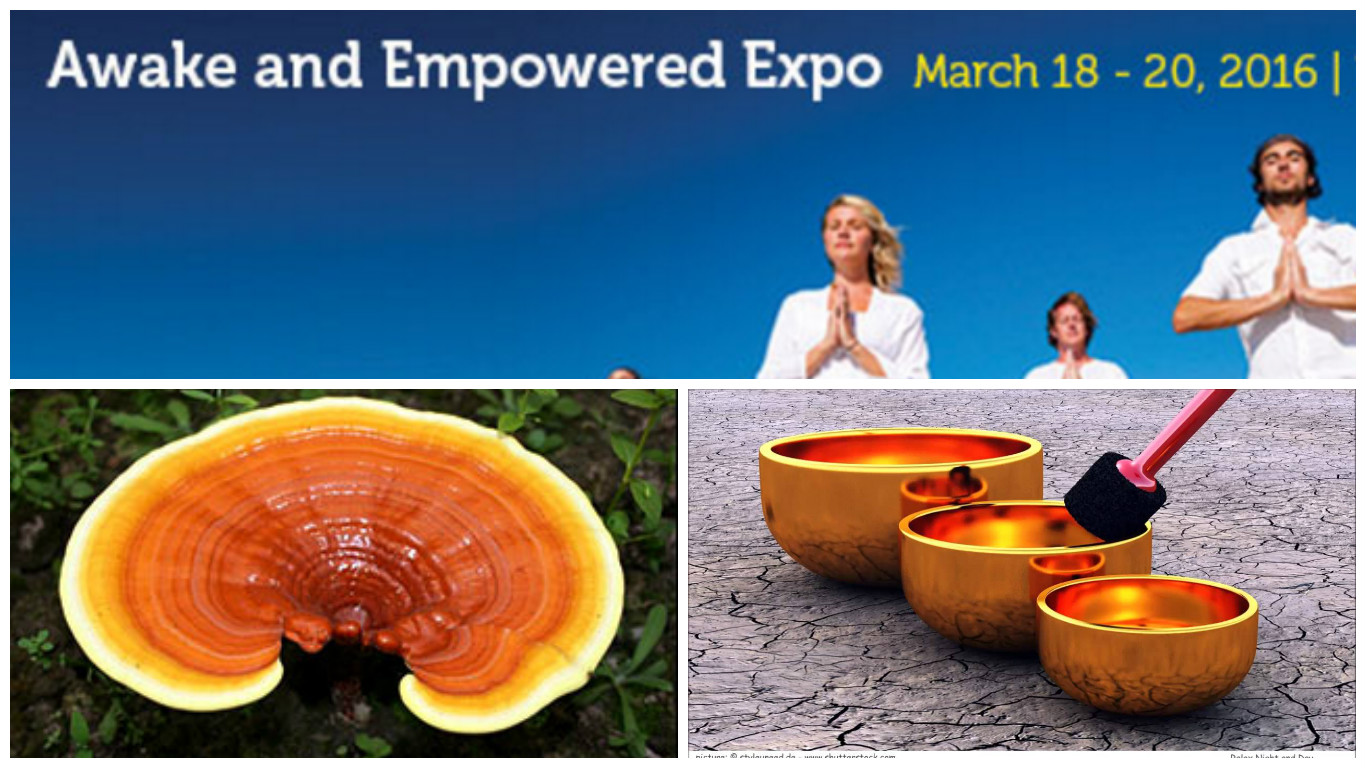 One of the biggest things I've learned about holistic health is that it's a lot easier – and a lot more fun, when we're able to connect with like-minded people instead of going it alone.
That also applies to sharing ideas about green living, alternative energy (and all the incredible advancements being kept under wraps) the rise in human consciousness, and other revolutionary topics we don't always hear much about (even though millions of people spend a lot of time thinking about them).
I've always been huge fan of health expos, and one of my favorites just happens to be in my backyard – the Awake & Empowered Expo, which is hosting its 3rd annual event from March 18-20 in downtown Detroit.
I've attended a lot of different health expos and events over the years but this is one is different; it's far more than that.
The Awake & Empowered Expo is a celebration of human potential, a wide-ranging event with in-depth (TEDx is probably the best comparison) presentations on topics the mainstream media would never touch.
At the past two events I've seen: A former military vet and expert on the harmful effects of EMFs, Wi-Fi and "dirty electricity;" a holistic doctor and author who's helped thousands reverse so-called "incurable diseases;" performances by a man whose music has been said to possess incredible healing properties that top even the finest classical music pieces, a presentation by the founder of the U.S.' biggest organic co-op (Kristina Carrillo-Bucaram of FullyRaw fame) and many more.
The 2015 event also featured Ty Bollinger, the creator of the hit The Truth About Cancer series whose latest documentary A Global Quest went on to smash records and change the way the world views cancer and cancer treatments.
Presenters like these are just the tip of the iceberg at the Awake & Empowered Expo, where no topic is off-limits (there's a bit of a conspiracy/paranormal/supernatural twist to this expo that differentiates itself from all the others…Ancient Aliens fans or people who are curious about the true history, and future, of humanity will feel at home here).
Also at last year's event, Dr. Sam Osmanagich gave one of the most mind-blowing presentations I've ever seen on the little known discovery of the Bosnian Pyramids (which are believed to be the largest in the world) and the mystery that still shrouds them.
Six Reasons to Attend This Year's Expo 
The 2016 expo is happening from March 18-20 at the historic Westin Book Cadillac in downtown Detroit.
For a schedule of presenters and ticket information you can click on this link.
Here are six reasons why you won't want to miss this year's expo:
1. Connection- If you're like me you're probably passionately curious about the potential of the human race and whether we're really building the type of society we'd all like to see, or simply skirting around the truth and the real issues. At the Awake & Empowered Expo you'll be able to connect with like-minded people from all walks of life: expect great connections and fantastic conversation.
2. Energy- I've been to the past two expos and one of the big reasons I keep coming back is simply because of the positive energy that seems to envelope the event; it's unlike anything I've felt. In a world where we're all so focused on the problems we face, the solution-oriented focus of this expo always manages to lift my spirits and arouse my curiosity.
3. Performances- From Mark Romero to Mark "Dr. Dream" Peebler and his 333 Tibetan Crystal Bowl "Galactavation" on Friday, March 18 (see here for more info or tickets), you'll be inspired and energized by powerful healing sounds.
If you've ever been interested by the healing power of sound you'll experience some incredible examples of it at the 2016 Awake & Empowered Expo.
4. Shopping- Last year I bought a necklace from Dr. Osmanagich's booth containing an actual fragment of the Bosnian pyramids mentioned above, along with other unique items you won't find anywhere else.
If you're a fan of mystical and/or metaphysical shops, gemstones, essential oils and similar healing products you'll love the exhibitor space; click here to get a free pass to browse it for the weekend.
5. No Topic Off Limits- From ancient history that has been hidden from us to energy healing, quantum physics inspired concepts and just about anything else you can imagine, no topic is off limits (see the schedule here). That makes the Awake & Empowered Expo a breath of fresh air compared to other traditional health-focused expos.
6. Authenticity- At a time where everyone is stuck in "peer reviewed study or it can't possibly be true" mindset, the Awake & Empowered Expo dares to go beyond the limits to deliver a wholly authentic experience based on possibility, imagination and exploration. Of course that's not to say all the presenters and topics aren't backed by science — there's far more published science behind a lot of these topics than most people realize.
But the Awake & Empowered Expo is more about intuition, spirit and feeling than anything else, all of which are often lost in modern day science (which is part of the reason why we're in the predicament we are as a species).
It's something that's hard to describe in writing but easy to feel once you get a chance to attend.
More Info & Where to Buy Tickets 
Needless to say if any of this sounds remotely interesting to you, I'd love to see you at this year's Awake & Empowered Expo.
The 2016 expo not quite as packed with traditional holistic health presentations as in previous years, but if you consider yourself to be an open-minded and "passionately curious" about any of these topics I can personally guarantee you'll find something to inspire you at this year's expo…I know I will!
For more information, or to purchase tickets, check out the event's official website by clicking here.
Note: The author is currently a volunteer with the expo and has been promoting it through this website since the first edition in 2014. No financial compensation will be received for this or other articles and/or referrals. 
Comments
comments