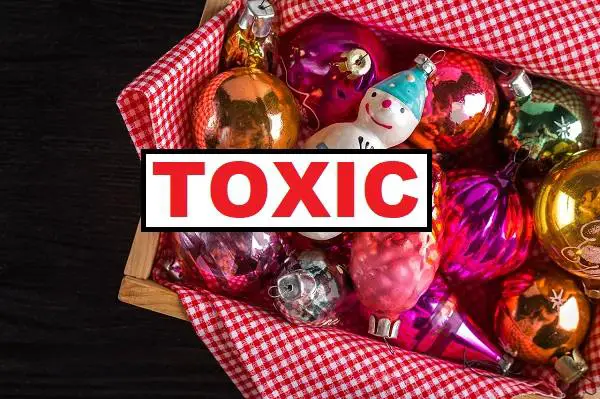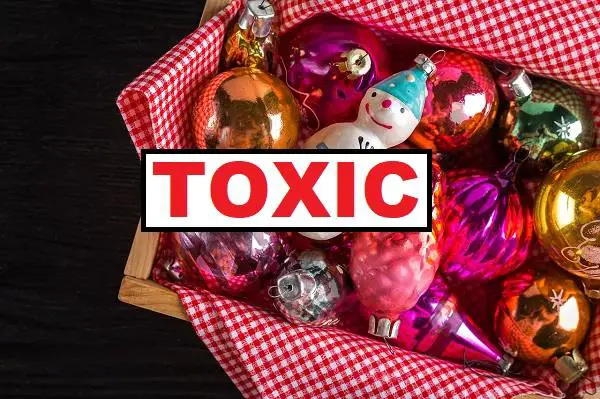 It is sad that in today's world, even our holidays are tainted with health concerns. In a previous article we covered the toxic truth behind Christmas trees. A shockingly high number of them are made in China and are full of carcinogens, toxins, and lead.
While there are ways to minimize the exposure, the next step is making sure what goes on top of that tree is also safe.
This is especially important if you have small children who have a habit of putting random objects in their mouths. In 2006, there was a tragic death of a 4-year-old boy who swallowed a small part of a bracelet. While in most circumstances, the object would have passed through his system, because it contained high level of lead, he died.
Lead is just one of multiple concerns when it comes to holiday decorations. Besides lead, they can contain high levels of arsenic, bromine, cadmium, chlorine, chromium, mercury, antimony, and tin.
The Ecology Center, a nonprofit environmental organization from Ann Arbor, Michigan, has previously tested 69 seasonal holiday products, all sold by major retail stores, and not much has changed since then. They found that over two-thirds of the items contained at least one hazardous chemical at concerning levels.
Here are some of the worst product to buy for holiday decorations.
Top 6 Most Toxic Holiday Decorations
Silver Jingle Bell Door Hanger (Kroger): this cute little item contained high levels of arsenic, the same toxin commonly known as rat poison. This toxin was found in the bells themselves, the silver and the glitter ones (152 and 24 PPM), but not the cords. This amount of arsenic would be deadly if a child would accidentally swallow a small piece of the decoration according to the official limits. Lethal arsenic exposure is 1 to 3 PPM.
While some arsenic can come from nature, the earth's crust, it was also heavily used in the 19th Century is paints and dyes for clothes, paper, and wallpaper. Later it was used in pesticides and weed killers, and this has increased the contamination of the water in drink and the food we eat. These pesticides are now banned, but their residues are still in the soil. Today, we are still at risk of consuming dangerous levels of arsenic in food and water. But we also have to be aware of it contaminating items we use, such as holiday decorations.
Arsenic is linked to many types of cancer, heart disease, strokes and diabetes. It can also cause lower IQs in children.
Decorative Bows (Dollar Tree): This item does not come as a shock, because almost everything that is sold at the Dollar Store is extremely toxic. The highest level in these bows is of chlorine (106,591 PPM in plastic with glitter, and 426,491 PPM with glitter). Chlorine content indicated that it's made from PVC or Polyvinyl chloride, a synthetic plastic polymer. PVC is the only plastic made with chlorine, and its production often requires using lead as a stabilizer, and phthalates to make it soft. All of this makes PVC "the most toxic plastic for children's health and the environment," according to the Center for Health, Environment and Justice. It has been linked to cancer, asthma, birth defects, obesity, and developmental disabilities.
18 ft. Lighted Garland (CVS): This garland contains 65,751 PPM of bromine in the lights. This chemical is used in fire retardants and has been linked to birth defects and reproductive problems. But it's not just the lights that are a problem. Other decorations that do not have light, such as the Santa head decoration, other garlands, and door hangers, also contain high levels of bromine.
Red Bead Garland (Kroger): This simple garland is made with high levels of antimony (7,538 PPM). This metal is often used in batteries, and metal products. This is not a chemical that is talked about often, but it is not better than lead or arsenic. Coming in contact with antimony dust can lead to dizziness, headaches, vomiting, depression, and liver and kidney damage. One of its compounds is also considered to be carcinogenic.
Holiday Swag Bundle (Target): This decoration, along with the Silver Bell Door Hanger and 18 foot lighted garland, has high levels of tin – another chemical that is not often discussed. Tin is a metal, which can be found in food containers and household items. While it may have not been a huge issue 40 years ago, the industrial progression has brought too many toxic metals at high amounts into our lives. All of these toxic metals are especially damaging to the nervous system. Tin has been observed to cause tumors in rats, lung disease in workers, and negative effects on the blood.
But this is not the only item from Target that made the list, unfortunately.
Decorative Tree (Target): This is not a Christmas tree to decorate, but a small tree used as a decoration itself.
And unfortunately, this one has high levels of lead in its metal frame – 2,102 PPM. Lead may be one of the worst things on this list, and unfortunately it has contaminated many things in our homes, and almost everything that is made in China. It has a negative effect on the whole body and all its systems, and is especially damaging to children's developing brains. No level of lead is safe, according to the World Health Organization.
At high levels, lead poisoning can even cause death. At lower levels, it leads to low IQ, anemia, hypertension, and reproductive problems.
The rest of the report and all of the items can be found on EcoCenter.org 
Tips for Safer Christmas Decorations
Buy Christmas lights at IKEA. The Swedish furniture company has to comply with stricter EU rules for levels of lead, mercury, cadmium, flame retardants, and other toxins.
EnvironmentalLight.com also sells a variety of lead-free holiday lights
If you have to use toxic ornaments, wear gloves and a mark when hanging them. Make sure they are far out of reach from children and pets.
Buy ornaments made in the U.S. (some of the more of artful collectible ornaments are made in the U.S. like adorable forest creatures by Wee Forest Folk).
Make your own Christmas decorations: cut out some old-fashioned paper snowflakes to put on windows, string popcorn together for a garland, use pine cones, candy canes, and even sugar cookies as ornaments.
Recommended reading:
U.S. Commerce Dept.: 85% of Fake Christmas Trees Come From China, Made From Carcinogens, Toxins and Lead (What You Can Do to Minimize the Risks)
81 Percent of Dollar Store Products Tested Contain Chemicals Linked to Learning Disabilities, Cancer… And More
Comments
comments