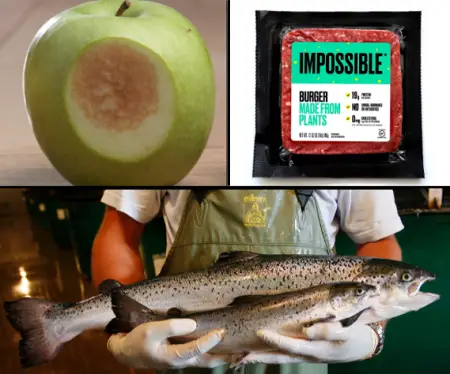 The genetically modified food experiment was first unleashed on the unsuspecting public in the mid-1990s with the FlavrSavr tomato, a product that was ultimately rejected and removed from the market.
Since then, the creation of new-spliced genetically engineered crops and foods has continued, as detailed in documentaries like 'GMO OMG!,' 'Food Inc.!' and 'Altered Genes, Twisted Truth' among several others.
Now in 2021, Non-GMO and organic food labels are everywhere, as such foods have become easier to obtain than at any time in recent memory.
There's just one catch, however: the GMO industry is still thriving and still producing new foods, crops and pesticides right under our noses, and they're being more covert about their creations than ever before.
Updated List: The Top GMO Foods to Avoid for 2021
Recently, the non-profit group GMO Free USA released its list of the top GMO foods, vitamins, animals, and food products to avoid for the year 2021, and it prominently features 14 main items.
This list can be used as a primer before your next shopping trip, which is especially important considering that most GMO foods are not labeled as such,
Perhaps the most egregious offender is the Impossible Burger, which recently tested positive for high levels of the cancer-linked chemical glyphosate.
The popular meat substitute burgers state on their label that they are "burger(s) made from plants," but neglect to mention that they are actually made as part of a process that includes GMO yeast and isolated meat-like compounds that are designed to make it taste more like the real thing.
The other 13 GMO products to avoid are as follows, according to the post from GMO Free USA, which can be read in full here:
1. Papayas- GMO papayas are hard to distinguish from non-GMO, so be sure to buy organic whenever possible.
2. Zucchini- There are only about 2,500 acres of GMO zucchini currently being grown. Buy organic or ask the farmer before purchasing to be 100% sure yours is GMO-free.
3. Summer squash- Small amounts of GMO, yellow crookneck squash is currently being grown. Follow the zucchini guidelines above and you should be alright.
4. Potatoes- If you want to avoid GMO potatoes, be sure to know your source. These have also been grown in relatively small quantities but were recently classified as "high risk" for GMO contamination.
Buy organic potatoes when in doubt, and click here to learn more about the three main varieties of GMO potatoes to avoid.
5. Apples- Recently, the Canadian and Washington state based Okanagan Specialty Fruits began shipping GMO apples across the country, unlabeled.
To avoid these, look for bags that say "Arctic Apples" on them at the grocery store.
Or, simply buy organic apples only, especially since many of our apples have banned in Europe due to our farmers' use of certain restricted pesticides.
While GMO apples are still grown in relatively small quantities, the concern is that they are being sold unlabeled, especially in cafeterias or similar settings where their selectively gene-spliced "traits" such as their "non-browning" abilities can be utilized to turn a higher profit due to these items' longer shelf lives.
Learn more about the new GMO apples in this article.
6. Alfalfa- Many farmers became concerned in the past decade about GMO alfalfa cross-contaminating traditional alfalfa, and many of them say that little has been done to protect organic crops.
Despite this omnipresent concern, it is still best to buy organic whether in food form or in supplement form like this one, because this is one of the healthiest and most nourishing crops on Earth.
7. Corn- As much as 85 to 90% or more of corn grown in the United States is genetically modified and sprayed with increasingly large amounts of toxic, synthetic pesticides.
Most of it is used for ethanol or packaged, processed foods, so be sure to buy your corn from a trusted farmer, preferably organic, to avoid the GMO varieties.
Because corn is such a well-masked ingredient in most processed foods, it's important to buy items with the non-GMO or USDA organic symbol to feel most confident about your purchase.
Not only will you be supporting organic corn growers, you'll also be supporting a less toxic environment for the dwindling bee population, which has suffered tremendously at the hands of chemical, mono-culture pesticide sprayings.
The rest of the list is as follows:
Beet sugar
Aspartame
Cottonseed oil
Canola
Salmon
Impossible Burger
Soy
Bonus item:
15. Brave Robot, a new form of GMO ice cream that is being sold in grocery stores like Kroger as well as health food stores.
Learn more about how this ice cream is created using a form of "extreme genetic engineering" by clicking on this article.
Thanks as always for reading!
For more information, check out the full GMO Free USA post here.
Sincerely,
Nick Meyer
AltHealthWorks.com Founder
Thanks for installing the Bottom of every post plugin by Corey Salzano. Contact me if you need custom WordPress plugins or website design.
Comments
comments