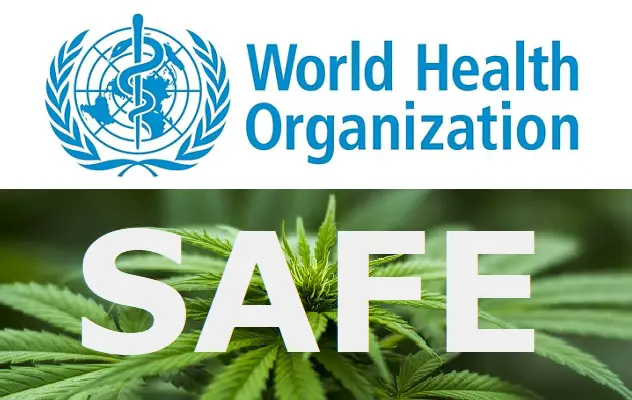 While there are countless stories of natural healing success achieved through the use of cannabis oil and other cannabis-derived products, the narrative remains among the mainstream that anything associated with this so-called 'Sacred Plant' should be classified in the same sub-set as dangerous drugs.
Medical marijuana is still a chore for most people in need to get, if it is even available at all, and the highest quality CBD oil products generally fall under the same category.
But after decades of waiting, this may be the news millions have been hoping for: the World Health Organization (WHO) has concluded that CBD has no health risks, and no potential for abuse, and it does have clear medicinal benefits after all.
Many patients have already learned this from their personal experience, but to have this confirmation come from one of the world's most well known and respected health bodies could mean more opportunity for people who need it to receive this life-saving natural medicine.
Cannabidiol or CBD is a non-psychoactive chemical found in cannabis. For decades, CBD oil, the main medicinal product available from cannabidiol, has worked very well for many people.
After 20 years living with Parkinson's disease, one man found relief from injecting CBD oil. In another case, a young girl with a severe case of epilepsy and autism took control of her seizures with CBD oil.
Despite numerous success stories, U.S. federal policy still considers CBD to be an illegal substance. Hopefully, the new WHO report will help move CBD legalization forward. Many patients depend on it.
WHO Findings on CBD: Safe, Effective, Medicinal, and Non-Addictive
The newest report by WHO made the following conclusions:
CBD, naturally occurring, is safe.
CBD is well tolerated by both humans and animals. (the only adverse effects are due to interactions with pharmaceuticals).
It has no health concerns or side effects.
CBD does not make a person "high," so it has no potential of being a street drug.
CBD is not used recreationally.
CBD has many medicinal properties beneficial for treating epilepsy, cancer, Parkinson's disease, Alzheimer's disease, psychosis, and other serious health conditions.
It has no physical dependency and is "not associated with abuse potential."
"To date, there is no evidence of recreational use of CBD or any public health related problems associated with the use of pure CBD," the report stated.
Medicinal Benefits of CBD Oil
A lot of organizations are bringing the knowledge about CBD oil medicinal benefits to light, because of how incredible they are. The WHO compiled the following effects on numerous illnesses based on research done (human and animal studies):
Alzheimer's disease: anti-inflammatory property; slows down the progression of the disease
Anxiety: reduces fatigue, improves cognitive function, releases muscular tension, removes restlessness, reduces stress, and improves social skills.
Cancer: prevents and slows down cancer cells
Cardiovascular diseases: antioxidant and anti-inflammatory properties reduce infarct size (tissue death)
Crohn's Disease: reduction in symptoms of the disease
Depression: helps fight depression
Diabetic complications: reduction of fibrosis (connective tissue scarring)
Huntington's disease: acts as an antioxidant
Hypoxia-ischemia injury: reduces oxidative stress
Infection: Helps fight Staphylococcus aureus bacteria (responsible for skin infections and serious conditions such as pneumonia)
Inflammatory diseases: anti-inflammatory
Multiple sclerosis: improves the immune system, reduces brain inflammation.
Nausea: reduction of nausea
Pain: reduces pain
Parkinson's disease: reduces agitation, aggressive behavior; protects mental state.
Psychosis: positive behavioral changes
Rheumatoid arthritis: prevents inflammation
What Is Next for CBD Legality?
Because of such positive findings by WHO and other organizations, many countries have started treating CBD as a medicinal product.
The USA is still not one of them, unfortunately.
Some companies have found the loopholes in the system to sell CBD; all are hoping that it will gain full legal status one day soon (with reports like the one by WHO opening everyone's eyes to this substance's benefits).
Thankfully there are many movements happening across the country to legalize CBD and other cannabis based medicinal products. In total, 29 states have some sort of medical cannabis program; you can check out the full list of current regulations by state here.
Thanks for reading! For more articles like these in your inbox (and a free eBook), you can click on this link. 
Recommended reading:
Rx Drugs and Surgery Failed Him for Decades in His Battle With Parkinson's. But One Drop of Cannabis Oil Later, Everything Changed…
"She Was Dying in Front of Us:" 9-Year-Old Girl's Life Saved, 300 Seizures Halted Thanks to THIS Illegal Substance
"I put 311 people in jail for marijuana. I was wrong" – Regrets Former Judge After Using Cannabis to Treat His Chronic Condition
Comments
comments