The Kettle Brand has become a go-to snack for many people who seek to avoid GMOs and unnatural ingredients in their potato chips.
But according to a recent lawsuit, the claims on Kettle Chips bags have not been completely truthful.
Now, thanks a settlement announced this week, anyone who purchased Kettle Brand chips between Jan. 3, 2010 and Feb. 24, 2015 is eligible to receive up to $20 back.
The lawsuit, which alleged that that parent company Diamond Foods violated certain laws by making claims of  "natural," "nothing artificial," and "non-GMO" on their products, was settled after the company and the plaintiff came to an agreement. Diamond Foods denied it was guilty and said it settled the lawsuit to avoid the expense and uncertainty of ongoing litigation.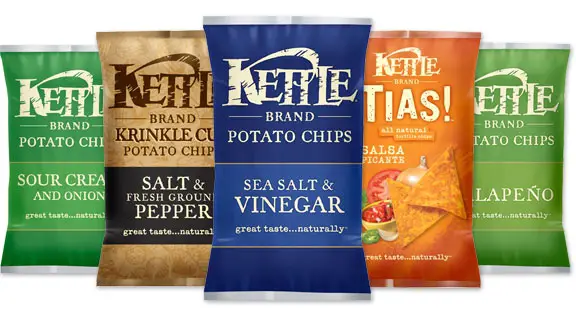 How to Claim Up to $20 in Kettle Chips Lawsuit Settlement
Plaintiffs for the lawsuit included Deena Klacko and Dominika Surzyn according to the settlement's website.
While information is not available on the site about which ingredients were alleged to have been mislabeled, an original complaint filed in January 2014 by Surzyn identified maltodextrin and dextrose as the at-risk ingredients in Kettle's Tia! Brand chips.
These ingredients are often highly processed and derived from corn and thus especially likely to contain GMOs in the United States.
Currently, the company has several Non GMO Project Verified products as listed on its website, however the issue of whether their chips could potentially still contain GMO material was not resolved in this case, meaning consumers should tread carefully in the future (see the project's guidelines for info on how products are verified). 
For the purposes of making a claim to receive money back, customers who bought any Kettle Brand products with the words "natural" or similar words, or "non-GMO" or "non-GMO ingredients," and even "Reduced Fat" labels are eligible to receive up to $20 back (see here for more info).
If you'd like to file a claim, you must do so by August 1.
Affected parties may claim up to 20 purchases made (with $1 reimbursed for each one) but must upload receipt records for claims that include over 10 items. 
Thanks for installing the Bottom of every post plugin by Corey Salzano. Contact me if you need custom WordPress plugins or website design.
Comments
comments