Speaking to a huge national audience this past Thursday, TV personality and health advocate Dr. Mehmet Oz shed light on a topic that the mainstream media has once again ignored, but one that will have a dramatic effect on the health of Americans: the forthcoming vote on the DARK Act vote to ban GMO labeling.
Also known as HR1599, the bill was dubbed the "Deny Americans the Right to Know" Act because it aims to kill mandatory GMO labeling in America, despite the fact that polls show over 90% of Americans consistently say they want it.
The bill has passed the House and is headed to the Senate this fall, which is why Monsanto, Big Food companies, and the Grocery Manufacturers' Association so badly want to keep it hidden.
But the decidedly anti-democracy bill got a big dose of the spotlight on September 24 as Dr. Oz brought on GMO labeling advocates and experts (the pro-GMO interests were complete no-shows) while sharing his own final warning for America about GMO labeling.
GMO Labeling Advocate Speaks
"If we lose, we'll simply lose the right to know what we're eating."
Those were the words of Scott Faber, the Executive Director of Just Label It and the Vice President for Governmental Affairs for EWG, who appeared on the Oz show.
He was referring to the looming, fall Senate vote on the DARK Act that would not only make GMO labeling "voluntary" only, but destroy the rights of states like Vermont, Connecticut, and Maine along with any others that pass GMO labeling bills.
Faber believes the bill has a better chance of being defeated in the Senate than it did earlier this year in the House, but it's going to take a huge effort from consumers to trump the pro-GMO side's millions.
"Big food and biotech companies have already spent $51 million in the first six months of 2015 to lobby Congress, but millions of calls, letters, e-mails, and visits from ordinary consumers like you are making a difference," he said on Dr. Oz's website.
Faber is urging people to call, email, or write their Senators to tell them to vote no on HR1599 when it comes time to vote this fall (editor's note: Senators give extra attention to hand-written letters).
Dr. Oz Speaks: "We Have the Perfect Storm…"
After a simple demonstration of how GMO crops work (they basically were made to resist toxic herbicides and usually end up needing bigger doses of even more toxic herbicides), Dr. Oz shared his own concerns with Americans, along with a final warning.
He had reached out to the GMA, the Biotech Industry Organization, and even Rep. Mike Pompeo, who introduced the bill, but all declined to be on the show.
The GMA released a statement, however, stating that HR1599 is a "reasonable bill" that "sets a national science-based labeling standard that prevents confusion and provides certainty for consumers in food labeling."
Critics, however, say that this type of voluntary labeling could be a disaster.
Examples abound of companies flat-out lying to their companies by including lab-created genetically engineered ingredients in products ranging from Pepsi's fake "natural" Naked Juice to supposedly "Non-GMO" tortilla chips from a smaller company named Xochitl.
These GMO crops are incredibly hard to track without proper labeling, and now GMO apples, potatoes, and many others are on the way.
With most members of the crowd seemingly on his side, Dr. Oz sensed the urgency of the moment and called for all hands on deck to save GMO labeling in America.
As Faber said, consumers in 64 countries have the Right to Know if their food is GMO but America could lose that right very soon.
"Argentina just recently passed their GMO labeling law and it didn't hurt the companies, in fact it gave consumers confidence that they were getting what they were getting," Dr. Oz said.
"We have the perfect storm to do the right thing in America. This is the right time to do it because we already are revising those food labels on products…" he continued, adding that this could be our last shot.
"So if you care, and many of you won't, be able to see this as GMO in there or non-GMO, then no one's going to care after that…it will be a done deal."
(To watch Dr. Oz's full comments on GMO labeling click on the picture below, all rights to the Dr. Oz Show).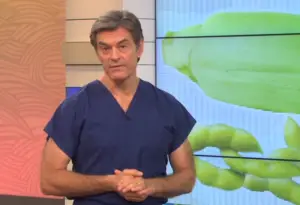 To learn more about the DARK Act or to sign a petition to help save GMO labeling, click on this link. It may be better to contact your Senator directly; use this link to search their name to get their contact info.
Thanks for installing the Bottom of every post plugin by Corey Salzano. Contact me if you need custom WordPress plugins or website design.
Comments
comments