As far as politicians go, there are few who have fought more diligently or consistently for the protection of our natural and non-GMO food supply than former presidential candidate Bernie Sanders.
After all, it was Sanders who stood before Congress in 1994 and lambasted the government's favoritism for the Monsanto Company over one of its most controversial products, recombinant bovine growth hormone.
Since then, Sanders has continued to fight the good fight, even helping to pass a GMO labeling bill in Vermont that would have become the national standard had the controversial DARK Act not overturned it several months later.
Now, with the merger of two of the biggest GMO and pesticide giants in the world looming, Sanders has taken to social media, unleashing a scathing rant on why the Bayer-Monsanto merger is bad news for American farmers and consumers alike.
An "Unstoppable Behemoth" that Will Harm Farmers and Leave Americans in the Dark
Sanders' popularity on social media has shown no signs of slowing following his 2016 presidential defeat (which of course happened in controversial fashion to say the least), and he has used Facebook, Twitter and other platforms to remain highly relevant in an era where the sheer amount of information being shared can become overwhelming.
Speaking to his more than 7.4 million followers on Facebook recently, Sanders unleashed the following warning about the upcoming merger:
"The Trump administration's decision to approve this $66 billion Bayer-Monsanto merger will produce an unstoppable behemoth that will harm farmers and researchers, and keep Americans in the dark about the food we feed our children," he said. "This merger consolidates the largest seed company on the planet with the second largest agrochemical company, leaving farmers with higher input costs, fewer competitive markets, and less innovation.
"Once again, President Trump has chosen to prioritize corporate profits over the well-being of American farmers and consumers."
Trump Administration Continues its Assault on Healthy Food
While the current presidential administration has made some positive steps in the world of holistic health including questioning the safety of our bloated and wildly under-regulated vaccine system while protecting a parent's right to choice (learn more here), it has greatly disappointed millions of people on the issue of GMOs, clean food and the environment.
During his presidential run, Trump surprised many when he took a shot at Monsanto GMO corn in Iowa on Twitter: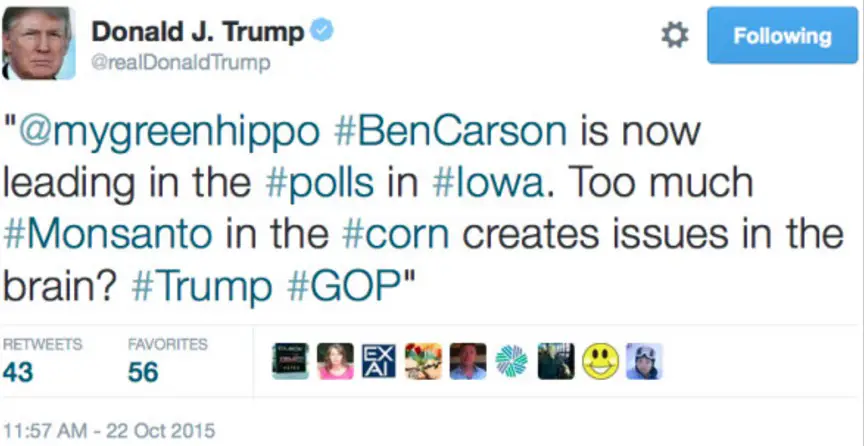 Trump later faced a backlash for the Tweet, and it was blamed on an overzealous intern.
But the tweet, along with First Lady Melania Trump's alleged support for organic and non-GMO foods, gave many hope for a better food system.
Fast forward more than two years, however, and a completely different narrative has played itself out: Trump recently spoke out in favor of Biotechnology and GMOs in Tennessee, stating that he would open the door for even more GMOs to saturate the U.S. market.
"We are streamlining regulations that have blocked cutting-edge biotechnology, setting free our farmers to innovate, thrive, and to grow," Trump said according to MIT Technology Review in Nashville at a meeting of the American Farm Bureau Federation.
"Oh, are you happy you voted for me. You are so lucky that I gave you that privilege," he continued.
He has also made moves that have strengthened the dirty energy industry and factory farming, leading many to wonder whether those in power actually even care about health and the environment anymore.
Monsanto, GMO Agenda Grow Stronger By the Day
While the non-GMO and organic movement has made huge strides and moved tons of healthier products, millions remain oblivious to the seriousness of the current situation.
The company recently announced a new $125 million deal to flood the market with new "longer-lasting" GMOs that won't be labeled or tested for long-term safety as usual.
And the $66 million merger with Bayer could spell serious trouble for the already endangered small and organic family farmer, as recent polls have shown that over 80 percent of all farmers are "very concerned" about the potential negative impacts of the merger.
Needless to say, this is one "unstoppable behemoth" that will take a group effort to keep in check. But as usual, Sanders is getting the jump on the issue before it turns into a serious problem.
And for that, at the very least, he should be commended.
Thanks for reading! For more articles like these in your inbox (and a free eBook), click here. 
Comments
comments