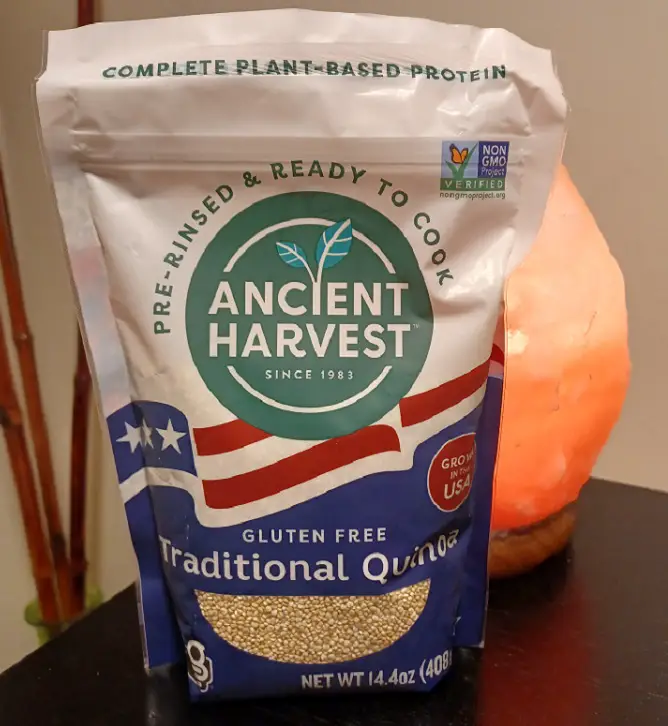 Looking back on my nearly two decades of researching and living a healthy, organic lifestyle, quinoa is most certainly one of the foods that has made the biggest difference.
This ancient, gluten-free grain is packed full of protein, fiber, vitamins, minerals and amino acids, and was once a staple food of Incan civilizations, along with the three sisters (corn, squash and beans).
Today it is mostly eaten by devotees of health food stores, and is used as either a main dish, side dish, or an appetizer because of its versatility, light flavor and substantial nutrient profile.
Recently, I had the opportunity to try quinoa from one of the standard bearers of the popular food – Ancient Harvest, a company based out of Golden, Colorado that was formed in 1983.
Ancient Harvest Quinoa Review
I eagerly tore into the package of Ancient Harvest quinoa recently expecting a light and fluffy afternoon delight.
I wasn't at all disappointed.
The quinoa I cooked comes in a 14.4-ounce bag.
It is pre-rinsed, organic, Non-GMO Project Verified, and ready to cook.
Quinoa typically comes from South America, but the bag explained that this particular brand is grown in the United States – a development we covered in an article several years ago about Oregon quinoa growers.
In this case, the quinoa is grown in the Rocky Mountain region, according to the Golden, Colorado-based company.
This quinoa has 11% of the total daily value of fiber, along with six grams of protein in just 1/4 cup of quinoa.
It also has 6% of the daily value of potassium and 10% of the daily value of iron.
I personally eat more of a meat-based diet nowadays but I have been eating quinoa for years in place of meat.
Oftentimes it would be my sole source of protein for weeks on end, and it always seemed to nourish me quite well.
I still eat quinoa often for a healthy, protein packed light lunch, dinner, and snack.
As far as texture goes, the quinoa from Ancient Harvest is fluffy, flavorful and satisfying.
It's a lot better than amaranth, which I love as a beauty boosting supplement, but not so much as a staple food like quinoa (amaranth has a similar nutrient profile but a much grittier texture).
After not trying Ancient Harvest for a while and mostly buying store brands, I can safely say that this quinoa is a much better choice compared to what you'll find at big box stores.
Ancient Harvest's quinoa is fluffier and tastier; definitely one of best quinoa brands I have tried if not the absolute best.
For more information on Ancient Harvest quinoa, check out their website here.
Products include quinoa-based pastas, polenta, hot cereal and much more (view their product selections here).
Ancient Harvest can also be found on Amazon.com by clicking on this link.
Special thanks to Ancient Harvest for letting me try their amazing products! 
Thanks for installing the Bottom of every post plugin by Corey Salzano. Contact me if you need custom WordPress plugins or website design.
Comments
comments