One of the biggest reasons for the success of Ireland-based Kerrygold Butter is its commitment to producing its products the old fashioned way.
The company's butter is made from cows eating a diet of roughly 90% grass, differentiating its final product in a big way from competitors who source from factory farmed cows eating corn and soy.
But Kerrygold met a roadblock when its product was banned from being sold in Wisconsin, sending some customers across state lines in order to purchase it in March 2017, and leading to a lawsuit from frustrated residents.
Now, however, Kerrygold is back on store shelves in America's second biggest dairy state, and it's a cause for celebration among the state's healthy butter aficionados.
Kerrygold Butter Finally Back After Longtime Ban
According to a report from WTMJ-TV Milwaukee, Kerrygold is finally back after it was able to find a workaround of a little-known state law from the 1950s requiring all butters to be "graded" by the state before being sold.
The issue kept Kerrygold off store shelves at a time when demand was especially high, in large part because of the unique health benefits of the butter's grass-fed status.
"This will be a big day for Wisconsin residents who love the rich taste of Irish butter," said Steve Knaus of Old World Creamery to the Chicago Tribune. Knaus's company helped Kerrygold get approved in the state by buying it in bulk, processing it and packaging it through its own facilities.
Fans have been excited, taking to Twitter to profess their love for the Irish butter despite living in such a dairy-rich state.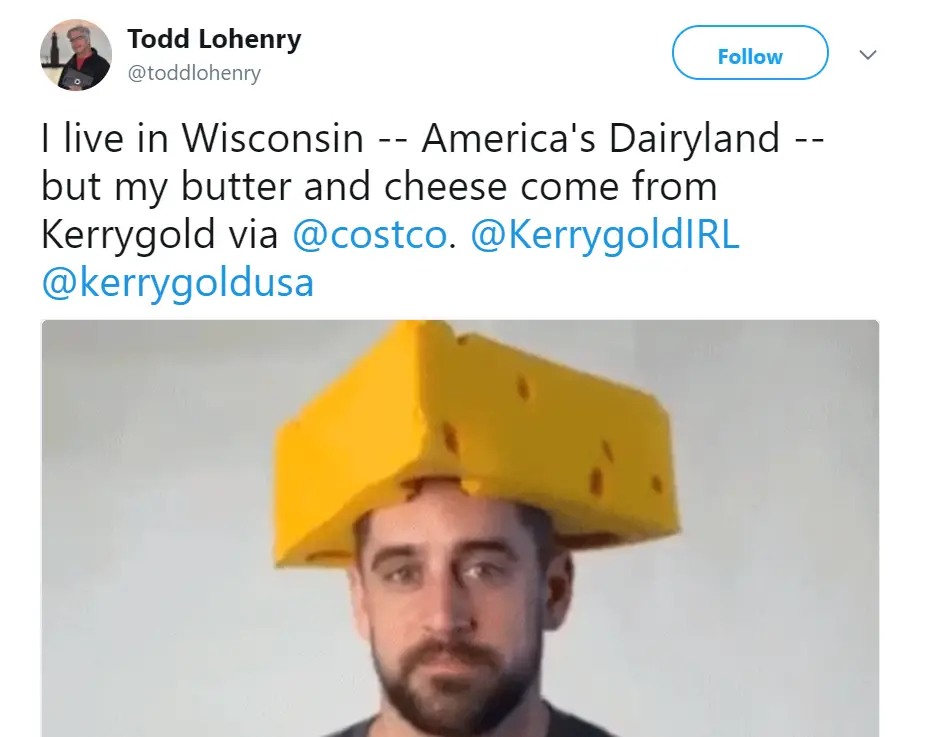 Grass-Fed Cows Still Rare in America's Dairy Paradise 
The Wisconsin state law has prevented similar international butters from being sold in Wisconsin before, a major headache for people who prefer grass-fed butter, which is more standard in European countries, as well as GMO free products.
According to a post on Kerrygold's website, the company's cows are fed about 3% GMO feed on average, but the vast majority of their diets are GMO-free and sourced from grass, the natural diet for the animals. Many factory farms feed their cows GMO corn and soy, and because of the unnatural setup of these large farms animal waste and even fertilizer from growing operations is flushed downstream causing large "dead zones."
For example, Tyson Foods, America's largest meat producer, was recently linked to having a major role in the largest "dead zone" in U.S. history.
Proponents of cows grazing have recently been championing a movement called "regenerative agriculture," during which the animals work the land and deposit their manure in a closed cycle in harmony with natural cycles.
In the case of Wisconsin, the overwhelming majority of cows are not grass-fed — about 22% use it as the main source of food for their dairy according to a Wisconsin Department of Agriculture, Trade and Consumer Protection study.
Many people enjoy grass-fed butter for the health benefits, but fans of Kerrygold butter also say that it tastes far better than traditional store bought brands, more like traditional farm fresh butter used to taste before the days of big agribusiness companies like Monsanto.
Thanks for reading!
Editor's Note: You can also read a full guide on the benefits of grass-fed foods by clicking here (P.S. Look into regenerative farming as well as it can be a boon for the environment even utilizing cows that graze).
Recommended Reading: 
Wisconsin Residents Fight Back, Sue State Over Kerrygold Grass-Fed Irish Butter Ban
The One Thing Health Conscious People Haven't Been Told About Kerrygold Irish Butter
Iowa Farmer Reveals What Happened to His Pigs after Being Fed GMO Corn (The Results Are NOT Pretty To Say The Least)
Thanks for installing the Bottom of every post plugin by Corey Salzano. Contact me if you need custom WordPress plugins or website design.
Comments
comments