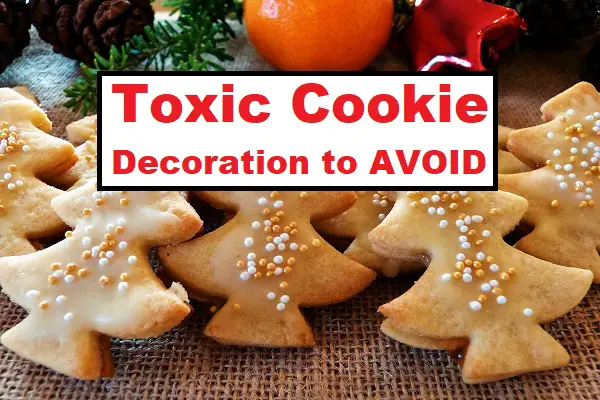 Decorating cookies is one of the most popular family activities during the holidays. With so many different frostings, sprinkles and glitters, there is no lack of imagination in creating colorful and artistic treats.
As many would assume, the most vibrant and unnatural-looking baking decorations are impossible to make without strong chemicals. Personally, I would decorate these cookies for fun but not eat them; and instead put cookies on the table with natural ingredients (Organic and natural cookie sprinkles, food colorants, and colorful sugars do exist).
In the sea of toxic holiday cookie decorations, there is one product that is so bad for you that even the Food and Drug Administration (FDA) warns against it. Even more so, the FDA calls it inedible, believe it or not.
This Inedible Cookie Decoration Too Toxic to Consume
Shopping for cookie decorations in a local grocery or crafts store, it is not often common knowledge to check the label to see if this product is actually edible. After all, cookies are edible, so shouldn't everything approved to be used in the making of cookies be as well?
There is one product that is actually labeled inedible, yet people use it and eat it all the time. The FDA strongly urges people not to due to levels of heavy metals in this decoration.
The product is silver dragées, and while there have always been rumors about them being poisonous, many still disregard the warning. But the rumors may be true after all.
Silver dragées do not look edible; they look like silver beads one would see on a bridal dress. Looking at the label or product description when shopping online, you may find the following statements:
"For Decoration Only."

"Dragées are non-edible and used for decorative purposes only."

"The U.S. Food and drug administration considers the metallic-finish dragées to be inedible, and they are sold with a notice that they are for decorative purposes only."
You will also find in the comments that people are ignoring the warning and still eating them. One consumer asked, "In the description it says non-edible yet I see in the comments people have been eating them. Are they sprinkles or are they not?" 
The other consumer responds: "I'm gonna say edible, thank goodness we are still here…"
Silver dragées are not edible, the FDA warns. You are supposed to take them off the cookies, cupcakes or cakes before eating.
But taking them off might become problematic, because some of these are as tiny as 2 mm each, almost as small as sand.
The reason why they are considered inedible is the ingredient that makes them silver.
The FDA has been fighting this issue since 1906 when a lot of substances were banned as food additives. One of these substances was silver. Because of silver, silver dragées are now sold as decoration only, except in California, where they have been outlawed after a lawsuit in 2003.
The Problem with "Silver"
The silver in the ingredient list of silver dragées is labeled as E174. It's used as decoration only in the U.S., is completely legal as a food item in the U.K., and is banned in Australia.
Prolonged exposure to silver has been linked to kidney damage and discoloration of the skin. (Dragées are not made from the same type of silver than the health supplement colloidal silver. The latter also has its warnings, and just as all medicine needs to be used while equipped with proper knowledge).
Many products containing E174, also contain hidden nitrates. Because nitrates can turn into nitrites in the body, and those can lead to increased risk of cancers, nitrates are best to be avoided.
However, E174 is not the only controversial food colorant used in silver dragées. Up until 2014, many companies in Europe were using E173, which is aluminum. Aluminum is significantly worse than silver and can lead to neurological damage, brain and behavioral problems.
Today, you can also find E122 and E131 used: E122 is a synthetic additive called azorubin, which is linked to hyperactivity in children and exacerbating asthma. It is banned in a few countries, but still found in products bought online. E131 is a synthetic coloring linked to allergic reactions, low blood pressure and nausea. Just like E122 it is also banned in a few countries but is found in products sold on the Internet.
Ironically, India Tree, known for natural decorations sells inedible silver dragées too. As of right now, there are no silver dragées out there that are 100% safe and natural.
Decorating Holiday Cookies Naturally
If you don't want to waste your creations and would like to eat all of the cookies you have decorated, do not despair – there are ways to make completely natural and edible cookies without the iffy ingredients.
(Besides the heavy-metals in silver sprinkles, an important decoration to avoid is toxic food dyes, which have been linked to behavior issues in children, as well as the exacerbation of allergies, asthma, and even DNA damage).
You can get pretty creative without using any chemicals and use Pinterest recipes as inspiration (even Pinterest fails sometimes can provide ideas!)
You can make chocolate cookies, dip one side in white chocolate, and use crushed organic candy canes (that use fruit juice for color) to sprinkle on top.
You can make green Grinch cookies in any cut-out shape and sprinkle green sugar on top (colored with vegetable juice and turmeric).
You can make many cute animals and characters (polar bears, reindeer, snowmen) but using melted organic white chocolate as frosting, and making the eyes, mouse, nose out of raisins, nuts, pieces of chocolate or organic jelly beans.
Some easy examples can be found at SuperHealthyKids.com
Everything you need to get decorating:
Icing can be made at home and colored with frozen fruit juice (orange, cranberry, grape) and cocoa powder or matcha powder for green hues. Some of these juices have already been used to create natural food dye sets, like the one by India Tree: red, yellow, and blue colorants.
Sprinkles can also be homemade using powdered sugar, cocoa powder, and different fruit juices. All this recipe needs is about 24 hours of drying time, and the sprinkles can be kept for up to 6 months.
Looking for an easier route, some commercial products are chemical-free. India Tree makes colorful sugars,  carnival sprinkles, white snowflakes, and "Boughs of Holly" green and red holiday decoratifs. Another company, Let's Do Organic Sprinkelz, makes colorful confetti toppings.
Know another way to decorate holiday cookies naturally? Let us know in the comments below!
Recommended reading:
This is What Happens to Kids' Bodies When They Consume Artificial Food Dyes
The Rainbow You Should Never Eat! THESE Artificial Colors Can Raise Your Cancer Risk…
Haribo Gummy Bears Are Full of Additives linked to Health Issues. Make Your Own With This Simple Recipe! 
Mars Will Remove Artificial Dyes from Their Products – But It May Be Too Early to Celebrate
Over 45 Chocolate Brands Contain Toxic Amounts of Lead and Cadmium (Major "Organic" Store Chain Brands Are Included…)
Comments
comments