Many fans of my Facebook page have been asking me about a healthy sunscreen recipe with natural ingredients, and this one using essential oils seems like a great alternative to the conventional ones with chemicals that have been linked to cancer.
[easyazon_link asin="B004NTCE1M" locale="US" new_window="default" nofollow="default" tag="al0b63-20″]Coconut oil[/easyazon_link] has long been mentioned as one of the best oils to provide protection from the more intense UV rays of the sun, and adding two lesser-known essential oils to the mix is another great way to increase the effectiveness of the popular oil.
So, what are the two oils in question? Read on to find out.
Coconut Oil, Essential Oils for a Natural Sunscreen Recipe 
The base of this recipe is taken from a guide I received at an Earth Day festival titled "Introduction to Modern Essentials," which lists information about various essential oils and their uses. The sunscreen recipe included in the guide includes Sandalwood and Helichrysum, two oils that are a little lesser known compared to the more popular essential oils like cinnamon and peppermint for example, but still quite effective.
The Natural Sunscreen Recipe is as Follows: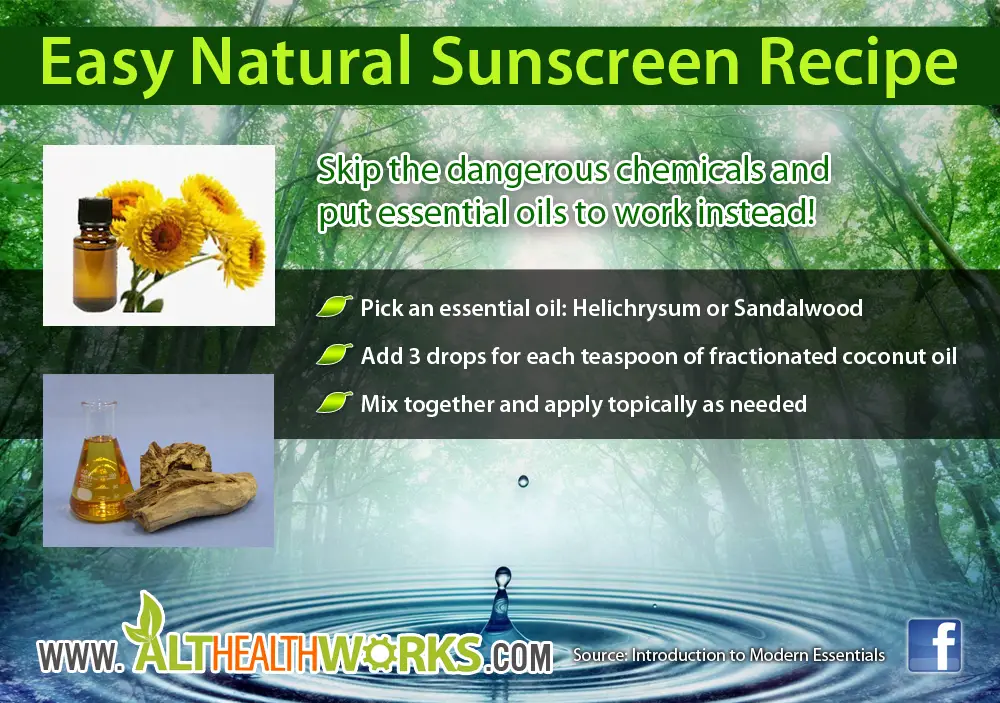 It's quite simple, really, and utilizes the power of some of the most potent and biologically active substances you can find on the market in coconut oil and the essential oils.
First, pick either [easyazon_link asin="B007P5YL0I" locale="US" new_window="default" nofollow="default" tag="al0b63-20″] Helichrysum[/easyazon_link] or [easyazon_link asin="B001B4NBOQ" locale="US" new_window="default" nofollow="default" tag="al0b63-20″]Sandalwood[/easyazon_link] as your base essential oil.
One you've chosen either Sandalwood or Helichrysum, mix three drops for each teaspoon of fractionated coconut oil. If you don't have fractionated try a regular cold-pressed, extra virgin type such as Tropical Traditions.
Mix them together and add some purified water if needed to obtain the same type of consistency you would find in store-bought sunscreens. This mixture, besides being effective, will spare you from  the harmful side effects of the chemical-laden sunscreens that line store shelves.
For example, the Environmental Working Group, a highly trusted consumer protection watchdog group, recently noted that hormone disruptors, nanomaterials and other potentially dangerous materials are common in sunscreens. Most commercial sunscreens contain several ingredients banned in European and other countries that are also linked to cancer.
The Cruel Irony of Sunscreens and Using a Natural Recipe 
It's really quite surprising that so many mainstream medical institutions continue to advocate and even heavily emphasize the use of sunscreens despite the many reports and studies showing the damage they can do to our bodies. They often publish or speak about the reports of the health risks yet go right back to recommending them a week later.
Exposing yourself too long to the sun these days can also be risky, so be sure to wear (light) layers and seek shade if need be, and follow the advice of your doctor. Getting more foods rich in lycopene like watermelon and tomatoes in your diet also helps, as does staying hydrated.
But when it comes to sunscreen advice, you might want to ask them about natural alternatives including this recipe, just to see what they say, and then try it to see if it works for you.
After all, there has to be a better way to protect yourself from the sun than slathering yourself in carcinogenic chemicals. Give this natural sunscreen recipe a try and let us know how it works, or if you have other ones or brands you prefer.
Thanks for installing the Bottom of every post plugin by Corey Salzano. Contact me if you need custom WordPress plugins or website design.
Comments
comments