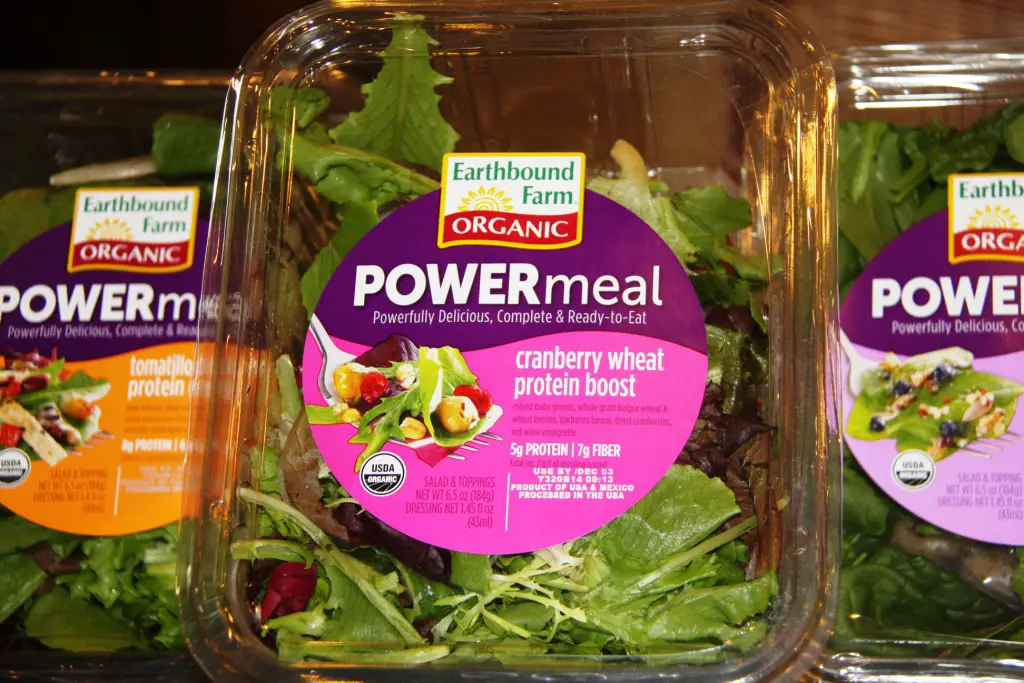 Earthbound Farm has become one of the most ubiquitous brands in grocery stores  among the organic produce companies, but few people realize that it is not independently owned and operated, and actually has been bought by a large corporation that it has been accused of playing a "shell game" with GMOs before, leaving its customers in the dark.
The Earthbound Farm organic produce corporation, known for its salad mixes and other similar products,was sold to the WhiteWave Foods Company in a $600 million deal back in 2013 that raised the eyebrows of organic consumers and advocates across the country.
WhiteWave spun off of Dean Foods, Inc. in 2012, the latter a company that has vehemently opposed GMO labeling with anti-labeling campaign donations.
Mark Kastel, the senior farm policy analyst at agricultural organization for the Cornucopia Institute, said that WhiteWave has done much to stretch the definition of "organic food" in this article from Food Safety News.
He later went on to add that WhiteWave's Horizon organic dairy label produces virtually all of their milk from massive 10,000-cow operations with the animals living in their own filth, diluting the meaning of the term organic.
Dean Foods is not listed as an owner of WhiteWave anymore, as the PR reps on Earthbound's Facebook page have pointed out.
But it's hard not to be suspicious of the  influence Dean Foods has considering that its former CEO was previously at the helm of WhiteWave.
Dean Foods also notably converted Silk's flagship soybean products from organic to "natural" without changing the packaging, except to remove the USDA organic symbol.
The "natural" soybeans actually contained GMOs according to a Cornucopia Institute investigation.
Eventually, Silk wised up and made key products Non-GMO Project Verified, but the damage was already done in the minds of consumers.
WhiteWave's then-CEO Engles released the following statement in 2013 upon purchasing Earthbound.
"With Horizon Organic and Earthbound Farm, WhiteWave will now provide the two most popular gateways for consumers to enter into the organic category – produce and dairy."
Since then, Earthbound has handled many customer complaints on its Facebook page:
"During our nearly 30 years of farming organic fruits and vegetables, we've joined forces with some great partners along the way. It's all been done to further our mission of providing the benefits of organic food to as many people as possible while serving as a positive catalyst for change. This transaction is another such partnership," one rep. wrote in response to a customer inquiry about the sale.
As of right now, Earthbound is entirely organic and GMO-free, and virtually all of the produce they sell doesn't have a commercial GMO equivalent yet anyway.
So should we continue to support the company? Personally I would buy from an alternative smaller-scale organic company if possible, although I do still buy Earthbound.
Dean Foods already has been shown to have sinister motives and the WhiteWave company has been shown to cut corners on organics.
It's hard to believe that Dean Foods doesn't have some sort of say in the WhiteWave Co.'s operations considering the ties they still have, and we all know how desperate the big food companies have become due to the ongoing organic revolution.
The Organic Consumers Association has previously called for boycotts of Horizon and Silk, two WhiteWave properties.
While a boycott of Earthbound isn't quite necessary just yet, I would definitely feel better buying from smaller farms whenever possible, and to keep a close eye on this situation.
Comments
comments