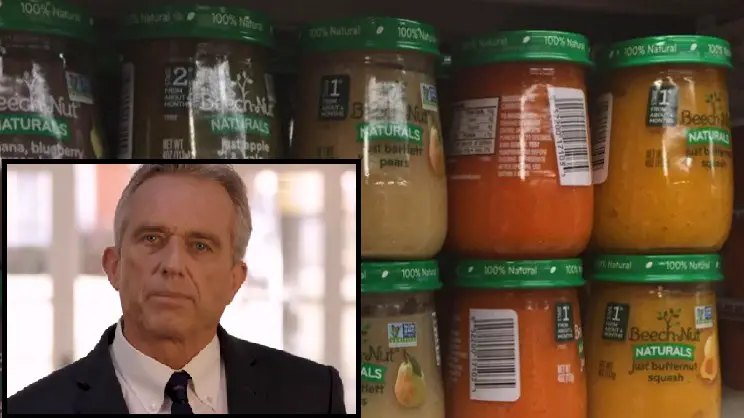 Do labels describing a packaged food as "all natural" or "100% natural" really mean anything?
That question has been hotly debated by organic and natural food advocates in recent years, as companies have scrambled to promote their food products in line with customers' newfound appreciation for all things natural and organic.
One of the biggest brands out there is the Beech-Nut Nutrition Company, which produces lines of both organic baby food and "natural," Non-GMO Project Verified baby food.
But a new lawsuit against the company from the Robert F. Kennedy, Jr. led Children's Health Defense (CHD) organization is shedding light on just how pervasive certain chemicals are in our food supply, even so-called "natural" brands.
RFK Jr. Brings Legal Action Against Beech-Nut Baby Food
According to recent comprehensive test results, the Beech-Nut line of baby foods contain residues of synthetic pesticides including glyphosate (a "probable human carcinogen" according to the World Health Organization's main cancer research body), acetamiprid and captan, a press release from CHD said.
Because of the potential risk involved with developing babies and these chemicals, Kennedy Jr., the chairman and chief legal council for the CHD organization, announced a lawsuit against the company on July 9, calling the company's use of the word "natural" unlawful.
"The Plaintiff, Children's Health Defense, brings this unlawful trade practices case on behalf of itself, its members, and the general public, seeking relief including an injunction to stop the deceptive marketing and sale of the Products," the organization said, adding that the company's material misrepresentations and omissions violate the District of Columbia Consumer Protection Procedures Act.
The complaint states that Beech-Nut's "labeling and marketing of the Products deceives parents who seek to be mindful of what is contained in the baby foods they provide to their infants."
While the company has secured Non-GMO Project Verification for its products, the CHD believes that the labels are still misrepresentations of the true nature of the product.
Tests on Beech-Nut products including "Just Apples," "Apples, Cinnamon & Granola," "Apple & Pumpkin," and "Just Mango, Apple & Avocado" using liquid chromatography mass spectrometry have revealed the pesticide contamination, the organization said.
"None of the pesticides are "natural" substances. Acetamiprid is a neonicotinoid synthetic insecticide. Captan is a synthetic chloroalkyl thio fungicide. Glyphosate is a synthetic biocide invented by the biotechnology corporation Monsanto," the release read.
"By failing to state that its Products contain acetamiprid, captan, and/or glyphosate, when those products are represented as "100% natural" and/or containing "just" specific fruits and vegetables, Defendant Beech-Nut has also failed to state a material fact where such failure has a tendency to mislead," it continued.
You can learn more about RFK Jr.'s organization in the video below:
Independently Owned Organic Baby Food Companies Worth Checking Out
While it can sometimes be difficult to find organic baby food, the number of brands and varieties available has grown immensely in recent years.
But many of the top organic baby food companies (even ones that seem independent like Plum Organics and Happy Family Organics) have been bought out by huge corporations like Campbell's and Dannon in recent years.
As a general rule, buying from smaller, independent companies is a great way to assure quality.
Below are three (rare) independently owned organic baby food companies worth checking out:
Serenity Kids Baby Food: Created by a couple seeking to produce baby food with less sugar and more healthy fats than traditional baby foods based around fruit, this company creates Paleo friendly baby foods based around organic vegetables and pasture-raised and wild-caught meats and fish, respectively.
Check them out here.
Peter Rabbit Organics Baby Food: Based out of Oregon and relatively new on the scene, Peter Rabbit's products are made from organic fruits and vegetables as well as oats, chia seeds and other healthy organic ingredients.
Amara Organic Baby Food: Another recent addition to the organic baby food scene, this company specializes in producing minimally processed organic baby foods that aren't repeatedly cooked or treated with high heat like many other brands, resulting in a more natural texture. You can learn more or check them out here.
Thanks for installing the Bottom of every post plugin by Corey Salzano. Contact me if you need custom WordPress plugins or website design.
Comments
comments