"Do you want to take the chances?" — asked a parent of an 11-year-old girl who went through violent hallucinations, and an inability to eat and talk, or move, only a few days after taking a much-hyped antiviral medication. She had to spend three months in a hospital in order to recover from this drug's extreme side effects.
Charles Ellis spoke about his daughter Lindsay's horrible experience with Tamiflu in February 2018, during which she reportedly became convinced that she was hearing the voice of the Devil after being strung out from side effects of the popular anti-flu medication. 
Lindsay had tested positive for the flu at a local clinic and was immediately prescribed the medication. But just three days through a five-day course, she began feeling what her father described as "loopy," before descending into a much darker place. 
Once in the car, she began speaking in a high-pitched voice, saying "'Hi Daddy,' real weird, like somebody out of 'The Exorcist,'" Charles said according to this report from The Daily Mail.
Then she started screaming, "Oh my God, oh my God, Daddy, get it off me, it hurts!"
"She said she saw a portal to hell, she could hear the Devil, and she was going to resurrect my soul," Charles said.
Tamiflu's makers insist these and other similar side effects are rare, but the sheer terror and damage induced on children like Ellis, as well as others who have been left clinging to and fighting for their lives, has led many to seek safer alternatives to Tamiflu, and for good reason.
Lindsay's story is just one of many coming to the forefront in light of recent incidents involving the drug, including the death of one Indiana teenager, Charlie Harp, that has made national news headlines in recent weeks. 
Yet, the drug is still being used, even despite its potentially damaging side effects. This is what you need to know about Tamiflu and other similar drugs before your next trip to the doctor's office. 
Teenager Dies After Just Two Doses of Tamiflu
Charlie Harp was only 16 years old when he took his own life after taking two doses of Tamiflu.
Brad Ray, the husband of Charlie's guardian, said that absolutely nothing changed in Charlie's daily activities to make him take his own life; the only thing that was different is he just started taking this new-to-him medicine.
The medicine that has already been linked multiple times to  causing hallucinations and psychiatric disturbances, including self-harm.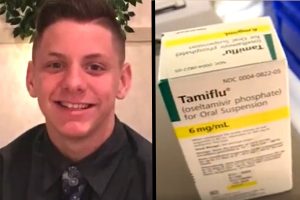 Even Tamiflu's warning label states that it has been known to cause neuropsychiatric events particularly in pediatric patients: confusion and abnormal behavior. With most drugs, the warnings are written inside the drug's insert that is available to doctors but not usually the patients.
"Had I known that this was an issue, I would have never given it to him," said Jackie Ray, Charlie's aunt and guardian.
What she also did not know is that there are multiple issues to be concerned about with this controversial drug.
Tamiflu Linked to Dozens of Deaths and Severe Psychiatric Episodes
It is not rare for a patient taking Tamiflu to experience hallucinations, delirium, delusions, and nightmares. These side effects have even been linked to dozens of patients' deaths.
"The stuff is toxic. It increased the risk of psychiatric events, headaches and renal events in one in 150 people. People reported nausea, vomiting, and constriction of the airways," said Dr. Tom Jefferson. 
Many deaths and psychiatric episodes from Tamiflu have been reported from Japan. In 2005, 1,800 cases of severe side effects were reported to the FDA, out of which 1,745 happened in Japan, where at least eight children and three adults committed suicide while on this drug.
Children were severely hallucinating when they jumped off balconies, jumped in front of moving vehicles, and ran away from home which led to death.
Some survived but they also jumped out of windows, and told parents they wanted to die.
Other cases are even more bizarre. One girl started showing bipolar disorder symptoms and started to growl instead of talking.
A few cases had children who wanted to hurt not themselves but others.
Meanwhile in the U.S., there have been reports of people going into a two-week coma, or passing out, which resulted in a totaled car for one man.
Tamiflu's side effects may be due to its cocktail of ingredients, which is evident just by looking at the drug's insert. 
Looking at all of the shocking reports and the evidence, it may be safer to avoid this drug, and rely on other ways to prevent and fight off the flu.
Watch a news reports about the two teens from the beginning of this story:
https://www.facebook.com/KFDX3/videos/1662080027164566/
Tamiflu's Benefits are Exaggerated due to Faulty Science
Tamiflu is one of two medicines of this type who are supposed to help fight the flu. But many reviews of the drug by independent sources have shown that not only does the drug have extreme side effects, it also does not even provide much of the advertised benefit.
One of the doctors confirms that if a flu lasts for seven days, Tamiflu will help shorten the duration….for only 12 hours.
What Tamiflu manufacturer Roche claims to be its benefits may be a complete fabrication of facts. The maker exaggerated the benefits while hugely underplaying its risks.
In 2012, the British Medical Journal called out Roche for missing the data to prove that the drug works, claiming that there is no evidence of that at all.
Actually, as the 2009 swine flu pandemic has shown, the drug might actually worsen flu symptoms. 
"This drug was given to 1,000 people a week over a phone line, but it was no better for symptom relief than over-the-counter medication — and you're talking about potentially serious complications. I wouldn't prescribe it to my patients," said Dr. Carl Henegen.
Yet, the drug remains on the marker and as of 2012, it has been approved for children as young as 2 years old.
This is horrifying, as there are better ways to fight the flu.
Natural, Safe and Effective Flu-Drug Alternative
Why is Tamiflu still being prescribed? Because the drug representatives do not have anything better to offer to the doctors.
"[We] do not have any other options to treat the flu besides Tamiflu," said Dr. Jason Henney from St. Vincent hospital. And that may be correct…in the Tamiflu-approved world.
In Eastern and natural, holistic medicine, there are other ways. And the people who have used them say they are completely safe, natural, and they work.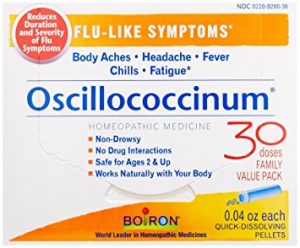 A popular natural product for the flu (marketed for "flu-like" symptoms because of the FDA) is Oscillococcoinum. It has thousands of amazing nearly 5-star reviews throughout different sites and that is to no surprise to people who have taken it. 
It is a homeopathic remedy that helps fight symptoms of the flu: body aches, headache, fever, chills, and fatigue, while stimulating the immune system to get rid of the virus faster.
The maker of this medicine is Boiron, who has been around since 1932, and they have proven themselves to their customers.
Reviews are saying that the product works well both to prevent and fight the flu. Some people feel better after just the third dose, others after a day of taking it. Oscillococcoinum has been recommended by nurses and patients who described their positive experiences for others to learn from.   
It is best to take this medicine as soon as you start feeling symptoms of the flu or common cold.
The second best remedy to take when you are sick with the flu or any other winter illness is elderberry (commonly sold as a natural syrup). 
Elderberry is one of the best herbal medicines for increasing immune system function, which makes sure that your body is doing its best at fighting any illness.
There are better ways to protect from the flu:
Essential oils to use during the flu season
Give your system a boost with fire vinegar
Read the writer's own terrifying experience with Tamiflu by clicking here.
Recommended reading:
"This antibiotic will ruin you" – A Woman Had to Undergo 20 Surgeries to Repair Damage This Common Drug Caused. (FDA issued a warning too late…)
The Deadliest Over-the-Counter Drug Is Still in Your Medicine Cabinet. Use These Natural Alternatives Instead.
"I saw death in her eyes" – Chuck Norris Warns about A Common Medical Procedure That Almost Killed His Wife (Millions of Americans Undergo It Every Year…)

Thanks for installing the Bottom of every post plugin by Corey Salzano. Contact me if you need custom WordPress plugins or website design.
Comments
comments