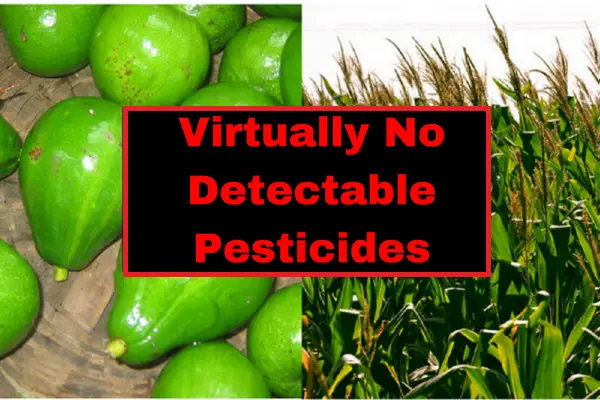 The release of the "Dirty Dozen" and "Clean Fifteen" lists each year are among the most important dates on the calendar for clean eaters, as going 100% organic on a budget can sometimes be tricky and it's always a good thing to know where we can save money buying "conventional."
Generally, it's recommended to buy organic whenever possible because of higher antioxidant and mineral levels, but if you're looking to avoid pesticides, you have plenty of options.
Recently, the 2018 Dirty Dozen and Clean Fifteen lists were released, and two popular crops came out on top for having the least amount of pesticides.
A Little Known Fact About Sweet Corn and GMOs
While avocados have been given the seal of approval from holistic health advocates, sweet corn has caught a bad rep because of its association with Monsanto and GMOs.
The rep was not entirely undeserved, either: Monsanto actually produced a genetically engineered type of Bt sweet corn that was sold at Wal-Mart, a plant that produced an insecticide within its cells.
Thankfully, a large majority of "sweet" corn on the cob in stores is actually non-GMO, as most of the genetically modified corn is used for ethanol production, processed foods, and animal feed. According to a 2014 report from the Environmental Working Group, most sweet corn sold in the U.S. is non-GMO.
That means that you're likely to be just fine if you buy from a trusted local grower at the farmer's market, especially because sweet corn has just been shown to be extremely low in pesticide residues.
Ultimately, buying organic is the best way to avoid GMO corn. But if you're on a budget and looking to buy pesticide-free, you may want to give sweet corn a shot, along with the aforementioned high-fat avocados.
Sweet Corn, Avocados Nearly Pesticide-Free
According to the new Clean Fifteen list from the Environmental Working Group, less than one percent of all avocado and sweet corn samples tested positive for any detectable pesticides, garnering the best score of all foods tested.
These results are remarkable considering the vast amount of glyphosate and other chemicals sprayed on cornfields.
But because sweet corn and avocados are often grown on smaller family farms, it seems as though have gotten a reprieve of sorts.
In addition to these two crops, you might also considering buying the following produce "conventional" if you're on a budget: pineapples, papayas, asparagus, onions and cabbages, as 80 percent of these also contained virtually no pesticides.
Papayas may potentially be GMO, however, especially if they're from the Hawaiian Islands, so be sure to check your labels.
That being said, you can't go wrong with any of these foods if you're looking to save money and be healthy on a budget, especially considering the difficulty of finding organic produce in many areas.
Buy organic and from a trusted local farmer whenever possible, but if you're in a pinch and looking to eat healthy on a budget, it's hard to find a better value than these foods.
For more on the Clean Fifteen and Dirty Dozen, check out the EWG's website here.
Nick Meyer is the founder of AltHealthWorks.com and author of the Amazon Kindle Best-Seller 'Dirt Cheap Organic.'
You can follow him on Instagram by clicking on this link.
Comments
comments