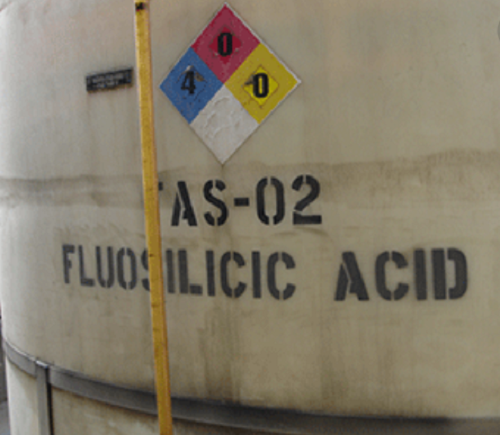 On the heels of recent news that the fluoride in North American drinking water supplies is considered to be a neurotoxin according to a recent study in the top peer-review medical journal The Lancet, on par with some of the most notorious environmental toxins out there, many people are becoming more interested in the truth about fluoride.
Specifically, most people still do not know the difference between the naturally occurring calcium fluoride and other industrialized forms that are added to water supplies in North America (but not throughout most of Europe, and many other high-tech countries).
That's because the term "fluoride" is often thrown around without making a distinction between these  substances.
There are three types of fluoride used to "fluoridate" water supplies: Fluorosilicic acid, sodium fluorosilicate and sodium fluoride.
Fluorosilicic acid is the type most often used for cost reasons, and it is derived from phosphate fertilizers according to the CDC's website.
The other two are created by adding either table salt or caustic soda to the mix.
Fluoride Corrodes Town's Pipes
These types of fluoride can be quite corrosive, as one town found out the hard way when the fluoride they used to add to their water supply began corroding pipes and damaging city vehicles. Officials from the town, Buffalo, Missouri, voted to stop fluoridating the water supply recently due to these issues.
In contrast with these types of fluoride is calcium fluoride, which is a much safer version of fluoride.
Calcium fluoride is considered the "least toxic" and in some cases "relatively harmless" according to the site fluoridedetective.com, and that's because of its high insolubility.
Magnesium and especially calcium are known as minerals that counteract the effects of fluoride, an example of how nature often pairs antidotes with poisons or designs complete foods that mitigate harmful substances for the most part.
This type of fluoride is often found in natural waters, while the above industrial byproducts are added to water supplies, a highly controversial practice that more and more people are asking to be changed.
Many Towns are Being Pressured to Remove Flouride
While it was originally added as a way to assist in the area of dental health, more and more people are questioning whether that is actually true and many towns are removing fluoride due to grassroots citizens' movements.
(A list of towns that have removed fluoride since 2014 can be viewed here).
And considering the health risks involved, not to mention the safety concerns and costs, many cities and towns will have a decision to make in the coming years about whether or not to stop fluoridation.
Comments
comments