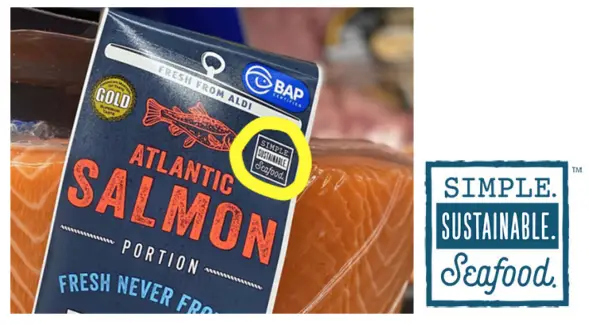 The ALDI's grocery store chain has become a darling of the organic and non-GMO food movement in recent years, in large part because of its pledge to add more organic products to its store shelves.
One of the top 10 largest grocery chains in the United States, ALDI's is famous for its coin-operated shopping carts and relatively small, intimate shopping centers in comparison with mainstream supermarkets.
Many customers visit ALDI's for its allegedly wild caught and sustainable meats and seafood, but these items may not be as "sustainable" and environmentally-friendly as first believed, according to a recently filed lawsuit.
Aldi's Motion Dismiss False Advertising Case Defeated by 'GMO and Toxin Free' Non-Profit 
In May 2021, a class action lawsuit alleged that ALDI's 'fresh Atlantic salmon' products were not all as environmentally friendly as their packaging claims would suggest.
The lawsuit, 'Rawon vs. Aldi, Inc.,' alleged that the company's aforementioned product is 'not sustainably sourced as advertised but instead farmed industrially through unsustainable, environmentally destructive and inhumane practices.'
On Wednesday, February 2022, The District of Columbia's Superior Court rejected the motion to dismiss the lawsuit, which was originally brought by Toxin Free USA, a division of the well known non-profit GMO Free USA.
"We are pleased to see the court stand up for consumers and reject ALDI's claims that no reasonable consumer would believe its false statements," said Diana Reeves, Toxin Free USA's executive director.

"Now we look forward to holding ALDI accountable during the next phase of this legal battle in our ongoing campaign to protect consumers from patently false marketing claims."
Are ALDI's Products Really "Simple and Sustainable?"
The lawsuit takes issue with the use of the phrase "Simple.Sustainable.Seafood," which "leads consumers to believe that the salmon was farmed in accordance with high environmental and animal welfare standards," the press release read.
"But in reality, the salmon are sourced unsustainably."
In denying ALDI's motion to dismiss, the Court ruled Toxin Free USA alleged "factual content that allows the Court to draw the reasonable inference that the Defendant is liable for the misconduct alleged."
More information on the court's decision can be read by clicking on this link.
Thanks for reading! As this lawsuit hints at, the source of your fish, seafood, and meat matters, especially in light of deceptive marketing practices that haven taken hold in recent years. If you're concerned about heavy metals and toxins in seafood, I recommend taking this capsule of synergistic herbs called Radiate Immunity.
Radiate Immunity includes four rare herbs from the Amazon Rainforest, including 18 herbs from around the world to assist natural detoxification from all manner of hidden toxins.
Click here to learn more or to try Radiate Immunity, and use code 'althealthworks' for a discount at checkout. 
Comments
comments