One of the most difficult things about improving your health naturally is figuring out how to navigate the minefield of nutritional supplements and supplement companies out there to find the one that's best for you.
Recently a bombshell report found that four major department stores were selling products not only with barely any of the herbs advertised, but also products that include potential allergens not listed on the package. Other commercial supplements like vitamin C products for example are synthetic or made from cheap filler materials that are virtually useless to the body, if not harmful.
Thankfully there are plenty of quality supplement companies out there that we can still trust, and in my time researching and trying different supplements the Texas-based Global Healing Center stands out.
Centered around detoxifying and building up the body, this company led by notable doctor and author of 'The Green Body Cleanse' Edward Group has a wide range of quality supplements that I was recently given the opportunity to sample. As you'll see below, they did not disappoint.
Livatrex: A Powerful Detoxifying Supplement
The first supplement I had the chance to try was Livatrex, a multi-herbal formula specifically designed to help cleanse one of your most important organs.
Previously I've been having some issues with my liver according to biofeedback tests from my naturopath, so this supplement came to me at the exact right time. The supplement is available as part of a liver cleanse kit or on its own.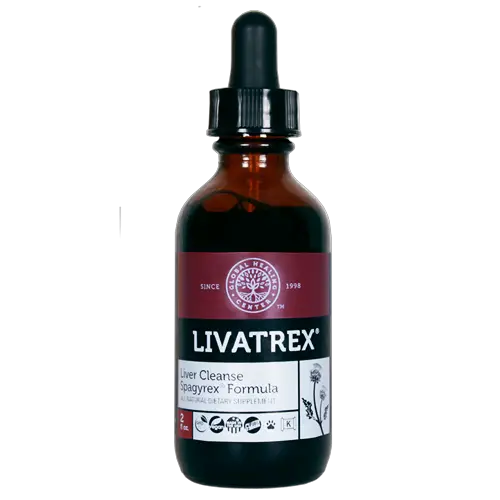 Livatrex contains: organic yellow dock root, organic dandelion root (long hailed as one of the best liver cleansers), wildcrafted borotutu bark, wildcrafted chanca piedra, organic turmeric, organic peppermint leaf and more, along with fulvic acid to boost bioavailability and absorption.
One of the best things about this supplement in my book is the fact that it's created using the spagyric extract process, a classic alchemy style technique for making herbal medicines that leaves the natural enzymes as intact as possible.
When I brought this supplement to my naturopath I was not surprised to learn that it had many of the same ingredients as the high potency liver supplements I had already been taking and seeing great results with. This one seemed a little less potent in comparison, but in terms of products you can easily buy without going through a doctor or naturopath this is about as potent and effective as you can get from my experience.
The reviews on Amazon are mostly positive with an average of 4 stars out of 34 reviews (though most buy this product from the GHC's website).
Magnesium-Based Intestinal Cleanser
Another product I had the opportunity to try was Oxy Powder, a magnesium-based cleanser that helps to essentially sweep the intestinal tract like a broom.
This is an especially useful product for people who eat too many foods that are capable of getting "stuck" like wheat and meat. As the GHC website states: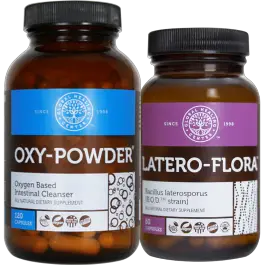 "With the help of many brilliant scientists and many years of painstaking trial and error, Dr. Group was able to stabilize reactive oxygen species to magnesium compounds, and Oxy-Powder® was born. We started selling our first batches in the late 90's and since then Oxy-Powder® has become the industry standard for oxygen intestinal cleansers."
Strangely enough this product is also quite similar to one that my naturopath uses on a wide variety of patients including those suffering from supposedly "incurable" diseases. It's especially potent as a cleanser and one of my personal favorite types of supplements; this product also has quality reviews online (4 ½ stars on Amazon among over 100 reviews) and is worth a long look. Learn more here.
A Special Kind of Probiotic
Probiotics can change everything from gut health to brain health (because they're connected, of course) but it's hard to know where to begin. If you can't consume enough fermented vegetables then a high quality probiotic supplement is an excellent bet.
The main probiotic supplement from the GHC is Latero-Flora, which contains the "Rolls Royce" of probiotics according to the GHC website, Bacillus laterosporus, which is typically only available through health professionals.
One of the best things about this product is its combination of quality and affordable price; the probiotic I take the most runs me almost 100 bucks and comes refrigerated while it is not necessary with this one. Dr. Group personally recommended this one to someone very close to me and it has been helping quite a bit with her digestive problems. The reviews for this one are also encouraging on Amazon with 67% choosing a "5 star" rating for the product.
While I usually prefer to get my specialized supplements such as probiotics from companies that specialize only in that area, this is a quality supplement to add to your routine if you're looking for somethning cost effective.
You can learn more or purchase Latero-Flora by clicking here.
Final Thoughts on Global Healing Center Products
As far as supplements go you'd be hard-pressed to find a company with a wider variety of high quality products for direct sale to the consumer than the GHC. The organization has worked with, and had success with, many patients that allopathic medicine had given up on, and they continue to do excellent work to this day.
The focus for most of these supplements is detoxifying the body so that nutrients can better be absorbed over time, something that Western medicine mostly eschews in favor of drugs and surgery.
I've personally met Dr. Group, seen him speak live, and read a good chunk of his aforementioned book The Green Body Cleanse and I believe his total body/mind/spirit approach centered around detoxifying the body will one day become mainstream.
Do yourself a favor and learn more by checking out the GHC website, one of Dr. Group's books, or reviewing the material with your naturopathic doctor if you get a chance. You won't be disappointed.
Thanks for reading! This review was based on free product samples given out by the company to AltHealthWorks.com and based on the writer's personal experience with them. For more information or to purchase Oxy Powder from the GHC or other wildcrafted, organic supplements, click here. 
This review is for informational purposes only and does not constitute medical advice. Before making any major changes to supplements, medication or other health-related routines consult a licensed naturopathic doctor.
Thanks for installing the Bottom of every post plugin by Corey Salzano. Contact me if you need custom WordPress plugins or website design.
Comments
comments