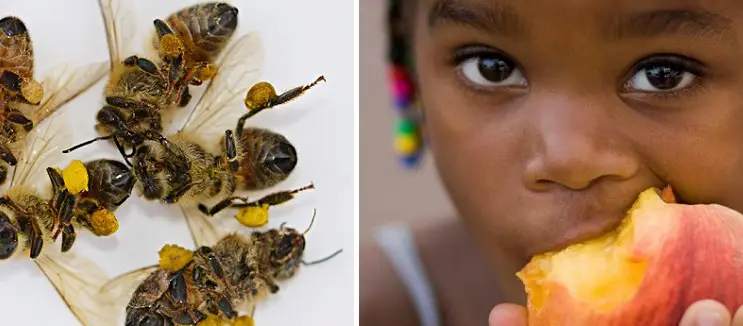 The agricultural sector in the United States has been mostly unchanged for decades, utilizing a system of toxic, synthetic pesticides and monocultures that is highly profitable for companies like Bayer, Monsanto, but one that has also been shown to be extremely harmful to pollinator populations.
In January 2021, the latest monarch butterfly count among California wintering populations showed a shocking decline from the previous year's count, highlight a decline of 99.9% since the 1980s, and the widely used pesticide glyphosate has been strongly implicated in these deaths.
Meanwhile, Bayer recently announced what has been called its "most dangerous GMO crop yet," a new type of corn that has been engineered in a lab to sustain massive doses of five different pesticides.
It's no secret that the butterflies and bees are under assault from all different directions, but few realize that children are also in the crosshairs, as many of these pesticides end up in the air, water and land and are damaging to children's developing bodies and brains.
Now, a new bill has finally emerged that would grant America's most vulnerable inhabitants some form of protection from this toxic onslaught, and it could represent the biggest change to the protections we offer our citizens from toxic pesticides and GMOs in decades.
"Protect America's Children From Toxic Pesticides" Act Needs Support
The bill, which was introduced in 2020 by former Senator Tom Udall of New Mexico, who left his post in 2021, and current Colorado Representative Joe Neguse, would "protect the nation against toxic pesticides" and is said by the non-profit GMO Free USA to be "the most significant legislation in nearly a quarter century" o fits kind.
The bill, dubbed the 'Protect America's Children from Toxic Pesticides Act of 2020 (PACTPA), would be the first significant change to a 1996 law that has given pesticide companies free reign to poison our pollinators, food and landscapes.
"PACTPA represents the first comprehensive update since 1996 to the law governing pesticide use in the United States, the Federal Insecticide, Fungicide, and Rodenticide Act (FIFRA).
Each year, the United States uses over a billion pounds of pesticides — nearly a fifth of worldwide use. In 2017 and 2018, the Environmental Protection Agency (EPA) approved more than 100 pesticides containing ingredients widely considered to be dangerous.
"Once approved, pesticides often remain on the market for decades, even when scientific evidence overwhelmingly shows a pesticide is causing harm to people or the environment. Neguse and Udall's legislation would institute urgently-needed reforms to update protections for children, farmworkers, consumers, and the environment and close dangerous loopholes that prevent adequate pesticide review."
The timing of the bill is especially important, as countries throughout Europe along with Mexico and several others have begun issuing bans and moratoriums of several different kinds on GMO crops and toxic pesticides, while the United States has lobbied to prevent them from taking place.
Among the highlights of the bill are bans on the most damaging pesticides to bees, butterflies and children, including:
–Organophosphate insecticides including chlorpyrifos, which has been linked to neurodevelopmental damage in children's
–Neonicotinoid insecticides, also known as neonics, which have strongly contributed to the mass deaths of bees and other pollinator species around the world. These are heavily restricted or banned throughout Canada and Europe and may cause serious defects in unborn children
–Paraquat herbicides, which are known as the most "acutely toxic herbicides in the world and banned in 32 countries ("one sip can kill" according to Neguse's office's press release, and chronic exposure can increase Parkinson's risk by up to 600%).
Neguse and Udall's bill would enable citizens to petition the EPA to identify and potentially remove them from the market, grant more power to local communities to stop the use of these pesticides, suspend the use of pesticides deemed unsafe by the EU and Canada, require pesticide warning labels in Spanish, and much more.
For more information, check out the full text of the bill here,
You can also get connected with, and share your thoughts with your local U.S. Representatives and Senators by clicking on this link.
Thanks for reading! Please share this article with anyone you know who believes that our pollinators, and our children's health, is worth saving. Simply click on the share buttons above, or copy and paste the URL of this article to share with your friends and family.
This is for informational purposes only and is not intended to treat, diagnose or prevent any disease. We may receive compensation from affiliate products purchased via links. Consult a doctor before making changes to your dietary or medical routine. See our full disclaimer here.
Comments
comments