Are starches like potatoes truly healthy, or do they contribute too much to inflammation and weight gain to be eaten regularly?
After decades of conflicting studies, proclamations and dietary advice, most people still aren't sure.
Holistic health coach and founder of the 'Slim on Starch' program Emmie Keefe is a proponent of a plant-based diet rich in these types of starches.
A graduate of the Institute for Integrative Nutrition, a holistic, online nutrition school based out of New York City, she took time to speak about her approach to nutrition, weight loss and diet, recovering from COVID stress, and other topics.
The Benefits and Pitfalls of a Plant-Based Diet
Like most health coaches, nutritionists, and healers, Emmie struggled with the intricacies of her diet and routine in the early going.
Her childhood days were rough on her body, but set the tone for a resurgence later on.
She says she was "probably the least healthy child on Earth" based on her diet.
"My diet consisted of ketchup sandwiches, white bread, and Dunkin' Donuts strawberry frosted donuts," she said.
"You couldn't get me to eat a vegetable if you paid me 100 dollars."
Keefe switched to a plant-based, holistic-minded diet, and became healthier than she's ever been in her life, she said.
Still, the change wasn't without its pitfalls.
"I was clearly doing something wrong, I had to learn to do this properly," she said.
"Just eating vegan, low-fat optimal food is not necessarily going to get you to optimal health."
After studying at the Institute, she developed her program, which gives her clients a foundational list of foods (including healthy starches).
It also gives them breathing room for adding in their favorite foods, including meats and the occasional holiday confection.
If you're thinking of getting started on a more plant-based, holistic minded lifestyle, Emmie recommends a simple challenge to her clients.
"First and foremost, let's keep it really simple," she said.
"Health is not supposed to be difficult. I would make it your goal to have three fruits or vegetables today.
"Once you nail them, try four, then five, work your way up and try to get in more fruits and vegetables."
Health Coaching — From a "Passion on the Weekend" to Full-Time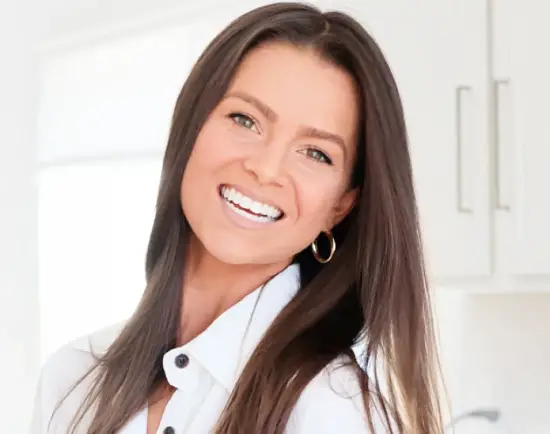 Keefe explained that she originally worked with clients as a health coach on the weekends while working her main job as a teacher.
She built up a large social media following and interest from clients, and was able to make it her full-time profession.
She chose to attend the Institute out of respect for the many different dietary styles her clients tended to follow.
"I really wanted to have an understanding about where my clients were coming from," she said.
"They expose you to all of these different dietary styles."
From there, she constructed her signature program, designed for weight loss and overall health.
It's made up of numerous different categories of starches such as potatoes, rice, oatmeal, sweet potatoes, quinoa, corn and vegetables, as well as fruit, legumes, and a "sprinkling of nuts and seeds."
The 'Slim on Starch' roadmap is based on the protocols of Dr. John McDougal, Emmie said.
McDougal is the author of the book 'The Starch Solution:' Eat the Foods You Love, Regain Your Health, and Lose the Weight for Good!'
Emmie's goal is to help clients lose weight and thrive using a combination of sound dietary and mindset advice.
"Every client we work with, they get a nutrition coach and a mindset coach to help guide them through this diet," she said.
"The mindset coach helps with the mindset blocks that often come with weight loss and getting healthy."
Weight Loss, Genes and Junk Food
Overcoming our predisposition to unhealthy eating is not always easy.
"Our genes are designed to survive famine and seek out food so we don't die from eating enough," Keefe said.
"Once we lose weight and say no to things like cupcakes and chocolate, that makes our genes very angry, so they are going to want to eat these very high calorie foods and send positive feedback to our brain.
"That's why weight loss is so difficult and getting healthy is so difficult," she added.
"Especially in today's society where there are just processed foods everywhere…You have to grit your teeth and say, 'I know what I need to do.'
"It's definitely hard sometimes."
Quarantine, COVID Affecting Health Outcomes Dramatically
Emmie has worked with plenty of clients since COVID began in March 2020. It's a situation that has presented unique challenges.
"There are two camps of people when it comes to health and quarantine in the pandemic," she said.
Those two camps of people are those who say they've "just been home eating this whole time," and the overachievers — those who used their free time as a chance to turn up their exercise and nutrition routines.
"You're definitely not alone in that, that is for sure," she said about people who fall into the former category.
"One thing in common is this was an opportunity to really look inward and say, I can't hide from this anymore, I can't run from this.
"This is something I really need to focus on."
According to Emmie, the program starts with a foundational 'Slim on Starch' dietary plan.
"We then have you create your signature system," she said, "that allows you to have cake on your birthday and (other foods) on the holidays, to zoom the lens out.
"You don't have to have a 100 percent clean, perfect diet, one hundred percent perfect all the time," she added.
One of the main functions of starting out on the program is resetting the metabolism through whole, plant-based foods.
There is always a way forward, no matter how off track or how lost a person may be on their health journey.
"The metabolism in the human body is extremely adaptive," she said.
"There is no shortage of people that come to me saying they have a broken metabolism.
Mindset coaching also factors in strongly, and has taken center stage during COVID.
"The pandemic has been a trauma, an absolute trauma," she said, adding that a lot of people have gained a lot of weight.
She works with clients to help remove the emotional damage that has been done so they can set new goals and move forward.
"Removing shame is another big thing I do with my clients, there's been a lot of blame and self-hatred."
While many people have been lost, confused, and thrown off track by the events of the past few years, it is highly possible to overcome these feelings.
It all starts with forgiveness of one's self, and a willingness to move forward, Keefe said.
For anyone who would like more information on how to get started on her program, Healthy Emmie offers a free one-day meal plan on her website HealthyEmmie.org, as well as hundreds of free videos on her YouTube channel, Healthy Emmie, which has nearly seven million views.
You can also find her on Instagram @HealthyEmmie or @HealthyHunnies.
Comments
comments