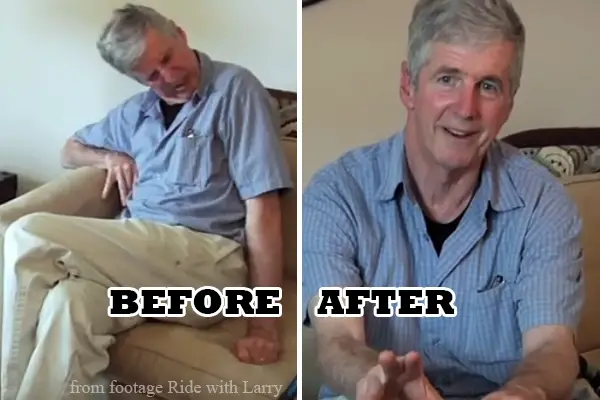 Most Parkinson's patients would never dream of riding a bicycle again. Parkinson's makes it impossible to control one's movements, and people affected by this disease have trouble walking up or down the stairs or even holding a glass of water. But former police officer Larry Smith did what many would think of as impossible. He rode a bike across 300 miles of South Dakota, all thanks to medical cannabis.
Larry was diagnosed with Parkinson's disease (PD), a degenerative disorder, over 20 years ago. He tried various PD pharmaceuticals over the years, and even had brain surgery, but nothing produced any real results.
Larry was not the one to give up. Realizing how important movement was, he continued exercising, and eventually agreed to star in a movie about overcoming challenges while living with Parkinson's called "Ride with Larry," which tells the story of his 300-mile journey.
"I don't believe in setting artificial limits to myself, because then I'd be telling myself what I cannot do," Larry said in the movie.
While his 300-mile ride is the focus on the movie, it also documents a moment that can bring hope in the eyes of many patients who are fighting PD, Alzheimer's, and other disorders that cause involuntary body movements.
This moment is Larry's experience with using medical cannabis as a treatment. Before ingesting the CBD oil, Larry's hands are shaking, his head moving involuntarily side-to-side, and he seems agitated. After just a few short minutes, we see the instant relief in Larry's eyes.
After just one drop of medical cannabis and in a very short amount of time, Larry's whole body has calmed down dramatically: his hands are barely shaking, his voice comes back strong, and he is unrecognizably different — in a good way.
The movie provides video proof of anecdotal evidence that is impossible to dispute and extremely hard for anyone suffering from these disease to ignore. At least for Larry, cannabis has been a real miracle.
Watch this video compiled by HERB to see Larry's miraculous results for yourself:
"I know people who got diagnosed with Parkinson's. They just gave up, sat in a wheelchair…I'll never give up," Larry says in the documentary.
Cannabis for Parkinson's Patients
Cannabis is not a one-size-fits-all cure. But for people like Larry who have been able to significantly reduce the dosages of medications and manage their symptoms with cannabis, this plant is irreplaceable.
Many other PD patients report that they prefer this plant to their prescribed medications (patients with chronic pain, anxiety and depression also often rely on and choose medical marijuana over drugs).
Animal studies have shown very promising results for cannabis's use for PD, but scientific research on humans is still lacking. It's stories like Larry's and many others like him that show the incredible hope and potential of this plant.
Some people who follow Larry's journey, share similar stories: medical marijuana was able to curb the twitching, and relieve other symptoms. Unfortunately, for people who need this treatment, the legality of it is still murky. While some states have legalized medical marijuana, in others, PD is not on the list of approved medical conditions.
There are many petitions online for legalization of medical marijuana in many states, as well as on the medical level, that are out there for you to sign. For the many people who don't have access to medical cannabis and others who don't even know it exists as an option – it could mean the difference between a healthy, enjoyable life and a painful one mired in sadness and frustration.
Recommended reading:
"I am cured. I am grateful." — Man Heals His Parkinson's in Just Seven Months with a Simple But Powerful Healing Technique from Ancient China
"She Was Dying in Front of Us:" 9-Year-Old Girl's Life Saved, 300 Seizures Halted Thanks to THIS Illegal Substance
"I put 311 people in jail for marijuana. I was wrong" – Regrets Former Judge After Using Cannabis to Treat His Chronic Condition

Comments
comments