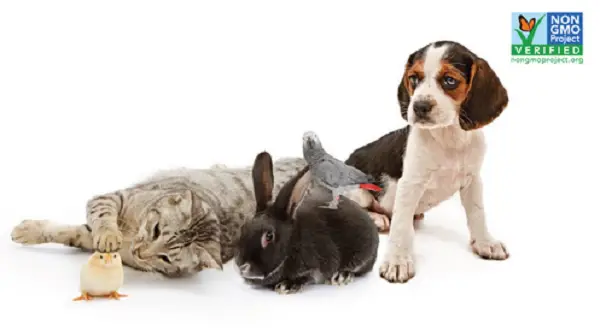 Are you still feeding your pets GMOs? Many pet owners have connected the rise of GMOs with what seems to be an increased amount of tumors in pets, including dogs and cats.
There has been a lack of studies as to the numbers surrounding tumors in pets, so the causes remain unknown, but it is well worth noting that many farmers have reported similar ailments in their animals fed GMOs, and studies have shown the same in lab animals.
It's pretty commonplace to see lower quality ingredients in pet food than human food, but that doesn't mean you have to compromise and feed your pet dangerous, untested GMOs that could be greatly harming their health.
Seven Non-GMO Pet Food Brands to Try
Most pet food, especially the big name brands and even many "healthy" brands, contains GMOs, but the following 11 brands are non-GMO Project Verified: 
1. Ascenta– It's no secret that cats do well on fish, and this company produces non-GMO verified Omega 3 fish oil supplements specifically for our feline friends.
2. The Furry Foodie- Non-GMO Project Verified and mostly organic, the company's beef dinner for dogs is spotlighted on the project's website. You can browse other offerings by clicking here.
3. Brad's Raw 4 Paws- This company has been quiet on Facebook and its website but is still listed on the Non-GMO Project Verified site as a possible option.
4. Wild Wings– Offering Organic Non-GMO Verified Bird Foods, this company is worth a look for both pet owners and bird watchers/feeders alike.
5. 4Legz– Made without the use of corn or wheat, these GMO-free treats are well worth a look.
6. BioStar– With a line of foods for both dogs and horses, this company has a unique selection of treats, supplements and many more items to optimize your pet's health. Includes blends for joint health, digestive health and much more.
7. Nummy Tum Tum– Using wholesome ingredients like sweet potatoes and pumpkin, this non-GMO verified line boasts that it's ideal for all pets (it even says so on the can).
BONUS- DooKashi– This brand is not food per se, but its non-GMO probiotic blend can help pet owners by eliminating cat litter box odors, dog odors, horse owners and much more (see their litterbox extender product here).
For more information see the full Non-GMO Project Verified list here (and please be aware that these products may still contain trace amounts of contamination). You can also like us on Facebook for more here. 
Comments
comments