Healing is an extremely personalized, individual thing, and what works for one person (or animal for that matter) may not work for another.
When it comes to veterinarians, the script is pretty familiar at this point: drugs, vaccines chemical medications, and a handful of tried-and-true remedies are used, even at a time when our pets' health seems to be falling off of a cliff.
I've seen it first-hand in my own life, as my dog Koko came down with painful stomach tumors in the latter part of her life that made it difficult for her to anything other lie in a crumpled heap on the ground, sad and lonely. It was heartbreaking.
I did what I could to sneak a few natural remedies in her food like turmeric and coconut oil, played healing music on Youtube for her, and did my best to comfort her when I saw her.
But eventually she had to be put down last year because the pain and difficulty of day-to-day life was simply too much.
This year, as many six million dogs and six million cats will meet a similar fate, as that is the number that is expected to be diagnosed with cancer.
Holistic Vet's Experience: "The Tumors Shrank Overnight"
While stories like my dog's are becoming commonplace in homes across the country, the good news is that there are plenty of holistic veterinarians who are seeing the exact opposite in their practices — incredible cases of natural healing not thought to be possible.
One case, described in Episode 6 of The Truth About Pet Cancer (watch here now for free) involves veterinarian Dr. Melissa Shelton, who treated one particular dog with swollen lymph nodes all over.
"We had a dog with lymphoma, lymph nodes were swollen all over this dog," she said. "But we did a series of basically some very light essential oil applications overnight. Sort of an emotional treatment but also physical, because they bridge both aspects.
"What I say I can't explain, and still to this day I kind of question if it really happened. But the tumors shank overnight, and that basically drives my passion for finding out more what essential oils can really do for cancer."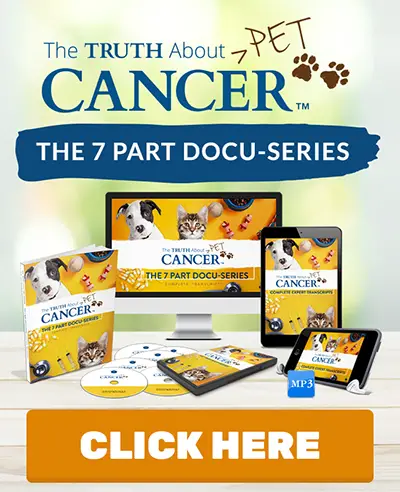 How to Prepare an Essential Oil Topic Solution for Pets
As Dr. Shelton mentioned above, essential oils can have especially powerful effects on dogs and cats because they tackle both the emotional and physical root causes of their ailments. Dogs and cats have especially keen senses of smell, so a pleasant aroma delivered in a healing plant medicine package in small doses can have a lasting therapeutic effect.
Before attempting to administer essential oils to your pets, it should be noted that it's important to make sure the oil you're using (especially on cats, as well as dogs) is 100% safe for application.
For this reason, you should consult a holistic vet first.
In Episode 6 of The Truth About Pet Cancer series (the source of Dr. Shelton's story, watch here), Dr. Eric Zielinski shared his own recipe for creating a topical solution for pets.
Dr. Zielinski's Recipe Consists Of:
-One ounce of carrier oil (either organic coconut oil, jojoba oil, olive oil or grapeseed oil)
-6 drops of essential oil (more info below)
People typically respond better to double the above amount of essential oil drops, but for the smaller bodies of dogs and especially cats, you need to be extra careful.
Good examples of essential oils to use according to The Truth About Pet Cancer include:
-Tea tree oil (works great as an all-purpose disinfectant
-Grapefruit seed extract (to help treat ringworm, pastules and infections)
-Lavender essential oil (helps reduce swelling, blistering and scarring)
These are just three excellent oils that can be used to relieve common problems in pets when used topically.
As Dr. Zielinski says, make sure you keep a watchful eye on your pet to make sure they are responding well to each oil and proceed with caution.
"The one thing about pets, they're not liars, and you will know immediately," he said.
More Info on Essential Oils and Pets
For more information on Dr. Shelton's surprising discovery, as well as Drs. Sabrina and Eric Zielinski's protocol for using organic essential oils to keep their dog and cat pateints healthy, you can check out Episode 6 of The Truth About Pet Cancer by clicking here.
The series' final episode will beginning airing tonight at 9 pm, after which you can buy the full series on DVD to watch whenever you'd like (I liked the first Truth About Cancer series so much I bought two copies).
A free replay weekend is also expected to happen soon as well, so stay tuned!
For more articles and information like this, follow us on our Facebook page by clicking here. This article is for informational purposes only and does not constitute medical advice. See our full disclaimer here.
Comments
comments