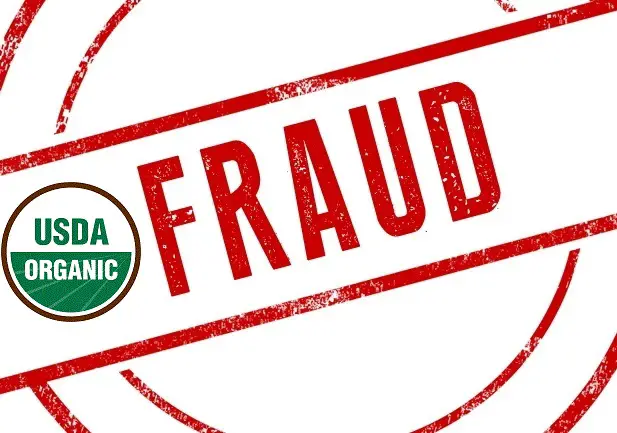 Millions of people gladly pay premium prices for organic food every day, a growing trend based on the need to avoid carcinogenic chemicals in our food like Monsanto and Bayer's Roundup.
But despite the newfound faith and investment in organic food, fraudulent growers and sellers remain a major problem, especially with profits so high in the organic food business these days.
Over 100 cases of cases of alleged organic food fraud have been reported by the USDA since 2011, and the latest such case involves three Nebraska farmers, one alleged mastermind from the Show Me State of Missouri, and a mysterious third party who helped make it all possible.
It's Exhibit A as to why it's absolutely crucial to "know your organic farmer," these days, and why the importance of supporting those who do things the right way cannot be understated.
Farmers Plead Guilty to Organic Fraud Scheme Netting Nearly $3 Million in Profits 
According to a report in the Waterloo-Cedar Falls Courier, three Nebraska farmers were charged as part of a scheme to pass off regular corn and soybeans as organic, transferring the grains to an Ossian, Iowa company that then falsely marketed them that way, authorities say.
The three farmers, Tom Brennan, 70, his son James Brennan, 40, and Michael Potter, 41, were each charged with one count of wire fraud on Wednesday, October 10, and plead guilty according to a report in the Omaha World-Herald. 
The farmers "convinced themselves to look the other way" according to an Associated Press report on the story, while a Missouri businessman named Randy Constant allegedly masterminded the scheme, which was allegedly designed to circumvent the U.S. Department of Agriculture's National Organic Program.
The farmers kept receiving higher prices for their non-organic crops, even though they knew they were being taken from non-organic fields where they applied pesticides and nitrogen, according to the Lincoln Journal-Star. 
Their attorney believes they were taken for a ride by Mr. Constant, lured into a trap they were unable to extricate themselves from.
"It's an old story. These are good, otherwise law-abiding people who were lured into one of these situations where if it's too good to be true, you know it can't be true," their attorney Clarence Mock told the AP. "Obviously there were serious misjudgments here on the part of the defendants. But their conduct could be characterized as going along for a ride in a vehicle that was driven by Mr. Constant."
Court records said that the three operated both organic and non-organic farms in Nebraska, but the alleged organic certification was done by a "co-schemer" who also operated the organic grain marketing business in Ossian, Iowa.
The alleged co-schemer was identified in court records only by the initials "J.S."
The grains were marketed as being organic between 2010 and 2017, and the three allegedly made over $2.5 million for the falsely marketed organic food during that time period. In total over $10.7 million dollars was generated through the fake organic food scandal. The reports did not say what the corn was used for, although conventional corn and soy is mostly used in animal feed and processed foods.
Is the USDA Organic Seal Still Safe, and Worth Your Money?
Considering the wide array of food fraud scandals that have been recorded among both U.S. and overseas manufacturers, this news may not come as a huge shock to those who've been following along.
As it currently stands, organic farming is caught in a bit of a paradox – it's still a fledgling industry in many ways, but the most trustworthy producers have been stewards of the land for decades. In order to move forward, a new commitment to increased land stewardship, increased investment amounts and increased accountability and transparency are paramount.
Currently, the bulk of the organic food supply remains trustworthy, and buying organic is still the best way to avoid synthetic pesticides, genetically engineered food ingredients, antibiotics and hormones in animal products, and other not-so-healthy food additives including synthetic preservatives as well.
If you truly care about health, you're better safe than sorry buying organic food, especially if you can find organic food items on a budget.
The possibility of organic fraud remains a concern, however, as roughly 40% of organic food in America has tested positive for prohibited pesticides according to USDA data.
As much as 80% of organic food is imported from other countries as well, including China, Mexico, Turkey, Brazil and many others where regulatory standards aren't always up to par or enforced properly.
As always, the easiest way to prevent yourself from falling victim to organic food fraud is to "know your farmer" and which growing methods they use on a daily basis.
There are still plenty of organic farms and brands who do things the right way, although there are many organic companies now owned by big corporations.
If you're looking for specific information on instances of organic food fraud, the USDA posts them on its website periodically. The latest such list includes over 100 different food suppliers, ranging from small organic companies to larger suppliers, and can be viewed by clicking here.
In the meantime, keep supporting the good guys by voting with your dollar, because the future of food is still at stake, and scandals like these have become far too commonplace.
Thanks for reading! For more articles like these in your inbox (plus a free eBook), go here. 
Comments
comments