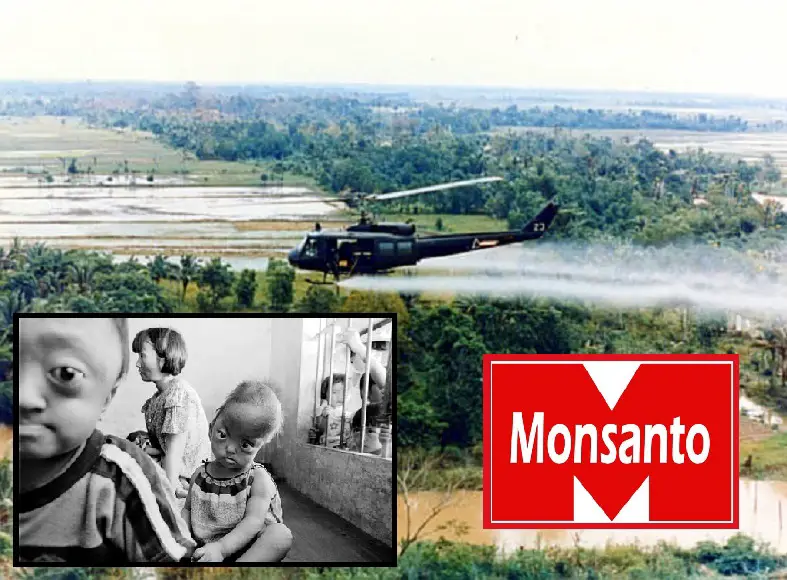 The chickens have come home to roost, so to speak, for the Bayer-owned Monsanto Company, and this time one of the biggest skeletons in its closet is being paraded out for the world to see.
Amid reports that hundreds of additional people are suing the company alleging its Roundup herbicide contributed to or caused their cancer, now one of Monsanto's biggest historical victims is also stepping up to the plate, demanding compensation for one of the most egregious and devastating wartime campaigns in recent history.
Historic Roundup Trial Could Serve as Legal Precedent for Agent Orange Case, Vietnam Says
Citing the recent $289 million settlement for groundskeeper Dewayne Johnson over gyphosate poisoning, the nation of Vietnam has demanded compensation from the Monsanto Company for the many people who were exposed to its devastating Agent Orange chemicals during the Vietnam War, the British newspaper The Independent reported.
"The (U.S.) verdict serves as a legal precedent which refutes previous claims that the herbicides made by Monsanto and other chemical corporations in the U.S. and provided for the U.S. army in the war are harmless," said the country's foreign minister, Nguyen Phnong Tra.
"Vietnam has suffered tremendous consequences from the war, especially with regard to the lasting and devastating effects of toxic chemicals, including Agent Orange."
During the Vietnam War, 20 million gallons of herbicides were used in Laos, Cambodia and Vietnam, and 4.5 million acres were impacted by Agent Orange, the article said.
In total, 13 million gallons of Agent Orange were dumped on Vietnam itself.
Agent Orange was used as part of a tactical herbicide warfare program to defoliate the jungles of Vietnam during the war, and was supplied to the U.S. military by Monsanto — which recently merged with Bayer to create an entirely new company that could control more than 25% of the world's seeds and pesticides market, it if doesn't end up being sunk by this new wave of lawsuits, of course.
In 2005, Vietnamese plaintiffs lost a court case in which they were unable to prove a violation on the ban on toxic weapons during the war, or a direct link to health problems.
But according to one legal analyst in a Voice of America article, Monsanto could be in serious trouble if it is able to show similarities between the toxic substances contained in Roundup and Agent Orange.
That is a distinct possibility considering the many studies and individual cases showing the harm the chemical has caused. It is comprised of 2,4-D, which is still used as an herbicide in some places, and gives off the toxic byproduct dioxin, which studies have shown is a likely carcinogen.
Agent Orange in Vietnam: Monsanto's Dark Legacy
As a result of their exposure to Agent Orange, millions of people still suffer to this day in Vietnam, including those who have suffered deformities, children born with serious birth defects, those still battling with cancer just like Mr. Johnson, and others.
Monsanto has argued that the specifications and uses for Agent Orange were set by the government, but as we've seen recently, the company has continued to produce similar chemicals that are linked to causing immense harm to everyone from groundskeepers to farmers, as well as many people that live in close promixity to where these chemicals are being sprayed.
Time will tell if Vietnam will be as successful in recovering damages as Johnson was in his cancer case, but one thing's for sure: if the War's legacy was any indication, the damage will continue for decades, if not generations, to come.
The Vietnam War ended in 1975, and yet the U.S. was still involved in cleanup efforts this decade, beginning with its first direct cleanup of the Agent Orange byproduct dioxin in 2012.
In the meantime, the world will continue to do its best to raise awareness for Monsanto's crimes. If you'd like to see a photo gallery from one photographer who traveled the country to spotlight the immense harm Monsanto has caused to Vietnam War veterans, you can check it out by clicking here.
Thanks for reading! Subscribe here for more articles like these in your inbox (plus a free 'Healing Secrets of the Amazon Rainforest' eBook).
Thanks for installing the Bottom of every post plugin by Corey Salzano. Contact me if you need custom WordPress plugins or website design.
Comments
comments