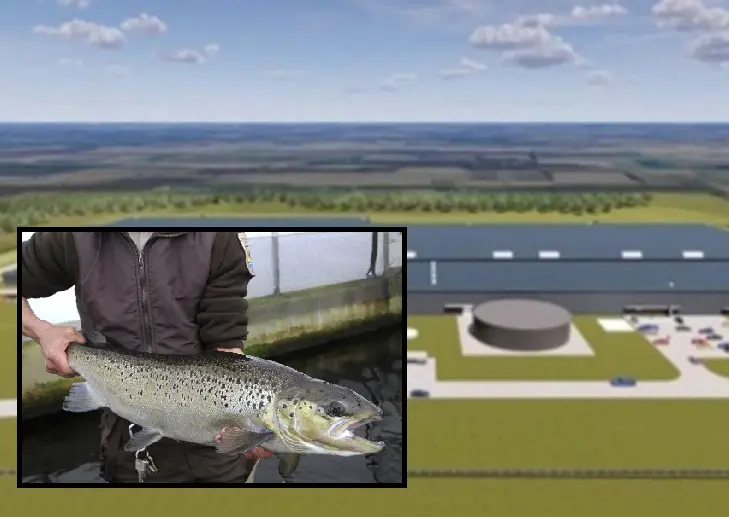 The United States is a "relatively minor" player in the worldwide production of farmed salmon according to a report from the Associated Press, trailing far behind countries like Norway, Chile, Scotland and Canada in the race to produce more of the favorite fish.
But numerous states including Maine have made moves to increase production in recent years.
The East Coast is also home to a controversial company called AquaBounty, creators and producers of the genetically engineered salmon, a lab-created animal that has been engineered to grow faster than natural salmon in a bid to increase salmon production for food, despite the pronounced lack of long-term safety testing.
Now, the company is preparing to launch what could be its most ambitious, game-changing project yet: the construction of a massive first-of-its-kind GMO salmon farm in Pioneer, Ohio.
Public Comments "Overwhelmingly Against" GMO Salmon Factory as Site Preparations Begin
In a press release published on Yahoo! Finance this January, AquaBounty Technologies announced the initiation of site preparations for the construction of its 10,000 ton salmon farm.
At 479,000 square feet, this genetically modified fish factory is expected to cost between $290 million and $320 million to make, even though demand for GMO salmon among consumers is not exactly high considering that most people are not aware of it and would prefer to eat wild caught, organic.
Still, the project appears inevitable.
AquaBounty's salmon was the first GMO animal to ever be approved by the United States FDA.
"We are pleased to have begun work on the property in Pioneer, Ohio – achieving critical pre-construction milestones to enable building to commence after the spring thaw," said Sylvia Wulf, Chief Executive Officer of AquaBounty.
"The construction of roadways and on-site energy infrastructure, as well as the setting of surveyor's benchmarks ahead of grading work, are underway as we speak. These are absolutely critical first steps in the construction process."
The company has big plans for its GMO salmon, it is now a public offering on the Nasdaq stock exchange (abbreviation: AQB).
"We are planning an official groundbreaking ceremony and will communicate the details in the coming weeks. This marks an incredibly exciting milestone for AquaBounty and a time to celebrate with, and thank the Village of Pioneer, Williams County, and the State of Ohio, for their on-going support," Wulf added.
The company says its objective is to "help ensure the availability of high-quality seafood to meet global consumer demand, while addressing criticial production constraints in the most popular farmed species."
It adds that its GMO salmon program is based on a "single, specific molecular modification in salmon that results in more rapid growth and development."
But GMO salmon has faced consistent opposition from consumer safety groups, non-GMO food advocates, and concerned citizens who say that these fast-growing, lab created salmon could escape into the environment with unforeseen consequences.
Others lament the lack of long-term human safety studies, and insist that they are the guinea pig for this new lab-grown seafood experiment.
While the AquaBounty press release states the inportance of community support, a recent headline in the Toledo Blade newspaper tells a different story: 'Comments Overwhelmingly Against AquaBounty Project,' introducing an article describing what has been called a "sharp rebuke" against the project by local residents.
GMO Salmon Project Uses Greenwashing Buzzwords to Push its "Frankenfish"
As noted above, the project is controversial to say the least.
The AquaBounty company says its project will help to lessen the impact of coastline sea farming, but they continually neglect to mention that their creations are far from natural.
They use terms like "land-based" and "locally raised" to evoke images of a farm-to-table movement, but what's being included is far from organic or natural compared with traditional wild caught or even traditional farmed salmon.
As usual, these GMO food creations will not be labeled, meaning that many consumers and restaurant patrons could conceivably buy them without even knowing their true origins.
In the meantime, buying organic salmon online or at your local fish market is the best way to be 100% certain you're not getting anything that has been genetically engineered, or fed GMO food like corn or soy pellets in a farm-raised setting.
I personally prefer wild-caught Atlantic salmon like this kind whenever I do eat salmon, and I mostly avoid it at restaurants unless I know it's wild caught.
Comments
comments