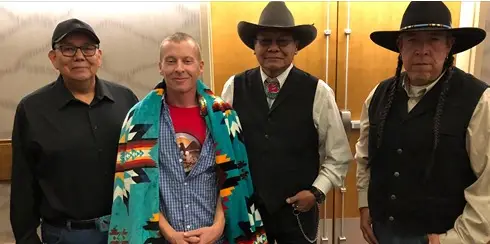 For artist and plumber Rich Snyder, buying his own land was a dream come true, and something he never thought possible in his native Iowa, where land usually goes for a minimum of $10,000 per acre.
So when he had the opportunity to purchase what seemed like the perfect parcel for himself in southern Colorado, he jumped at the opportunity.
Snyder was able to buy $3,000 worth of land on Wild Horse Mesa in 2015, despite having little to no idea what he would find there, according to a recent report from The Denver Post.
Upon arrival, the Sioux Falls area man found eight sleeping horses and very little else.
The first day during an afternoon nap, he had a dream that his tent was gone and indigenous children were touching his skin.
Despite growing feelings of desolation and confusion, Snyder stuck to his plan, living on what the Post described as a "hauntingly beautiful mesa" for three years — until one day he decided that the land did not belong to him, and made a surprising decision that some believe could be a template for offering reparations to indigenous communities in the near future.
"I Started Wondering — Who Owns This Land?"
In the early going, Snyder was fascinated by certain parts of the land, including wildlife like rattlesnakes. He began to find a series of artifacts that made him question exactly what he had bought, however, including stone arrangements that resembled fireplaces and chimneys, a stone ax, and a rock table that he said was likely used for slaughtering animals according to the report.
"I started wondering — who owns this land?" he said. "Whose land was this?" he said.
Snyder eventually discovered that hunter-gatherers from the Ute Tribe had lived in the San Luis Valley area where the land was situated for over 10,000 years.
He made the difficult decision that it was not his land, and decided to give it back to its rightful owners.
"It was a dream I couldn't hold on to," he said.
After visiting utetribe.com, the home page of the Ute Indian Tribe of the Uintah and Ouray reservation in Utah, Snyder wrote an email, saying that he would love to have the land "checked out" and to "give it to your people," adding that staying on the land gave him a sense of peace.
The man who responded was Robert Lucero, who founded the tribe's new Ute Land Trust, a project with the goal of reconnecting the tribe to their ancestral lands across the West, the Post reported.
In late 2018, Snyder handed over his 2.5 acre homestead, including a solar-powered cabin he built, to the tribe, a gift valued at around $10,000.
"This good man reached out to the Ute Tribe, on his own, to return this land to us," tribe member Luke Duncan said according to a press release. "We hope it can inspire others to take similar actions."
Thanks for installing the Bottom of every post plugin by Corey Salzano. Contact me if you need custom WordPress plugins or website design.
Comments
comments