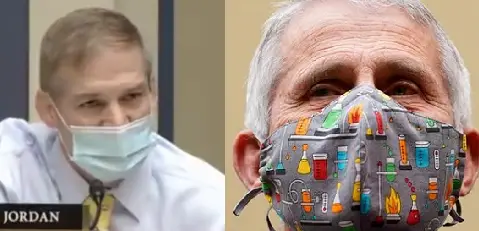 The ongoing coronavirus situation has brought many emotions to the surface since early 2020 when it all began in the United States, and frustrations have been reaching a boiling point in some corners of the country.
Among those feeling the weight of that frustration is Dr. Anthony Fauci, the Director of the National Institute of Allergy and Infectious Diseases, who has come under much criticism over his handling of the virus and whether or not "masking up" for months on end and taking experimental vaccines is the best way to return to "normalcy."
[Related reading:
246 fully vaccinated people in Michigan got COVID-19 between January and March
]
As fate would have it, Dr. Fauci is the highest paid employee in the entire United States government. Despite the clout and respect given to Fauci by members of the media and Congress, not everyone is on board with his plans, and are demanding clarification as to what his endgame is in regards to the virus.
Recently, Congressman Jim Jordan of Ohio's 4th District, called out Fauci in a video that is still making the rounds on Twitter and in the news cycle.
"When is the time, when do Americans get their freedom back?" a frustrated Jordan asks Dr. Fauci.
"When will we get the level of infection in this country low enough that it is not a really high threat?"
Fauci's response seemed vague to the congressman, who fired back at him.
A composed Fauci once again highlighted what he called a need to get as many people vaccinated as soon as possible, which seems to have been the endgame all along to those who know what the Center for Disease Control (CDC) has promoted over the course of its recent history.
"My message, Congressman Jordan, is to get as many people vaccinated as quickly as we possibly can to get the level of infection low so that it is no longer a threat," he said. "That is when."
Congressman Jordan did not seem fully satisfied by that answer, also adding, "Are we just going to continue this forever?"
— Rep. Jim Jordan (@Jim_Jordan) April 15, 2021
The drama was on full display on Capitol Hill, and the video has been viewed over 400,000 times. Be sure to share this video with anyone who may be interested in what Dr. Fauci and the congressman had to say on this vital situation.
Comments
comments