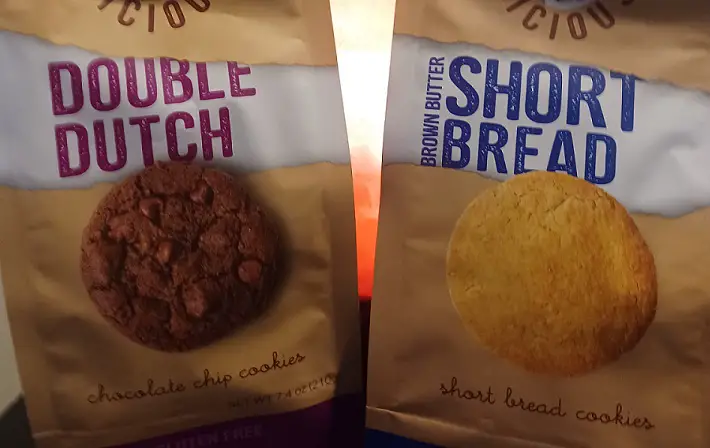 Most cookies on store shelves are made with a chemical cocktail of ingredients including genetically engineered sugar, high fructose corn syrup, artificial preservatives and more.
These types of cookies may be difficult for people with Celiac Disease, IBS, and similar digestive issues to eat, especially with any sort of consistency.
Recently I had the opportunity to try a cookie brand designed for people with gluten intolerance issues.
The cookies are made by Mightylicious, a small independent company with a goal of creating gourmet cookies with no sacrifices in terms of taste and texture. These are my impressions.
Mightylicious Cookie Flavors 
Mightylicious offers an incredible assortment of different flavors to try.
Among them are:
-Double Dutch Chocolate
-Shortbread
-Peanut Butter
-Chocolate Chip
-Brown Butter Chocolate Chip
-Oatmeal Coconut
-Oatmeal Raisin
I tried all seven flavors. My favorites, in order, are:
Double Dutch
Brown Butter Chocolate Chip
Oatmeal Coconut
Peanut Butter
Chocolate Chip
Oatmeal Raisin
Shortbread
Overall I thought the Double Dutch and the Brown Butter Chocolate Chip cookies were the best by far. Each tasted like a gourmet cookie you'd get at a mall kiosk or bakery with a much more complex, artisan texture and delicious flavor that big name store brand cookies.
The Double Dutch I ate very quickly while the Brown Butter challenged it for the number one spot but ultimately fell short.
I really enjoyed all of these flavors and appreciate the small batch, hand-crafted nature of them in comparison with store bought cookies like Chips Ahoy!
Learn More Or Try These Flavors on the Mightylicious Website Here
***
Mightylicious Ingredients and Health Benefits 
Ingredients wise, Mightylicious gets a lot of things right.
These cookies are gluten-free, hydrogenated oils-free, preservative free and fresh baked.
Some of the ingredients include vanilla, oats, coconut, cane sugar, brown sugar, coconut yogurt, cider vinegar, ba犀利士
king powder and baking soda, eggs, semi-sweet chocolate, maple syrup and more.
The company was created when founder Carolyn Haeler was diagnosed with Celiac Disease in 2012.
"Our hand-crafted cookies are designed to indulge and satisfy," she said to DeliMarketNews.com.
"That's when I realized there had to be a better way. I was determined to create a cookie that was gluten-free, healthy, and above all, irresistibly delicious."
Overall, I agree with Haeler's assertions.
These cookies taste amazing and are made from organic and non-GMO ingredients. Each bag has five servings per container with a serving size of two cookies.
You can learn more or purchase these cookies on the Mightlicious website here
***
Thanks as always for reading! And special thanks to Mightylicious for sending me these cookies to try out for myself at home. Check out their Instagram page here, and their Facebook page here. 
Thanks for installing the Bottom of every post plugin by Corey Salzano. Contact me if you need custom WordPress plugins or website design.
Comments
comments