At certain times in history, spices were said to be "worth their weight in gold" because of their ability to preserve food, especially meat.
Nowadays we don't often think of spices as being the most important part of our meals and snacks, but they certainly are delicious ways to add flavor that are well worth purchasing whether you're a foodie or a chef.
Unfortunately, many spices on the market are irradiated and laced with preservatives.
Thankfully, there are much healthier alternatives, like FreshJax Organic Spices.
FreshJax Organic Spices Best Flavors
For the purposes of this review I was given a collection of delicious spices to sample and report back on.
My favorites so far include the following:
Vampepper Garlic Blend-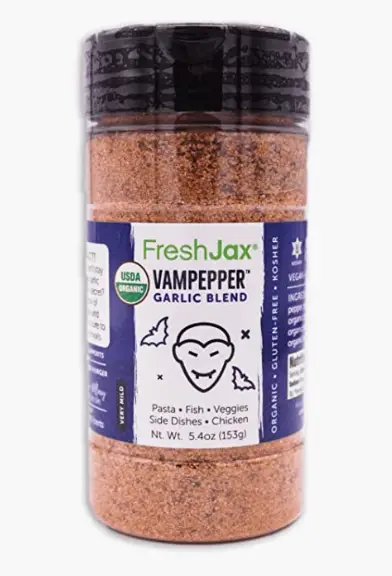 I love the Halloween/vampire theme on this bottle.
This is one of my favorite spice blends I've tried in recent years. This one includes organic black pepper, onion, Himalayan pink salt, smoked paprika, parsley, and garlic, which is the first ingredient on the label.
Other spices included are smoked cherrywood sea salt and organic lemon peel.
This blend goes great on any type of protein for your main course and even on salads.
You can find it on Amazon.com here or on the FreshJax website here.
Maple Cinnamon Topping- 
Cinnamon is one of the best spices for healthy blood sugar which is what makes it such an awesome topping for ice cream and other desserts.
I also like to add this spice to my coffee, as well as my healthy pancake dishes first thing in the morning.
This blend includes organic dried maple syrup (a mineral rich and delicious addition), Korintje cinnamon, organic coconut palm sugar (a lower glycemic index sweetener that tastes great), and Himalayan pink salt for additional minerals.
It tastes superb and is a versatile topping for lots of great drinks and dishes.
Highly recommended! Find it on Amazon.com here or the FreshJax website here.
Other Great Spices From FreshJax 
FreshJax organic spices are keto-friendly, non-GMO, Paleo friendly, and preservative free. They are also vegan, kosher, and gluten-free, and come from a family business.
To date, they have donated over 500,000 meals to families in need.
All things considered, this is the best organic spice company I have ever had the privilege of consuming.
Other favorite spice blends of mine include:
Grill Master- A blend that goes great on burgers. It makes me think of a great bar burger or a gourmet burger in a restaurant.
Keto Chophouse- This blend reminds me of pork chop seasoning, and lo and behold that is exactly what it was designed for, along with chicken kabobs and grilled veggies. It's a subtle taste but a great one if you're making any of those items.
Rosy Cheeks- This BBQ blend lays on the paprika real thick, and goes well on ribs, veggies and chicken as well as pulled pork and seafood. Another great blend here.
Grill Master Montreal Steak Blend- This blend goes heavy on the black pepper, onion and garlic, as well as coriander and Himalayan salt. An excellent flavor profile that goes well on steaks and has 50% less sodium than other similar spice blends.
Habanero Pepper- This is quite simply one of the hottest and most robust hot pepper spices you'll find on the market. I applied this liberally to one of my meals recently and really enjoyed it. It's a nice change of pace from the typical cayenne pepper.
Final Verdict on FreshJax Spices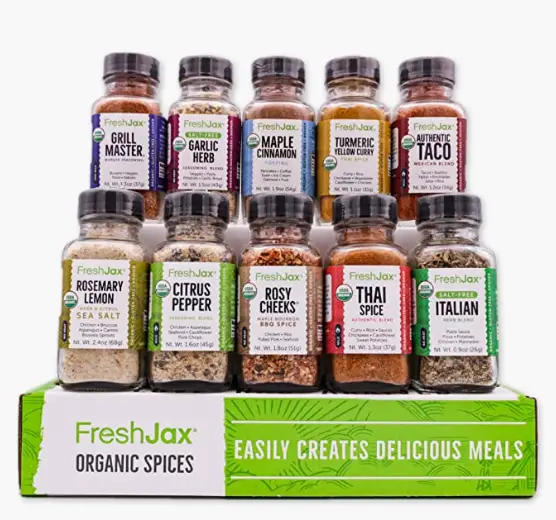 Overall, I love this company. Their blends are more creative and fun than Simply Organic, which is probably the closest company I can compare them to, and I thoroughly enjoyed every product I sampled.
Check out a FreshJax organic spice gift pack on Amazon.com here, or visit their website FreshJax.com to learn more or purchase from this brilliant company.
Special thanks to FreshJax.com for providing these delicious samples! Don't forget to support this awesome company if you're looking for something delicious and healthy! 
Comments
comments