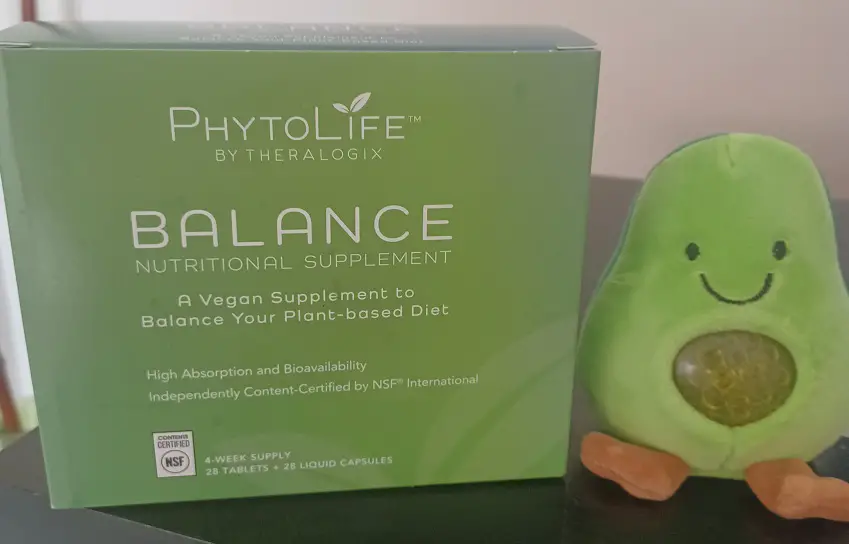 There are currently about 1.5 billion vegetarians worldwide according to ResearchGate, and many of them are health conscious eaters with an eye on improved nutrition.
The percentage of mostly plant-based eaters is expected to grow in the coming years as well.
A plant-based diet can be incredibly healthy, especially for people who haven't gotten enough antioxidants, fiber, and other key nutrients in their diet from more animal product concentrated diets.
That being said, there are potential nutrient gaps that must be filled in for ideal health when it comes to vegan and vegetarian diets, a concern that the company Theralogix, makes of the new PhytoLife brand, seeks to address with its suite of nutritional supplements.
Product Review: PhytoLife Balance 
For the purposes of this review, I was given the opportunity to sample the PhytoLife Balance product, which is designed to bring balance to a plant-based diet.
The company was also kind enough to include an avocado plush as seen in the picture below, which reminded me that it had been far too long since I had eaten avocadoes (I bought some shortly after receiving my supplement in the mail).
The goal of this nutrient system is to provide a 12-week supply of the main suite of nutrients typically needed to provide balance to a plant-based eater.
The most notable inclusion is Vitamin B12, a deficiency of which has been linked to anxiety, panic attacks and other side effects.
Other standout nutrients include iodine (100% RDA as potassium iodide). Iodine is also in short supply in our food supply in general which is why I was happy to see its inclusion as well. I had been taking a potassium iodide supplement prior to taking PhytoLife called Iodoral and I was a big fan of it.
Iodine is a nutrient I have noticed myself lacking for several years now, as it is hard to keep levels up over time for many people without supplementation.
You will also find 250% of your daily value of Vitamin D and 100 mcg of Vitamin K in this supplement, along with a blend of three different algae oils providing much-needed Omega-3 fatty acids.
Coincidentally enough, I have been taking fish oil lately to add these acids to my diet, so this was another nutrient I was excited to see included in the PhytoLife system.
Some of these nutrients are incredibly hard to get while you're busy or without making special trips to the grocery or health food store to buy a variety of different foods.
As you may have guessed, these vitamins aren't just for plant-based eaters.
Some of the standout features included chelated minerals, NSF certification, and support for heart health, energy levels and immune levels.
I personally was not fond of the company's use of ingredients like silicon dioxide, polyethylene glycol, and hypromellose, but I did like the combination of nutrients provided in this supplement and the attention to detail shown throughout this product.
More information can be found on the company's website here.
Overall Thoughts on PhytoLife Vitamins for Vegans
Overall, I can see these being a nice addition to the supplementary and dietary routine for vegetarians and vegans.
Phytolife Balance from Theralogix offers four nutrients plant-based and other eaters could really use: vitamin D, vitamin K, Omega-3s (which are hard to get in vegan form), and Vitamin B12, the most important in this entire formula.
The reviews on Amazon.com are positive so far, if you'd like to check them out or make a purchase.
Special thanks to Theralogix for sharing this product for review purposes, and let us know if you've tried it in the comments section below.
Thanks for installing the Bottom of every post plugin by Corey Salzano. Contact me if you need custom WordPress plugins or website design.
Comments
comments