One of the side effects of our current system based on overly processed, sugar and refined carbohydrate heavy foods is an epidemic of periodontal diseases and disease symptoms like gingivitis and bleeding gums, which if left unchecked could lead to the loss of a tooth or other serious side effects.
But the good news is that oral health is far simpler than we've been led to believe by the dental industry.
Nature has provided us with countless incredible home remedies for these and other conditions that simply require a commitment to learning about and using them on a daily basis, and at the right times.
In the case of bleeding gums and gingivitis, there are plenty of useful natural remedies.
One many people are still not aware of just so happens to be one of the most powerful anti-bacterial substances on planet Earth, with health benefits that include everything from stopping gingivitis and bleeding gums in their tracks to even eradicating the dreaded antibiotic-resistant superbug MRSA in a clinical setting, just one indicator of its powerful ability to heal even the most menacing bacterial diseases with proper use.
That substance is manuka honey, and it can help greatly reduce or eliminate one of the most debilitating oral disease conditions out there that millions of people currently have without realizing it.
Symptoms of Periodontal Diseases Include Gingivitis 
With the instances of periodontal disease on the rise according to the CDC (almost 50% of people have some type of periodontal and most don't even know it), it's more important than ever to know the symptoms to avoid losing a tooth or much worse.
Gingivitis is the most well known form of periodontal disease, and symptoms of it include:
-Soft gums
-Receding gums
-Bright red or purple colored gums
-Bleeding gums
-Halitosis, aka bad breath
-Inflammation or swelling
Symptoms of other periodontal diseases are quite similar, and may also include loose teeth, tender gums or even tooth loss.
If you're eating too many refined sugar or carb-heavy meals, you're allowing bad bacteria to take up permanent residence in your mouth and that can lead to whole body health problems.
Manuka Honey: Your Secret Weapon for Dental Health 
The benefits of eating local honey are well established, but one of the most powerful forms of medicinal honey in the world comes from the far east, where manuka honey has gained recognition worldwide for its unique health benefits.
Manuka is typically produced in Australia and New Zealand, and it's one of the strongest anti-bacterial substances on Earth.
Manuka can kill the bad bacteria in your mouth, where disease starts up to 90% of the time according to some estimates.
This honey also has the ability to kill harmful plaque in the mouth which can lead to infections, tooth decay, gum swelling and more.
From a 2004 study in the Journal of the International Academy of Periodontology:
Analysis of the results indicated that there were statistically highly significant reductions in the mean plaque scores (0.99 reduced to 0.65; p=0.001), and the percentage of bleeding sites (48% reduced to 17%; p=0.001), in the manuka honey group, with no significant changes in the control group.
***
Researchers have also found that manuka honey works as well as chemical mouthwashes for reducing plaque, and better than xylitol for the same purpose.
It also breaks down plaque instead of building it up, even though it tastes sweet.
To utilize manuka honey for this purpose, do the following: 
-Add one teaspoon to a carrier oil such as olive or coconut oil
-Add a few drops of a minty essential oil such as spearmint or peppermint
-Swish manuka honey in your mouth for at least 10 minutes, 3 times a day.
Begin this process about 15-25 minutes after completing your meal.
When shopping for manuka honey, always buy a product with a UMF (Unique Manuka Factor) of at least 15 or higher.
UMF designates the medicinal value of the honey.
The one shown below is is harvested in New Zealand, where bees collect it from the medicinal manuka bush that gives it its name and signature dark brown color.
Try this manuka here or click on the picture below for more information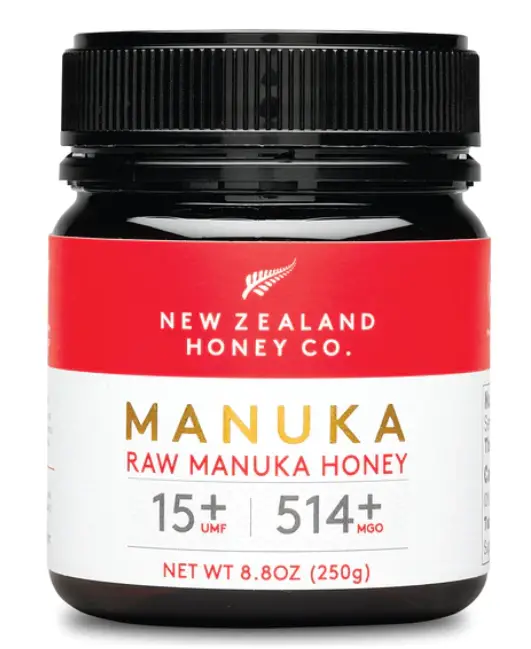 Additional reading on Manuka Honey: Mysterious Honey Discovered That Kills All Bacteria Scientists Throw At It
Comments
comments