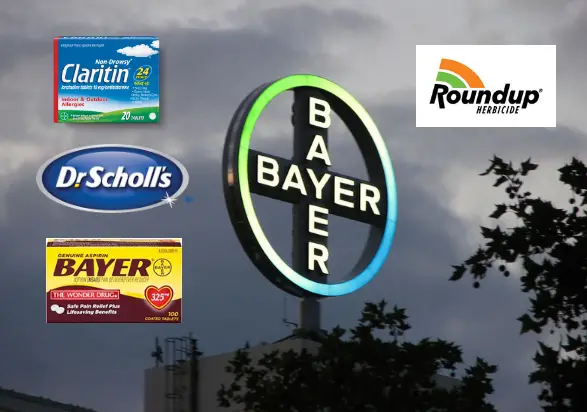 The Bayer corporation has officially become the "new Monsanto," having bought the St. Louis-based agrochemical and GMO giant in June of this year.
As such, many activists have been calling for a boycott of the company and its products much the same way that Monsanto has been boycotted (and protested against) in years past.
Unfortunately for many people, Bayer's products, including their best-selling aspirin pills, prescription drugs, and even everyday items like Dr. Scholl's foot pads, are a huge part of their everyday lives.
That being said, there's no better way to foster change than by exposing and starving out destructive, unethical companies like Bayer (which was once a part of the Nazi conglomerate IG Farben, which played a key role in creating the tools needed to commit some of the most egregious war crimes in history).
According to the website DrugDangers.com, Bayer brought in about $56 billion in revenue in 2013, and the pharmaceutical division brought in an estimated $14.5 alone.
Despite their financial successes, Bayer has a serious problem on its hands with lawsuits: both in the form of the 8-9,000 Monsanto cancer lawsuits pending, and historically in terms of lawsuits over faulty and dangerous drugs.
For example over 12,000 lawsuits were filed against Bayer over its popular birth control drug Yaz, in which multiple women claimed it caused gallbladder disease in them. The company eventually settled for about $1.7 billion.
Thousands of lawsuits have also been filed over the hormone-emitting device Mirena and the Bayer-developed drug Xarelto as well, and that may just be the tip of the iceberg in terms of the dangers of these drugs.
Of course, not all Bayer products are harmful, and many people have experienced surface-level, day-to-day benefits from these drugs, despite the many potential and actual side effects.
But with that being said, it's clear as day that this company, which was expected to hold over 25% of the global seeds and pesticides market along with Monsanto, is both highly controversial and dangerous to say the very least, especially if left unchecked.
With that in mind, let's dive into the master list of over 100 Bayer products to boycott going forward, including 10 of the most popular over-the-counter products the highly controversial new Monsanto owners make today.
Master List of Bayer Products to Boycott: Painkillers, OTC Drugs and More
On the German conglomerate's website is a list a of all of the products it makes from A to Z, which includes everything from popular (and highly toxic in many cases) weedkillers to over-the-counter  and prescription drugs, personal health products and much more.
Among the most popular direct-to-consumer products to boycott include:
1. Afrin- A cough & cold product sold over-the-counter, Afrin is used for relief from nasal congestion.
2. Aleve- A top-selling OTC painkiller with "long-lasting action."
3. Alka-Seltzer- A popular heartburn and indigestion relief product that fizzes up in water.
4. Bayer aspirin- Because the company was the original patent holder on the aspirin product, Bayer was able to force all doctors to prescribe only its brand in the early 1900s, giving it a leg up on the market. Bayer still owns the trademark on this widely-taken medication today.
5. Claritin- A popular allergy relief, OTC drug also owned by Bayer. As you can see, the Bayer boycott list is miles long.
6. Coppertone Sunscreen- A widely used product with several chemical ingredients including Avobenzone 3%, Homosalate 13%, Octisalate 5%, Octocrylene 5% and Oxybenzone 6%. You may want to opt for an organic (reef and baby safe) sunscreen like this one instead.
7. Dr. Scholl's- The entire line of these highly popular foot inserts and other foot and back pain relief products is also owned by Bayer, believe it or not.
8. Elevit- A line of "pronatal" vitamins made for mothers.
9. MiraLax- A digestive health drug that relieves constipation and softens the stool. Beware as this drug has many side effects
[Related Reading: Parents Speak Out Against Bayer Drug Linked to Over 100 Deaths]
10. Talcid- An antacid used for the treatment of heartburn and other acid-induced gastric disorders.
Additional Bayer Drugs and Products to Boycott and Avoid
If you know a farmer (or just someone who cares about the health of the planet), you may want to show them the full list of Bayer's products to boycott, which is mostly populated by highly toxic agrochemicals like Roundup (dubbed a "probable human carcinogen" by the World Health Organization's IARC in spring 2015).
"Smartstax" GMO corn, Roundup Ready GMO soybeans and corn products with unique "traits" that allow them to be heavily sprayed by herbicides are also on the list as well, adding to the suite of highly toxic chemicals and GMO foods the company now produces.
Other Bayer products include popular prescription drugs that many people depend on like the aforementioned Yasmin and Yaz, Xarelto, Cipro, and various chemotherapy drugs used by oncologists.
In other words, boycotting all of these products is going to be exceedingly difficult for most people, considering the dramatic impact they have on our everyday lives.
But every purchase counts, and considering Bayer's sordid history, which includes everything from the manufacturing of chemical weapons to burying evidence of severe drug side effects that included deaths to its purchase of Monsanto, whether or not we should continue to support this company going forward is at the very least a conversation we all should be having with ourselves.
Personally, I don't support any of these products, and don't plan to at any time in the future. Feel free to spread the word, and vote with your dollars moving forward, because the Bayer-Monsanto machine has no qualms about poisoning both people and planet for its own personal gain, as history has so clearly demonstrated.
Thanks for reading! For more articles like these in your inbox (plus a free eBook), sign up here. You can also check out Nick's best-selling book 'Dirt Cheap Organic 101 Tips for Going Organic on a Budget' by clicking here.
A Message From the Founder
Have you figured out what not to eat, but still have no idea what you actually should eat in order to truly THRIVE in this lifetime?
Millions of people are seeing results on diets like Keto, Paleo, and Raw Vegan, but give up when the going gets tough because these diets are clearly not the easiest to follow long-term.
Enter 'The THRIVERS DIET,' a simple, practical and most importantly sustainable diet and lifestyle guide from my good friend Derek Henry of the website Healing the Body.
Derek overcame 13 different chronic disease conditions using the simple, concise plan found in this guide, and now he's offering it exclusively to AltHealthWorks readers.
Order the guide today and you'll get access to all of Derek's secrets distilled into one easy-to-follow eBook, plus 70 free recipes, printable PDFs and much more.
Grab Your Copy Now at a our special discounted rate before the price goes back up!
Comments
comments