Over my nearly two decades of being interested and at times obsessed with natural and holistic health, few herbs have had as much of a positive effect on my constitution as a healthy human being than Suma, a root typically found in the Amazon Rainforest that has been used medicinally for centuries.
I first learned about Suma through the Amazon Herb Company, a project that was the brainchild of the famous actress and singer Olivia Newton-John's husband, 'Amazon John' Easterling.
Easterling became a modern-day treasure hunter in search of Amazon Rainforest herbs to add to his company's healing repertoire, creating products like Amazon Treasure Tea, Envirozon (which removed environmental toxins using Cat's Claw and other similar herbs), and Sumacazon, a product based on the aforementioned Suma Root.
As I began to learn more about Amazon Herbs, I mostly learned that they were the absolute best plant medicines on Earth for detoxifying my body from years of fast food consumption and junk food.
All of these rainforest herbs had a profound effect on me, but none quite like Suma Root.
Easterling tragically lost his wife Olivia at age 73 this past year, but not before helping her to overcome breast cancer that she was diagnosed with in 1992 thanks to Amazon Rainforest herbs, cannabis and cannabis oil, and similar herbal treatments.
In July, 2022, Easterling joined legendary talk show host Montel Williams on his YouTube channel 'Let's Be Blunt With Montel,' to talk about the healing power of cannabis and Amazon Rainforest herbs.
This talk is an excellent primer on why the herbs are revered by many who try them, ranging from the shamans of the Amazon Rainforest to anyone who's ever tried Suma Root, Cat's Claw, Sangre de Drago (Dragon's Blood), and similar herbal potions from the most biodiverse natural place on Earth:
Related Reading: Big Pharma Spent Millions Attempting to Patent This Little Known, Age-Defying Plant (But Failed Miserably In the Process)
Health Benefits of Suma Root
The most immediate, and effective health benefit of Suma Root, pictured at the beginning of this article, is its ability to restore, nourish and heal the adrenal glands.
As someone who has spent countless thousands of dollars, oftentimes all in the span of one to three months, on Amazon healing herbs, Suma Root stands out because of this ability.
I took Suma Root under the guidance of a naturopathic practitioner. No matter how much Suma I took, my body seemed to crave more of it, based scan results from a biofeedback machine, which helps measure the body's responses to certain foods, herbs, and other items.
This ability to nourish and support the adrenal glands on a cellular is part of the reason why Suma Root has been called 'Brazilian Ginseng.'
Other benefits of Suma Root include: 
-Anti-cancer properties (it may prevent cancer from forming in the body)
-The ability to restore overall body function(s)
-Works as an aphrodisiac/sexual tonic for both men and women
-Can be applied directly to the skin for healing wounds and skin issues
-Decreased swelling and pain in those suffering from these conditions
-Rich in minerals and antioxidants
-Boosts energy levels, relieves stress
-May help lower blood pressure, reduce blood sugar, and lower unhealthy cholesterol
Where to Find (and How to Take) Suma Root
Since Amazon John began focusing on healing his wife Olivia, the Amazon Herb Company hasn't been what it once was in the past.
The company sold to TriVita in 2013, where most of its best and most popular herbal formulas were eliminated from its catalog, including the Suma Root based Sumacazon, which also included Muira Puama and Maca Root. 
Listen to Amazon John talking about the benefits of Suma Root for the adrenal and endocrine systems in the short video below.
If you'd like to try Suma, the best way to take it is in a concentrated capsule form.
I take it in this gut healing supplement, which has four incredibly rare herbs from the Amazon Rainforest
The supplement, called 'Radiate Immunity,' includes Suma Root, Sangre de Drago, Cat's Claw and other similar healing herbs in a blend of 18 total herbs from around the world.
Use code 'althealthworks' to receive a discount at checkout if you'd like to try it
Radiate Immunity reminds me of Amazon John and Olivia's Amazon Rainforest herbs company as much as any other product, which is a big reason why I have taken it often over the past few years.
Another company that offers Suma Root in its formulas is the Standard Enzyme Company, which is the brand I began taking long after the Amazon Herb Company was sold.
Suma Root is also available on Amazon.com and similar online retailers, including this one which is organic and goes well in tea, coffee, smoothies and more.
This one is powder based, however. I personally prefer the other two Suma products listed above.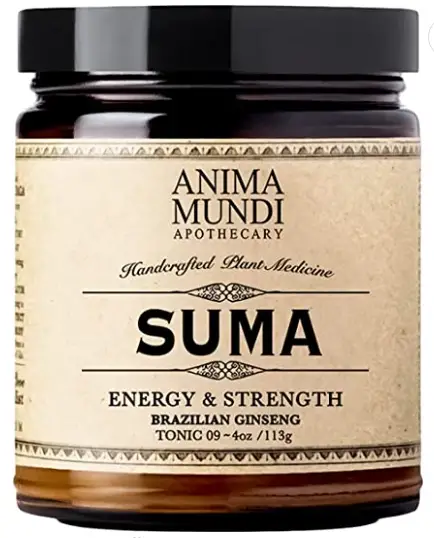 Regardless of which one you choose, the important thing to remember is that Suma Root is generally one of the healthiest and most nourishing anti-stress substances on Earth — something that researchers and herbalists would do well to utilize and research more, especially during this time of great stress in our constantly wired, social media driven society.
Comments
comments